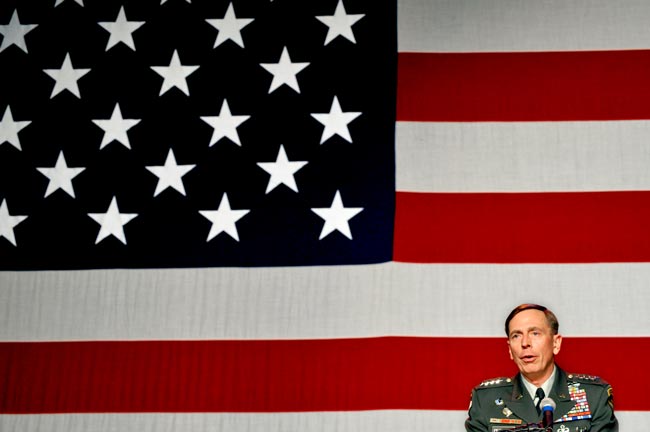 In the eyes of the Muslim world the signature event of the American invasion and occupation of Iraq wasn't the fact that Saddam Hussein was deposed, but that Iraqi prisoners were humiliated and tortured by American soldiers, intelligence personnel and private operatives at Abu Ghraib  in 2003 and 2004, the same prison where Saddam had kept his torture chambers busy. The scandal damaged America's credibility and fueled recruiting for insurgent and terrorist groups. It also contributed to an escalation in violence, adding to the death tally on all sides, and permanently staining American designs in Iraq.
On Tuesday, Gen. David Petraeus, the top commander of U.S. and NATO troops in Afghanistan, warned that if a "church" in Gainesville goes ahead with its planned "Burn a Koran Day" on Sept. 11, images of the event "would undoubtedly be used by extremists in Afghanistan — and around the world — to inflame public opinion and incite violence."
"It could endanger troops and it could endanger the overall effort," Petraeus said in a separate interview with the Wall Street Journal. "It is precisely the kind of action the Taliban uses and could cause significant problems. Not just here, but everywhere in the world we are engaged with the Islamic community."
Hundreds of Afghans protested the planned burning on Monday. The 50-member "church" in Gainesville has become a lightning rod of anti-Americanism in Afghanistan and other Muslim countries. Five years ago, 15 people died in riots in Afghanistan triggered by revelations that guards at the Guantanamo prison for suspected militants and terrorists flushed a copy of the Koran down a toilet and placed other copies on bathroom floors intentionally to offend prisoners.
The Koran burning is planned to coincide with commemorations of the 9/11 attacks nine years ago. Terry Jones, who heads Dove World Outreach Center in Gainesville, and who originated "Burn a Koran Day," told the Associated Press he had no intention of changing plans. "We are at this time not going to cancel it. We're still considering it and praying about it," Jones said. "We are also just also concerned and wondering, when do we stop? How much do we back down? … Instead of us backing down, maybe it's to time to stand up."
Some 328 American troops have been killed so far this year in Afghanistan, already 11 more than in all of 2009, and the highest American death toll of any year since the Afghan war began in 2001. In all, 1,275 American soldiers have been killed  in the Afghan theater. When British, Canadian and other NATO forces are included, the death tally is 2070.
Perceptions drive policy as much, if not more, than does reality in Afghanistan, and not just with regards to the Taliban. "Military officials also fear that if video of the Quran burning is broadcast in Afghanistan," the Journal reports today, "tensions could rise between NATO forces and the Afghan military and police. Allegations of mishandling the Quran have interrupted Afghan security training at least twice this year," according to Lt. Gen. William Caldwell, who oversees the effort to train Afghan security.
"In one instance," the Journal reports, "a Quran fell to the ground when an American officer opened a locker during an inspection of Afghan trainees' barracks. The rumor quickly spread that the officer had thrown it to the ground, angering the trainees at the camp. 'He quickly apologized, but rumors took off like wildfire,' Gen. Caldwell said. 'It was so hard to get the misperception turned around we stopped all training for the rest of the day.'"