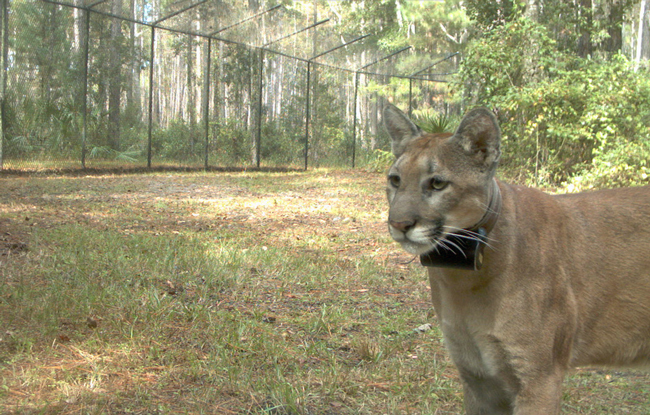 Florida Fish and Wildlife Conservation Commission biologists released an endangered Florida panther today (March 10) on private property in southeast Hendry County.
The FWC and partners rescued the kitten last May in Collier County after the panther had apparently been struck by a vehicle. The approximately 9-month-old female kitten had a fracture in her right hind leg, rib fractures and bruising around the lungs. Rescuers took her to the Animal Specialty Hospital of Florida, where she had surgery that used a steel plate to mend the bone together.
A month later, while rehabilitating at the White Oak Conservation Center in Yulee, the panther aggravated the break, and a second surgery took place at the University of Florida College of Veterinary Medicine to re-set the bone. Since then, the panther has steadily improved, and in October, she was moved from a half-acre pen to a larger, 10-acre enclosure at White Oak after veterinarians confirmed her leg was in good condition. Because the plan was to release her back into the wild, human contact was kept at a minimum.
"We are pleased that we have been able to successfully rescue, rehabilitate and release this panther back into the wild," said FWC Commissioner Ron Bergeron. "We believe this panther has a good chance of contributing to progress we are making in the recovery of this population."
Twenty panther deaths were documented by the Florida Fish and Wildlife Conservation Commission (FWC) in the past year, compared with the 27 panthers that died in 2012. Vehicle strikes continue to be the primary cause of mortality, with 15 panthers dying last year because they were hit while crossing highways compared with 18 in 2012. The birth of 21 panther kittens also was documented in 2013.
"We are grateful to our partners that helped make the rescue and rehabilitation of this panther possible," said Darrell Land, FWC panther team leader. "Our thanks go to White Oak, Animal Specialty Hospital of Florida, the Collier County Sheriff's Office, the Golden Gate Animal Clinic, University of Florida College of Veterinary Medicine and the U.S. Fish and Wildlife Service."
More than 1,100 panther sightings have been reported statewide since the FWC launched an online site in August 2012 enabling the public to report when and where they have seen a Florida panther or its tracks and upload photos: MyFWC.com/PantherSightings. Though only 5 percent of the sightings as of last August were verified as panthers, the FWC's panther team considers public reports of panther sightings vital to the management of this species brought back from the brink of extinction.
Florida residents can support conservation efforts like the rescue and rehabilitation of injured or orphaned panthers by purchasing a "Protect the Panther" license plate. Fees from license plate sales are the primary funding source for the FWC's research and management of Florida panthers.
To report dead or injured panthers, call the FWC's Wildlife Alert Hotline at 888-404-FWCC (3922) or #FWC or *FWC on a cell phone. For more information on Florida panthers go to FloridaPantherNet.org.