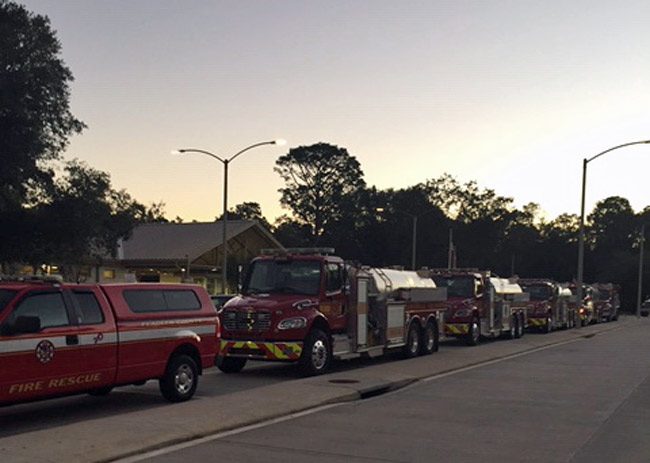 A growing list of Flagler County team members and equipment are headed to the panhandle to assist communities devastated by Hurricane Michael.
"The requests are pouring in," said Deputy Fire Chief Joe King during a Thursday staff meeting. "There are a variety of different strike teams that are going to be needed throughout the affected area."
Chief Don Petito spent much of the day on Thursday helping to coordinate efforts. Two tanker-tender strike teams from Region 3, which includes Flagler County, left early Friday and were on-scene in Tallahassee by 8:00 a.m.
One team is made up of resources from Flagler County, Putnam and Clay counties, while the other is from Jacksonville. From Tallahassee, Strike Teams 301 and 302 were then assigned to fire suppression and search and rescue efforts in downtown Panama City Beach.
"Fire Rescue is also sending two certified team leaders, Lenny Ensalaco and Tony Guerin," Petito said. "These teams have to be self-sufficient, and ready for anything. One of the teams has already been redirected to assist with local air operations."
Firefighter James Cosgrove was deployed Thursday, but as a member of the Army National Guard. Jesse Robinson, who works for Flagler County's IT Department was also deployed as a member of the Army National Guard.
The Palm Coast Fire Department deployed one engine team Sunday morning.
Bob Snyder, Administrator for the Florida Department of Health in Flagler County, also left Thursday to assistant in one of the special needs shelters in the hard-hit panhandle. He was in charge of operations of the Special Needs Shelter in Flagler County during Hurricane Matthew and Hurricane Irma.
Government Operations Consultant Edwin Baltzley, also of the Florida Department of Health, Flagler County has been deployed to the Gadsden County Emergency Operations Center to assist with public health and medical services.
Julie Murphy, Flagler County Public Information Officer, and Michael Esposito, Special Projects Manager, will be deploying on Saturday to Calhoun County. There they will join County Emergency Management Chief Jonathan Lord to provide assistance in emergency communications.
"This is why we've trained," Lord said. "We provide the support to help communities get back on their feet as soon as possible – to limit their hardships." Flagler County staff joined emergency management personnel from Polk and Brevard counties for this deployment.
"It is an honor to be able to help other communities during their time of need," Commissioner Nate McLaughlin said. "We received so much help the past two years when we were hit by Matthew and then Irma. It's wonderful to be able to return the favor."
Hundreds of thousands of residents and businesses lost electricity as rescue and utility crew members spread out across coastal and rural Panhandle communities to respond to the devastation inflicted by Hurricane Michael.
Michael knocked out electricity to more than 90 percent of customers in Tallahassee, where crews from Missouri, Arkansas and elsewhere worked throughout the day Friday cutting trees, clearing streets and getting the lights back on.
Gulf Power, which provides electricity in the Panhandle, said Friday that customers in the "hardest hit areas should prepare to be without power for weeks." Those areas include Bay, Holmes, Washington and Jackson counties.
Gov. Rick Scott called the destruction from Wednesday's storm "unimaginable," as "homes are gone, businesses are gone."
A state emergency-management official said all hospitals in the impacted region reported some form of "critical failure" — water and sewage problems or infrastructure issues such as crumbling walls — that required patients to be relocated and medical field hospitals to be set up.
The official said that after Hurricane Irma in September 2017, a field hospital was required in the Florida Keys for a year, and similar situations may be required with Michael.
Similar issues arose at nursing homes, and crews flew supplies to Florida State Hospital at Chattahoochee, which serves patients with mental illness.
Meanwhile, the state was expecting a surge in humanitarian needs, from a lack of food and water to housing.
Scott traveled Thursday afternoon with the Florida National Guard to Panama City and Mexico Beach, where Michael came ashore with 155 mph maximum sustained winds, the strongest ever recorded in the region.
Scott, who expressed frustration about people dismissing evacuation orders on Tuesday as Michael rapidly grew into a Category 4 storm, told evacuees not to return home as roads remain closed by flooding, downed trees and power lines.
"It's going to take some time to survey and clear all the roads," Scott said.
President Donald Trump granted a request for federal assistance for 14 counties: Bay, Calhoun, Franklin, Gadsden, Gulf, Hamilton, Jackson, Jefferson, Leon, Liberty, Madison, Suwannee, Taylor and Wakulla.
More than 30 health-care facilities had to be evacuated as Hurricane Michael damaged buildings and knocked out electricity in the Panhandle, state emergency management officials said Friday.
Agency for Health Care Administration Secretary Justin Senior told The News Service of Florida that several small critical-care access hospitals were evacuated before Hurricane Michael made landfall.
Health-care facilities, including the 323-bed Bay Medical Sacred Heart hospital in Panama City, were still in the process of evacuation Friday morning.
Also, an estimated 1,600 residents had been evacuated or were in the process of being evacuated from 14 nursing homes, according to the Florida Health Care Association, a statewide nursing-home group. Ten nursing homes were evacuated before Michael hit, while evacuations began after the storm at the other four facilities.
Senior said all the patients in the intensive-care unit at Bay Medical Sacred Heart had been evacuated and moved to other hospitals with the assistance of ambulances. Senior said as of Friday morning that there were "more staff than patients" still at the hospital.
"They were hoping to ride it out," Senior said of the hospital. "It's very localized, the damage. I don't know if it was the storm itself or a tornado."
Bay Medical Sacred Heart's website featured a large message Friday morning saying, "For families wishing to locate patients who have been transferred to other hospitals, please call: 1-888-727-4568."
During a stop Thursday at the State Emergency Operations Center in Tallahassee, Florida Chief Financial Officer Jimmy Patronis, who lives in Panama City, lamented the damage caused to health-care facilities in the area.
"The way the storm hit, we're going to have approximately 10 hospitals that are going to have to be evacuated," Patronis said. "Gulf Coast (Regional) Medical Center where my kids were born, Bay Medical Center where I was born, they're empty, because they can't support their mission."
Senior said Friday the state will shift its focus from helping transfer patients to ensuring that facilities that were evacuated are safe to reopen.
"People think of us as having doctors and nurses," he said. "But we have architects and engineers and we need to make sure we make the reopening process as smooth as possible and as safe as possible."
–FlaglerLive and the News Service of Florida