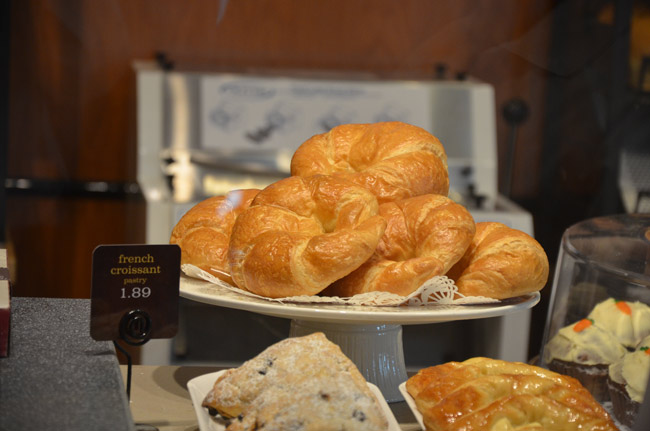 There they were. The strawberry and cream pastries. The wild blueberry scones. The pumpkin muffies (yes, muffies. The muffins have their own seductive garrisons.) The pecan braids. Those cinnamon rolls in blizzards of frosting. And of course the croissants in their self-hugging pose of flakes and their distant French relations on higher shelves—the three cheese and three-seed demi loaves, the sourdough bowls, and the eminent foot soldier of them all: the baguette.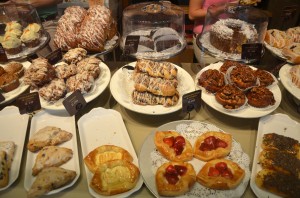 That's just the breads. And they were all there, arrayed in their golden glories along with the paninis, the soups crowned in cream, the salad choices that read like a globe-trotting travelogue. At a self-help counter, another trademark: the four thermoses in the shape of mini-silos to dispense the four choices of coffee: dark and light roast, hazelnut and decaf. None of that clutter of coffee combinations and names, none of those overindulgences for latté dilettantes.
If you've been to any of these places before, and chances are you have—and have traveled miles by the league to get to them—you know what it is by now. It had you at blueberry scone: this is Panera Bread, and on Tuesday, Palm Coast, Flagler Beach, Bunnell and the rest of the county took their first bite at their very own Panera, which opened to a free, all-you-can-eat lunch hosted by Panera and the Flagler County Chamber of Commerce, mostly by invitation: quite a few people who had neither an invitation nor a chamber affiliation stepped in, and were welcomed with the kind of warmth that radiates from a freshly baked pain au chocolat.
The restaurant, on State Road 100 next to the Hilton Garden Inn, has its grand opening to the public at 6 a.m. Wednesday, remaining open until 9:30 p.m., as will its drive-through, as it will 363 days a year, 364 on leap years. The only two days it closes are Thanksgiving and Christmas.  And by early next year, there may well be a second Panera in town, that one on Palm Coast Parkway, not far from Dunkin Donuts, on the south side of the Parkway. The Flagler Beach location, which had been talked about a few months ago, is not in the works for now, Gavin Ford, the company's operating partner, said.
"We're so happy to be here in Palm Coast. It only took 10 year," Ford said, an allusion, only semi-humorous, to the innumerable obstacles and at times inordinate work stoppages, ordered by Palm Coast, that the company surmounted on its way to opening day. Stickler is an understatement when it comes to Palm Coast's regulations of small businesses. Not so coincidentally, the city council, all of whose members were at today's special opening, had just adjourned from a meeting at which they'd killed a proposal to let home-based bakeries operate at a small ebb.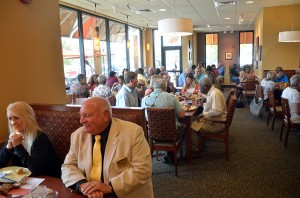 "We know you're going to be successful," Palm Coast Mayor Jon Netts told Ford and the Panera staff,  which totals 85 employees working in four shifts. "Your success is our success." The ribbon-cutting lasted all of 90 seconds: there was too much to eat and drink, and it was lunchtime.
Most of the county's eminences were there, led Netts and his wife Priscilla (old habitués of Panera),  several county commission members, a couple of city managers, most of the constitutional officers, and the chamber's usual platoons of executives, friends, family, acquaintances, Facebook likes. Doug Baxter, president of the local chamber, was seen standing in place several times, as if marveling at the throngs around him. "I'd never been in a Panera until last week," he said. "I think it's awesome. The food is delightful."
Unlike the opening down the road of that other restaurant duo just about a year ago—Red Lobster and  Olive Garden—where the VIP lunch was a rigidly controlled affair, closed to most and featuring a stingy cast of politicians and business types, a broadly open door characterized Panera's invitation, the atmosphere inside echoing the relaxed sense of bounty.
Panera is a different sort of company, balancing its corporate responsibility to shareholders with its social responsibility to community. It takes charity seriously, fostering partnerships with local non-profits and daily donating its remaindered baked goods and other foods to food banks. This Panera, says Eryn Catter, the company's marketing director, has chosen Feed Flagler as its local partner. Feed Flagler is the county commission's program, created and led by Commissioner Milissa Holland, that feed some 2,000 people at Thanksgiving while raising cash and literally tons of food for the county's needy. It's right in line with Panera's sense of community mission.
Throughout the year, Panera restaurants across the country hold special events to add to their charity work. Coming up locally on May 4 is Blue Ribbon Bagel Day, when 100 percent of proceeds generated from the sale of blueberry bagels will benefit local foster children.
"Everything I've heard puts them at the top of the list," Netts said of the company's socially responsible practices. Loyalty, too, appears to be a strong part of the company's success. Netts tells the story of two women who work at the office of a local orthopedic surgeon. Every day they've been going to St. Johns or Volusia County to get their fix of Panera. "When this finally solidified," Netts said of the Palm Coast Panera's opening, "I called them up and said: I'm going to be your hero."
Panera can have that effect. It's the iPhone of restaurants, commanding the same affection, the same dependence, and of course the same affinities for WiFi. Palm Coast finally has its own.