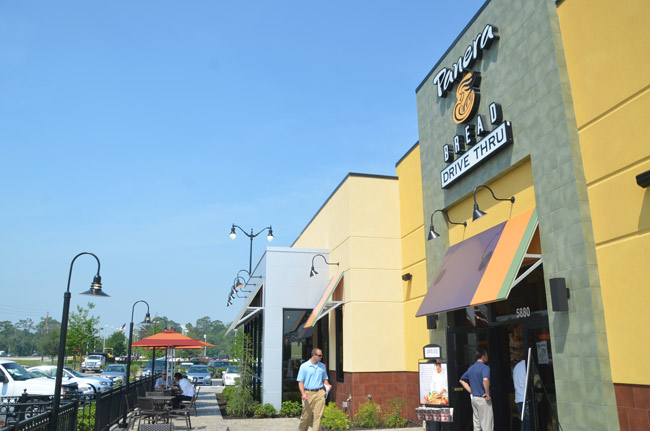 Long before Al Covelli started the Covelli Family Partnership in 1996, he was a small Ohio farmer. He noticed someone was buying all his potatoes and discovered it was McDonald's. So he bought into the chain, opening his first McDonald's in 1959, and worked his way up to  overseeing the company's largest franchise operation. He was in his mid-70s when he sold his share of McDonald's as he was preparing to retire.
It didn't happen. In 1996 he was impressed by the Panera concept. He bought into it.
The Covelli Family Partnership is now the largest franchise group within the company, owning 200 of its 1,541 restaurants (as of late December), with the Palm Coast location, which opened Wednesday, only its latest expansion. The company's odyssey from seed to giant, and its remarkable expansion during the country's toughest years–it first emerged in the big recession of 1981, it vastly expanded in the Great Recession that started in 2007–is a rarely told story of fortune and resilience, with that rare additive for American businesses: a social conscience.
Panera had started on the East Coast as Au Bon Pain (French for at the tasty bread, or something to that effect) before taking over the St. Louis Bread Company and its 20 bakery-cafes in 1993. Panera Bread was officially named as such in 1999 (though it still operates stores under the Saint Louis Bread Company banner).     
     For the Covellis, it's still a family business. All told, the Covelli Family Partnership operates in three different regions. The first branch is in Orlando and is controlled by Gavin and Annette Ford, (Al's son-in-law and daughter); the first unit there was in Winter Park. The next branch covers Tampa and is controlled by Kevin Ricci (Al's grandson). Of course, there is Ohio, where Al Covelli had his first  franchise in 1996. He was snowbirding in Florida when he opened shop in this state. The Ohio branch is controlled by his son, Sam Covelli. Al, an active 94, made an appearance at the Palm Coast grand opening.
The tight values linking the family's chain of authority are expressed within the restaurant-café's atmosphere. Their goal, says Eryn Catter, director of PR and sales for the Covelli partnership, is to create an environment that mirrors sitting down to a home-cooked-meal, in relaxed, unpretentious surroundings, with a strong emphasis on healthy eating.
One area where Al Covelli's experience in the fast-food markets overlaps with his more recent Panera days is the augmentation of the drive-through at the café. The Palm Coast unit will be only the  third to use the convenience. "From this point forward, all our units will have it," says Catter.
The company, which is publicly traded, must be doing something right. "We haven't at all been affected by the economy," Catter points out. "Our sales and stocks continue to grow. I think we're the only restaurant here that kept opening new locations during a recession."
She's right more than she knows: As the economy tanked with the Great Recession starting in 2007, so did the restaurant industry. Panera was the exception. In the three years at the depth of the recession—between the end of 2007 and the end of 2010—the company's revenue surged 24 percent, its number of stores grew by 191, and its workforce increased by almost 4,700 workers. The Standard & Poor's index for restaurants posted a 4 percent increase in those 3 years, which is essentially a loss when inflation and other depreciating factors are taken into account. Panera's shares in the same period? Up 161 percent. And that was just a start. Company shares have risen from under $80 at tne end of 2009 to $160 this week.
"What Panera did is stay the course. Being a better competitor became actually easier when everybody pulled back," Ronald Shaich, the company's executive chairman, told Businessweek in 2010. "Of course we had this tremendous credibility of the best-performing stock in the restaurant industry. We had a debt-free balance sheet. We had the room to do this." He summed up the company's financial philosophy: "The best time to grow is in a recession. The worst time to grow is in the boom days." By that measure, of course, Palm Coast is still in recession.
Total revenue reported by the parent company increased 16 percent for the fiscal 2011 year ended December 27. Mega-giant McDonald's Corporation, by comparison, saw global sales increase 5.6%, with comparable sales increases across all geographic segments, for its 2011 fiscal ended December 31—less than one-third the revenue gain by Panera.
Part of the Covelli Family Partnership's success is an obvious result of careful and fastidious planning. The Palm Coast unit, situated next to the Hilton Garden Inn, for example, is strategically located in the midst of medical center and movie theater traffic, with Florida Hospital Flagler's 900-odd employees and Epic Theatre's stream of patrons within walking distance.
"Hospitals have always been a huge market for us. We have over 500 pharmaceutical reps as clients," says Catter.
According to Catter, it was because of the frequency of Palm Coast patrons at the Ormond Beach and Daytona units that the Covelli partnership decided to open in Palm Coast.
"About 50 percent of our Ormond customers are from Palm Coast," Catter says. "They've been saturating that market for years. This has been a long time in the making."
The company has filed a letter of intent to open another restaurant, on Palm Coast Parkway, within a year, close to Dunkin Donuts on the South side of the Parkway, says Catter, though logistics are still being hammered out.
Asked if she thinks they'll face much competition in the area with the coffee kiosk at Books-A-Million or the Starbucks on Palm Coast Parkway, for example, Catter says, "I don't want to sound snobby, but there's nothing here (right now) that compares to what we do," before explaining that there are other enterprises in town that may specialize in individual facets of what Panera does, but none that do all in such a comprehensive way, or for that matter that are as community-active.
This last detail also fits in with how Panera brings in business, perhaps earning the respect of the consumer through its vast philanthropic endeavors.
"Our mission statement is: A loaf of bread in every arm," says Catter. The motto isn't just a clever or feel-good catch-phrase. Since Panera Bread has opened its doors, through what they call, "Operation: Dough-Nation," it's given away $50 million worth of unsold baked goods every night to local churches and shelters. Those give-aways will take place in Palm Coast as well. Beyond making great bread broadly available to consumers across America (Panera Bread freshly bakes more bread each day than any bakery-cafe concept in the country), "our individual obligation is to give back and be active in the community," Catter says.
There also are donation or "bread" boxes at every location. Through their "Share the Bread Community Bread Box" initiative, all donations are matched dollar for dollar by the company, and with their participation with fundraisers like Palm Coast's Second Harvest, Catter says they've given $42,500 or $630,000 worth of groceries to local charities.
The company also searches out collaborations, partnering with many local organizations. The Palm Coast cafe chose Feed Flagler as its local partner.
In addition to money, the franchise gives time as well, volunteering to build playgrounds and help feed the homeless, says Catter. There're also local foster care organizations with whom they hold workshops, teaching what to do during job interviews, among other things. "We're also huge supporters of Breast Cancer awareness," she says.
In the meantime, however, Panera Bread stands alone in its versatility: from a homey place for family dining to a business luncheon, grabbing a quick bite, or just an escapist café for workaholics munching on breads and WiFi. Panera strives to maintain an image of efficiency and, carbs aside, health. For limited-menu chain, it may be the new boss in town.