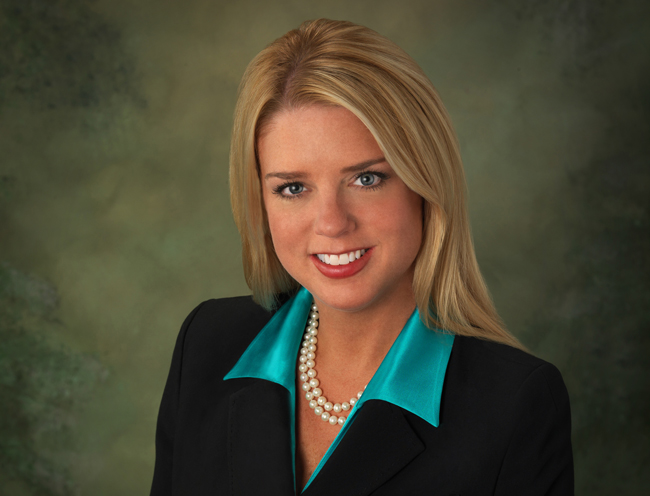 A Democratic state legislator joined the call Wednesday for information from Attorney General Pam Bondi on why she fired two assistant attorneys general who were heavily involved in investigating alleged mortgage fraud.
Rep. Darren Soto, D-Kissimmee, requested from Bondi any and all records related to the job performance of Theresa Edwards and June Clarkson who had been lead foreclosure fraud attorneys in the office under former Attorney General Bill McCollum.
The attorney general's office has said the two were fired for poor performance, and an official in Bondi's office reiterated that in an interview on Wednesday.
But Soto said "public records that these terminations occurred while they were in the midst of successful mortgage fraud litigation and in spite of prior successful reviews.
"As a member who represents an area ravaged by foreclosure fraud, these terminations present an overwhelming public concern," Soto wrote.
Soto's call came as liberal interest group Progress Florida this week began circulating a petition trying to get the attorney general's inspector general's office to investigate the firings. Edwards and Clarkson and said publicly in newspaper stories that their boss, Richard Lawson, who heads up the economic crimes division in Bondi's office, questioned them extensively about two mortgage processors that are under investigation by the office, Jacksonville-based Lender Processing Services and Tampa-based ProVest.
Lawson told the News Service on Wednesday that he did indeed ask about those two companies, after their lawyers expressed concerns about the way Edwards and Clarkson were handling the cases – and, in particular about a public presentation the two gave in a public forum that gave their "impressions and theories" about the Lender Processing Services, and characterized certain companies as foreclosure mills.
"That's really not done while an investigation is pending," said Lawson, who also listed other problems with their performance, including alleged shoddiness in case management.
Both, however, got strong performance reviews before their firing, before Lawson was in the job, according to press reports from the time of their firing.
But Lawson said the implication in the criticism that has arisen since the firings – that Bondi's office is going soft on the companies, or the foreclosure problem in general – is wrong.
"The idea that we're lightening up on this … is very, very frustrating ," Lawson said, citing the fact that top lawyers in the agency and his top investigator continue to investigate both Lender Processing Services and ProVest, along with the problem generally.
"Those cases are still quite active, we're looking at them very hard," Lawson said. "We've brought in our most experienced people in the division….I have put in 14 people, I think I've got about 8 attorneys on it."
Neither Clarkson nor Edwards could be reached for comment Wednesday.
Progress Florida alleged that Bondi was protecting banks in firing two aggressive lawyers.
Bondi, who was one of several politicians who got small campaign donations from Lender Processing Services last year, also released a lengthy statement on the growing controversy on Wednesday.
"The most important directives I have given to the Division of Economic Crimes have been to increase its efforts to pursue foreclosure law firm investigations and to protect consumers," Bondi said in the statement. "I am proud that based on my direction, we are more aggressively pursuing foreclosure law firm investigations and have substantially increased the amount of time and more than doubled the number of employees working on these investigations. From 2009 to 2010, 1,300 hours were spent on these investigations. From April to July 2011, more than 1,500 hours have been spent on these investigations….
"The two employees who were given the option of resigning or being terminated were failing to meet expectations, and they were held accountable for those shortcomings," Bondi wrote.
–David Royse, News Service of Florida