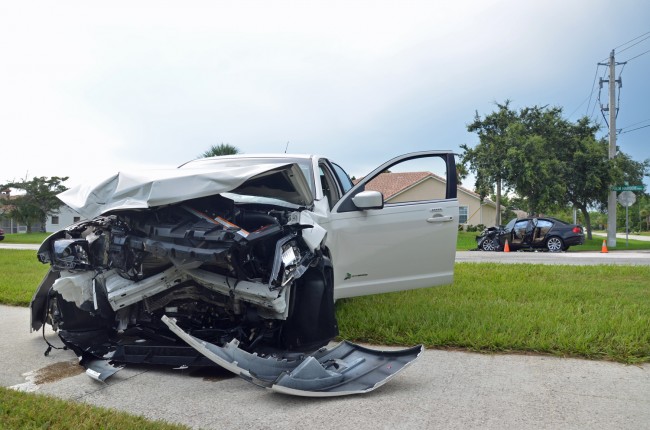 Moments after police, paramedics and fire police converged on a chlorine spill on State Road 100 and Old Kings Road just before 5 p.m. Thursday, a violent wreck involving two cars took place at the opposite end of town, along Palm Harbor Parkway, closing a segment of that road. The wreck sent five people to Florida Hospital Flagler, including three children and an 83-year-old man. None of the injuries were life-threatening.
David Quinn, 83, of Palm Coast, was at the wheel of a 2011 light-tan Ford Fusion. He was driving south on Palm Harbor Parkway. He entered the left turning lane to make a turn onto Cimmaron Drive.
A witness was at the wheel of a vehicle at the stop sign on Cimmaron and Palm Harbor, waiting to make a turn as well. The witness saw the wreck unfold, and described it to a Florida Highway Patrol investigator.
Nicole Castanheira, 33, of Palm Coast was at the wheel of a black BMW sedan, driving north on Palm Harbor Parkway. She was not speeding. With her were a 10-year-old boy, and another boy and a girl, both about 16.
The witness saw Quinn put on his turning signal. Then the witness saw Quinn begin to make the turn even as the BMW was approaching, clearly about th break the BMW's right-of-way. The witness, the investigator said, "had the presence of mind to put it in reverse when he saw the impending collision."
The Fusion struck the BMW full-frontal, against the BMW's front-left (mostly on the driver's side). Both vehicles' fronts crumpled. Both catapulted in opposite directions.
Flagler County Fire Flight, the county's emergency helicopter, was placed on stand-by, but was not needed: it was not a trauma alert. Quinn complained of chest pains after the air bag deployed and struck his chest. One boy's arm may have been injured in the BMW. Castanheira also may have sustained an arm injury, a trooper said.
With the Palm Coast Fire Police tied up at Old Kings Road, the sheriff's office provided traffic control, . It was 75 minutes later when the wreck was cleared, with Roger's Towing taking the vehicles away. Charges are pending against Quinn.