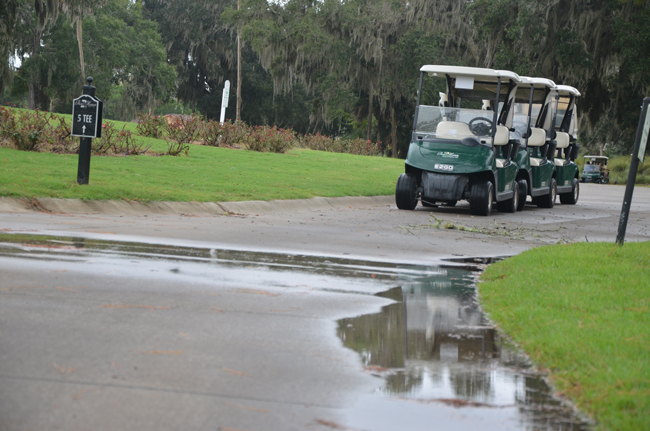 For the Palm Coast City Council and for Palm Coast Taxpayers, the Palm Harbor Golf Club the city has been running with a contractor since 2009 has been the course from hell.
It cost $4.5 million to build (money the city will never get back. Start-up costs rang up to an additional $1 million in 2009. Kemper Sports, the company contracted to run the place, was to generate enough profits to make back that money, which went straight out of taxpayers' wallets. That was the council's assumption at the time. Kemper has been running deficits instead, year after year, with an estimated $50,000 deficit expected this year. It could be deeper.
On Tuesday, Kemper Sports officials—Ricardo Catarino, Kemper's regional operations director, and General Manager Rich Stanfield—appeared before the Palm Coast City Council to give them a state-of-the-club presentation designed to reassure council members that a turnaround is ahead. But there were more excuses than reassurances, with the best-case scenarios projecting a break-even status over the next five years, but no profits and no paying back of that $1 million, or those deficits since.
Kemper officials never used the word, but they portrayed themselves as victims—of circumstances, of trends, of the economy, of the weather, all of which have conspired to limit revenue. Why the same circumstances have not similarly affected private golf clubs isn't clear.
Still, demographics are undeniable: More people are leaving the game than picking it up, and the loss is driven especially by the attrition among previous golf enthusiasts. Translated into actual numbers: the sport has lost 16 percent of its participants, or 4.8 million golfers. With the recession, there's been less leisure time, more pressure to work, and of course a significant loss of disposable income. Looking at so-called "diehard" or core golfers—those who'll play 12 times a year or more—their numbers peaked at 19.7 million in 2000, at the height of the Clinton-era boom years, and have since dwindled to 14.4 million (as of 2011). Their numbers are still falling.
"So we're facing some challenges there because the attrition rate is coming from our core business," Catarino said. "We're not the only one seeing this. The industry as a whole has been seeing this for a couple of years."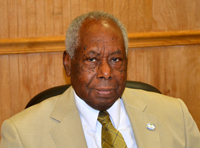 Council member Bill Lewis—who is approaching 80—put it more starkly when he asked Catarino point blank: aren't golfers dying, "and that's really the reason, not the economy"?
"I'm not going to disagree with you. That's one of the factors," Catarino said. "It's an ageing population. Not only dying, which we have seen happen, particularly in older demographic parts, as an industry, but also slowing down the frequency of play."
Time after time Catarino went back to weather, even though before this year the county had been more often in drought conditions than not, and had seen its yearly precipitation totals near or below historical averages. Kemper shows the 2012-13 rainfall total at 52 inches, almost 10 inches more than the historical average, resulting in 78 days impacted by bad weather. Afternoons have been particularly prone to rain, Stanfield said, though afternoon rains are a trademark of Florida weather. Locally and because of weather, there's been a decrease of 11 percent in playable days in 2012-13, compared with 2011-12.
Other excuses: Hurricane Sandy forced visitors to shorten their stays. Competing local activities—which Palm Coast has done a great deal to cultivate, with good success—have drawn golfers away. Higher fees have had their effect too, in a very competitive field. Also, the customer base is old. Golfers play very slowly. That limits the number of rounds that can be squeezed in. It also creates frustrations for players inclined to play faster. Palm Harbor, Kemper officials said, is a "mature," narrow golf course with a lot of undulations and small fairways which inherently slow down play.
"There's not a single solution to this," Catarino said. But he conceded toward the end of the meeting that in the end, the course must make money. "That was made very clear to us from the get-go, the end game was to make this self-sustaining," Catarino said. "Was that assumption back in 2009 a fair assumption to make? I think it was."
There was one other major excuse. "We don't have the amenities that a lot of our competitors do," Stanfield said. "We don't have a clubhouse. What we have is not considered a clubhouse by quote unquote golfers."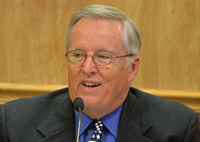 "We want you guys to be successful," McGuire said, noting that the problems described (non-existent clubhouse aside) are common to all golf courses, including all the courses Kemper and Palm Coast compete with locally. "Because they're not publicly funded, if they don't show a profit, they're out of business. What are they doing that we're not doing?"
He didn't get a clear answer.
"It's a tough market there for a lot of people, and basically it's a question of when the money runs out," Catarino said. As for how Palm Harbor compares: Kemper showed a slide listing 14 municipal courses across the state. All but two were operating in the red. But the slide did not specify what proportion of municipal golf courses across the state are operating in the red. It could have merely been listing those that do, with a couple of Kemper-run courses included—one of them in the red (Palm Coast) one of them not (Cypress Head, which has two decades' head start on Palm Harbor).
McGuire was more curious about the actual experience of playing on other courses: how do those compare? Kemper conducts such evaluations regularly. "From where I'm sitting and having been in private industry, I've got to go take my competition's business away from them, because I'm not going to get a large influx of people moving into golf aficionados," McGuire said.
Still, Kemper projects breaking even next year.
"What makes you think it's a realistic goal?" Netts asked. (Kemper had projected breaking even this year, too.)
Catarino said all things being equal, but with less rain, the course should break even.
"What you need to do is tell me how you're going to control the weather next year," Netts said.
They laughed about a $10.6 million project to build a dome. But the deficits have been no laughing matter to taxpayers.
Kemper had other ideas: the company hopes to generate more interest and revenue through a targeted email promotion (using a database of 100,000 emails) and to 8,200 golfers in the region. It'll run promotions, develop a "loyalty program," vary its pricing offers, and reach out to local hotels or short-term rental properties to explore tie-ins with golf vacations. Kemper also plans to hold tournament training seminars, network with local business and civic groups and organize high school booster club outings. There may also be discount plans, which worried Netts: he doesn't want discount ventures to attract existing players, who are paying full fare, when the aim is to attract entirely new customers.
Mayor Jon Netts seized on the notion of a clubhouse and the total experience of going to a golf course. It's not just about playing. Nor would a clubhouse be merely about golf: it could be a place for social events. Golfers like their amenities. Lewis seized on that notion, too.
"You need a clubhouse," Lewis said emphatically. "And a clubhouse would do many things for you but you can't do it because revenue doesn't support it at the moment. But to me that's an attraction. It's not only golf, it's a non-golf attraction also."
Catarino, who lives in Broward County, described four or five golf courses that have made "a large reinvestment" in their facilities. "That clubhouse issues, there's a few steps we have to go between now and then. Would it help? Absolutely."
McGuire, who's been a sustained critic of the golf course, would like to see presentations of today's sort more than once a year. He was encouraged by Kemper looking for every possible way to achieve a turn-around. He had a proposal for a clubhouse: a joint venture with another concern that would assume the responsibility of a new clubhouse or similar improvements.
But he also cautioned Kemper. "I can tell you that it isn't likely that the city is going to allocate any capital funds to that," McGuire said. "As we put our budget together this year and we look at income and outgo, just to say it as it is, Kemper Sports is the only real negative on our balance sheet, and we're trying to help you guys get where we all need to be. So any idea that enhances your ability to be successful enhances our ability, and especially my ability to go back and tell the people that I represent that the city is not putting money down a rat hole."