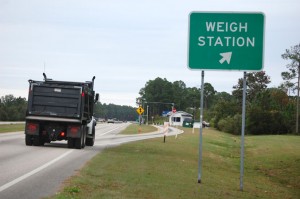 No one accuses U.S. Route 1 of being scenic. At least not since the length of its 2,000 miles from Maine to Key West have become the Amazon of sprawl. Route 1's 30-mile slice through Flagler County is equally workmanlike south of Pellicer Creek. In Bunnell Route 1 has the untidiness of the road's most cluttered segments in New Jersey's Meadowlands. It's tidier a little north of town and through Palm Coast, where trees still outnumber developments along its four lanes, but not for long. Austin Outdoors and VerdeGo, the garden center, along with new strip malls and storage hubs, are bringing a little touch of Newark to the area. And as Jim Landon, Palm Coast's city manager, put it in late 2009, "there's going to be more businesses."
The Florida Department of Transportation didn't think adding a modern weigh station to the mix would trigger NIMBY -like reactions. But it has—even though a weigh station on the southbound side of Route 1, about five miles north of the proposed site of the new station (half a mile north of Palm Coast Parkway), has been operating forι years.
The Palm Coast City Council is opposed to the transportation department's plan. So is the Bunnell City Commission. The Flagler County School Board hasn't taken an official position, but Andy Dance, a school board member, has been speaking out against the plan as a de-facto representative of the board. Austin Outdoors and VerdeGo have deployed their attorneys (Chiumento & Guntharp) to battle the plan, arguing that a weigh station would hurt business (their own copious truck traffic excepted). Public opposition hasn't been as orchestrated, though the transportation department plans a public forum for January.
Except for businesses along Route 1, aesthetics aren't the issue. Traffic patterns are. City and school officials worry that a weigh station near the center of Palm Coast on Route 1, working in tandem with the I-95 weigh station, will send more truckers swiping through city streets and parkways to avoid either. The Transportation Department says that's happening already, accelerating the deterioration of city roads because of the weight of the trucks. "The anticipated pavement deterioration, along with the improved efficiency and operations," Craig Wilson of the department's Motor Carrier Compliance Office concluded in a 2008 report recommending construction of the new facility, "provides ample justification for the relocation of the facility."
The department also wants a new weigh station because the existing one is outdated, doesn't comply with federal regulations such as the Americans with Disabilities Act (which requires adequate parking) and catches only southbound traffic. Northbound traffic used to have to do a U-turn, weigh in then U-turn again to drive on north. The department had to stop those maneuvers for lack of safety and adequate parking at the old station, where no more than two or three trucks can line up before jutting into the highway.
Sometime in 2011 (the design and construction contracts aren't being awarded until then) the department plans to build an $11 million facility in Route 1's median, a so-called Median Enforcement Station, catching northbound and southbound truck traffic and stretching 5,000 feet north from Royal Palm Parkway to Old Stone Hunter Road. The department says the station is necessary in order to prevent I-95 truckers from evading the weight station on the interstate (between State Road 100 and Old Kings Road) by detouring through Route 1. State officials settled on the Royal Palms site after studying five options. The four others, all on U.S. 1:
North of Otis Hunter Road
One mile south of Palm Coast Parkway
Half a mile south of Palm Coast Parkway
One mile south of Royal Palms Parkway
The department judged best the site between Royal Palms and Otis Hunter because it claims wetlands and threatened or endangered species would not be affected, sight lines are optimal and residential impacts would be non-existent (as opposed to "significant" at three other sites and "moderate" at a fourth). The department's judgment on residential impact is suspect. It's true that there are no residences along Route 1 north of Royal Palms.
But in order to accommodate the weigh station in the median, the department plans to shift Route 1's northbound lanes significantly east, virtually eliminating much of the green-belted buffer between the highway and Palm Coast's R Section. The department says an 800-foot buffer will remain when all is said and built. Residents of Red Mill Rd., Regency Dr., Regina La., Regis Ln., Regent, Reinhardt and Reindeer lanes likely will make their voices heard in public forums. So will parents with children at Rymfire Elementary, much of whose traffic is affected by patterns around Royal Palms.
During the public comment segment of a special meeting of the Palm Coast City Council on Nov. 24, one individual raised the issue ("What's going to happen with this weigh station?"), prompting City Manager Jim Landon to sum up recent briefings between the city and the state leading to a presentation by the transportation department on Dec. 8. Landon is proposing options north of Old Kings Road and south of Seminole Woods, or a mobile weigh station that can be placed on the back of a truck and be dispatched to hunt, unannounced, for weigh-station evaders.
"We will continue to work hard to have the station moved outside the center of our city, as per the council's instructions," Landon said. "Also, just the more I look at it, the more my staff and I discuss it makes what they're trying to do is plug a big hole in the dyke with a finger. There's too many alternatives for truckers to figure out how to get around, and so we're going to try to encourage them very hard to figure out an alternative."
Palm Coast Mayor Jon Netts, who spent much of his professional life along the sprawls of Route 1 in New Jersey, sees a chronic disconnect between the transportation department's intentions and Palm Coast's geography. "From my perspective the problem harkens back to the location of the I-95 weigh station—put it right in the middle of the city with all kinds of alternative access," Netts said.
He's right: Northbound truckers can exit at Old Dixie Highway or State Road 100 and take Old Kings Road, hooking back onto I-95 at Palm Coast Parkway. Old Kings Road was once a rustic two-lane road. It still is sough of S.R. 100, but the first four-lane section north of S.R. 100 is scheduled to open in 2010, making the detour for truckers even more convenient. Old Kings cuts through the Graham Swamp. It's also increasingly lined with upscale subdivisions and, near S.R. 100, will be lined with downscale, big-box stores (a gargantuan, 184,000-square-foot Wal-Mart is planned for the intersection of Old Kings and 100). Similar evasive access points abound north and south of Palm Coast, or through the city.
The transportation department's plan for a weigh station at Royal Palms " just replicates that mistake in my mind," Netts says. "You're putting it in the center of the city that has alternative routes through the city system."
Palm Coast's strategy is to use the year until contracts are awarded to build opposition to the plan. State transportation planning is notoriously deaf to local concerns, however—which is why Andy Dance, the Flagler County School Board member, is voicing his opposition to the county's legislative delegation, hoping the pressure will trickle down to transportation department officials.<–next page!–>
"Dialogue is taking place and all we can do at this point is hope that reasonable, rational discussion will change their mind," Landon said.
See Also: