To Bill Lewis, the Palm Coast City Council member, it's been a recurring problem he keeps hearing about from his constituents: big rigs are using the parking lots at Walmart, Lowe's and Kohl's as truck stops. "It's not really my issue, it's the resident's issue," Lewis says. "Every time they would see me, what are you doing about those trucks, what are you doing about those trucks, and can't the city do something."
Now the city has, though at least one council member questions making the trucks an issue.
"It would be different if Walmart or Kohl's or Home Depot and came to the city and said hey, you guys have to do something about these trucks parking on our property," council member Bill McGuire said, "but they've never objected in any way." Nor have residents, according to McGuire, who calls it Lewis's "pet issue."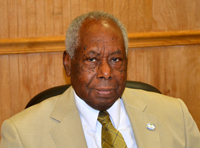 Lewis disagrees. "Bill hasn't been around looking long enough," Lewis said of McGuire, noting that the matter has been ongoing for about a year, "although the restaurants in the area loved it." Truckers' hunger can be lucrative.
Beginning on Oct. 6, the city's code enforcement staff began monitoring the parking lots in question. On Dec. 15, Barbara Grossman, the code enforcement manager, told the council this week, the city sent "a warning letter out to both Lowe's and Walmart," and Home Depot, where Penske rental trucks had been parking. The Penske trucks are gone from Home Depot. . "Walmart has worked very diligently to keep trucks out of there," Grossman said, including by placing a trailer in the spot where one of the trucks liked to park.
"Lowe's though, we have a little issue with," Grossman said. She met with management and the storte was to get signs that would clearly state prohibitions against extended truck parking, but those signs haven't gone up yet. "I put another letter out to Lowe's [Monday] to say I haven't seen any signs," Grossman said, adding that she's scheduled the Lowe's matter for the March Code Enforcement Board, signaling the city's willingness to play hardball.
Prohibitions against commercial vehicles, including big rigs and recreational vehicles, are clear and numerous, as far as residential areas are concerned. It's not as clear regarding commercial vehicles on commercial parking lots. The city itself cannot address the truck parking directly because the parking lots are private property: it cannot go up to a truck and demand that the trucker leave, for example. It must rely on the parking section of the city's code, which only vaguely addresses the issue. "There wansn't much we could do except speak to the management of those properties," Grossman said.
Lewis says the problem is with rigs staying days on end, not temporary stops. And he doesn't see a problem with recreational vehicles that routinely use Walmart's parking lot overnight. Walmart itself has encouraged the practice: it draws customers into its stores, which have thrived as host of the RV culture. "While we do not offer electrical service or accommodations typically necessary for RV customers," the company tells RV enthusiasts, "Walmart values RV travelers and considers them among our best customers. Consequently, we do permit RV parking on our store lots as we are able. Permission to park is extended by individual store managers, based on availability of parking space and local laws." Palm Coast's Walmart on Cypress Point is among those that welcome such vehicles.
The city isn't going after RVs at Walmart, and may also indulge overnight truckers. "they're gone by the time I drive by there and it's still dark out," Grossman said, wittily describing her own sleuthing as her "wonderful undercover work" : she found three companies' trucks in particular were using the lots, got their Department of Transportation identifying numbers, and took them to DOT, as well as to the managers of the stores.
Grossman updated Lewis and the council toward the end of the last council meeting, during the city manager's portion of the proceedings. Lewis was pleased with the results. None of the other council members spoke, including McGuire, who said it was Lewis's issue. "I had hoped that this thing would die or go away," McGuire said, having heard of it before his election to the council in November.  "None of the public seem to be interested in it and the stores weren't interested in it but for some reason this was something that was important to him."