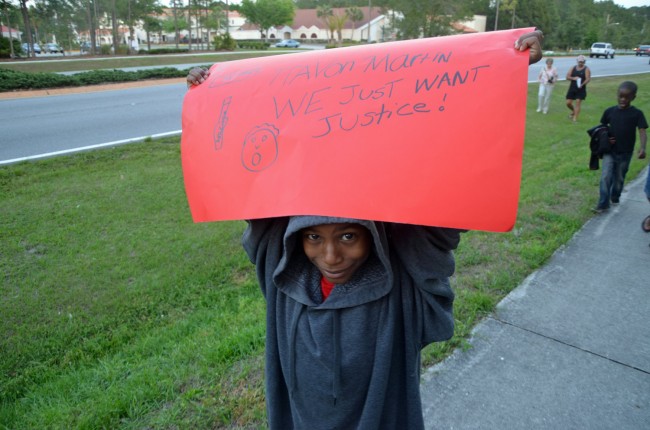 Last Updated: 10:48 p.m.
It was organized by two Palm Coast moms—Naquisha Nelson and Tracey Hodges. Word spread the way it usually does these days: Facebook, emails, tweets, old fashioned word of mouth. A little after 6 o'clock, well over 100 people had gathered in the parking lot at Kohl's off Belle Terre Parkway, many of them in hoodies, many of them brandishing iced tea cans and Skittles, and all of them there to march in protest of the killing of Trayvon Martin, the 17-year-old boy shot by George Zimmerman in Sanford on Feb. 26 as Trayvon was returning from a store with Skittles and iced tea. He was unarmed.
"We have kids, and wrong is wrong," Hodges said just before the march, "so we decided that we wanted to do something here in Palm Coast. There are a lot of young people that live here. We went to the one in Sanford as well, and we were moved by what they did there. We wanted to bring it here to Palm Coast." Her son is 16. He'll be 17 next month. "This could have been him," Hodges continued. "He had a similar situation here in town with police. With him it was with police. But it could happen to any of our kids,, so that's how we look at it. We want to make everyone aware that this isn't just something that happened in Sanford. This happens all over the world. We don't hear about it. So now that we've heard about it, you have to do something. You can't just sit down and not say anything."
"It's an indescribable experience, the way everyone rallied there," Nelson said of witnessing the Sanford march. "I got there two and a half hours early, and just to see the mass of people come together. It was just—I'm only in 30s, so it was something that we learned kind of like in history, like with the Martin Luther King marches. To actually see that take place is just, I don't know. It kind of moved you to want to do more and see how we can be more active."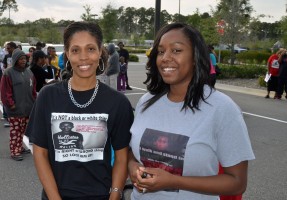 They said a prayer. Then they set off, swelling to about 125 as the marchers walked at a brisk clip and chanted down Belle Terre Parkway, all the way to Parkview. They chanted: "We are Treyvon Martin." They chanted: "No justice, no peace." They chanted: "We want an arrest." They chanted: "Stand for justice, stand for peace."  The marchers picked up energy and decibels as they walked back, chanting: "It's not a white or black thing, it's a right and wrong thing," and chanting: "Two, four, six, eight, Zimmerman needs to pay." They ended in the Kohl lot again almost as precisely as the sun was disappearing, to a final, plaintive hymn by the Palm Coast vocalist Kenya Johnson, and to hugs, pictures, and the promise, from Hodges, that "we want to let Palm Coast know we're going to do this every week if we have to."
The march had lasted 73 minutes. It was one of innumerable such marches across the state and the nation on the 32nd day of what has turned into the most pronounced instance of popular outrage over the handling of an incident muddied from most appearances by racism's fingerprints. Muddied, too, by the seemingly arbitrary application of a Florida law—denounced by its own author for its deployment by the Sanford Police Department in this case—that allows an individual to "stand his ground" and shoot to kill if feeling threatened.
Zimmerman had not been assaulted at the beginning of the incident. He was in his own car, looking at Trayvon from a distance, as Trayvon appeared to be looking at him. After calling in a report of Trayvon as a suspicious person, after being told by the dispatcher to let police handle it, after referring to Trayvon, who is black, that "these assholes always get away" to the dispatcher, and after audibly calling Trayvon a "fucking coon" on the recording, Zimmerman chased after the boy, lost him, then claims he was set upon violently by Trayvon, who—Zimmerman says—beat his head against the pavement. Zimmerman says he shot the boy in self-defense.
Like Trayvon on his last day, a few dozen boys, girls, men and women, and very young children, wore hoodies in today's march. Andre Henry Martinez and Devon martin, both 16 and students at Matanzas High School, wore hoodies. "I'm here because I'm a 16-year-old kid and that could have been me," Andre said. "I just felt that I needed to be here in support of Trayvon, because it seems like the right thing to do, and he was done wrong."
As he spoke, drivers frequently honked their horn in support, others looked at the marchers with an inquisitive look, as if to figure out what it was about, and some–whites, usually–looked on stone-faced at the sight of a mass of mostly black people marching.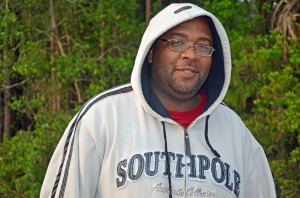 "I have a 4-year-old son, I've dealt with some profiling in my life, my dad has, my grandfather grew up in Jim Crow times, so we're just trying to finally put an end to things like this, you know?" says Johnny Hampton, a 35-year-old accountant, as he marched south on Belle Terre, toward the end of the marching line. "When is it going to end? You know, sometimes you need a seminal moment like Rosa Parks on the bus, like Medgar Evers getting shot. So maybe even though this is a tragedy, this could be one of those moments. That's what we're hoping. That's why we're here." He speaks of his profiling experiences in Jamaica, a neighborhood of Queens, N.Y. "Regular cops. 'You fit the description.' That's the key thing I always hear: you fit the description. Well, I don't know what that means, because I always say to people when they say, 'oh, well, you're dressing like a thug.' You are classified by your actions, not what you wear. Bernie Madoff dressed in a suit. Stole millions of dollars. Is he a thug? You never saw him coming because you had this predisposed notion of what you thought a criminal should look like. But he didn't fit it. He took millions from people."
---
Audio: Hampton on the Stand Your Ground Law[media id=276 width=250 height=100]
Hampton talks about the way Trayvon is being stereotyped even now, after his death, on the strength of a few crumbs of miscreant behavior grubbed out of his school record in South Florida: the pot found in his bag, the suspension or two he served for misbehavior. "Listen, they do the same thing when a woman gets raped, right? Was she wearing a short skirt? How many boyfriends does she have. I don't want to get too racial, but on another level I feel as if they're trying to paint him a certain way to make Americans or everyone think, well, this kid's life wasn't worth anything because he was a bad kid. He's just a teenager. I always say, we're all judged by our worst decisions in our lives. How would it turn out for us? We've all done things we wish we could have done better, right? By doing that, they're victimizing him again. It's not relevant, because George Zimmerman doesn't know he got suspended for marijuana when he chases him. He doesn't know anything about him at all. All he knows is he sees the guy who looks like he's out of place, and he's going to follow him."
Further up the line, there was Lawrence Smith, 67, and a grandchild. Smith, a retired detective, was marching at a brisk clip. And sweating. And smiling. "Today," he says, "is my birthday, and I'm out walking so that other young men can live to have their birthdays. I was a youth officer specialist in New York City, and I ran the largest youth counsel in New York City, and I really worked hard to keep young people out of the system. I've got 50 or 60 of my young people in new York that went into law enforcement." He spoke of the bias that undermined the Trayvon case, and the sense among people that something wasn't quite right about its execution. "There's very few people that say this case was handled correctly," he says.
---
Christopher Scott, 10, On Trayvon's Killing[media id=277 width=250 height=100]
The marchers pick up steam, chant louder, following a cluster of half a dozen teen-agers leading the group lengthening along the east side of Belle Terre. At Parkview, the group turns around and begins marching north again. We catch up to 10-year-old Christopher Scott, the young boy featured in the picture at the top of the article, and the son of Palm Coast resident Shontay Jordan. "I'm here to represent Trayvon martin," the Wadsworth Elementary 4th grader says, "because whatever his name was did, it was wrong, and he needs to go to jail. That's just the main problem. Who in the world would think Skittles and Arizona Tea would think is a gun. That's just stupid. That's all I have to say."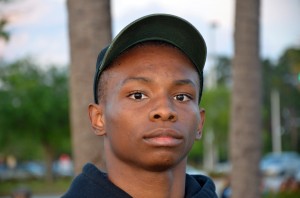 As the sun wanes and the marchers approach Kohl's parking lot again, a tall, lanky boy in a hoodie is heard making a reference to Malcolm X, followed by the Muslim greeting of peace that was also Malcolm's signature: Salam alaikum (peace be with you). It's Chris Johnson, a 17-year-old junior at Matanzas High School who wants to go into politics and law, and whose email handle is cjohnsonfuturelawyer. He's asked about his attraction to Malcolm. "I liked his later teachings," Johnson says. "Personally I didn't agree with what he was saying at first about how he hated whites and things of that nature. But his intellect, and his background stories, I was very intrigued by. I felt like he was, although he was radical, he had different ideas from Martin Luther King and things like that. Which kind of relates to a situation like this that we have with Trayvon, because although–I'm not saying this as black people, but us as people in general, we want to retaliate, but we can't, because we don't want to cause anything else. We just want to show the world that you can't take innocent lives and think you can get away with it. So by us doing marches, and having different leaders in the community come out, and speak about it, it helps us to our advantage. I would say, if Martin Luther King or my favorite Malcolm X was here today, they would probably say the same thing about what's happening and what happened in Sanford with Trayvon Martin."
As marchers put down their signs, huddled for pictures and high fives and embraces to finish the day, a faint voice began to rise above the dying commotion, silencing it as the voice got stronger and people gathered in a tight circle around its source: Kenya Johnson was singing the march's coda.
---
Kenya Johnson: You Better Believe It[media id=278 width=500 height=400]