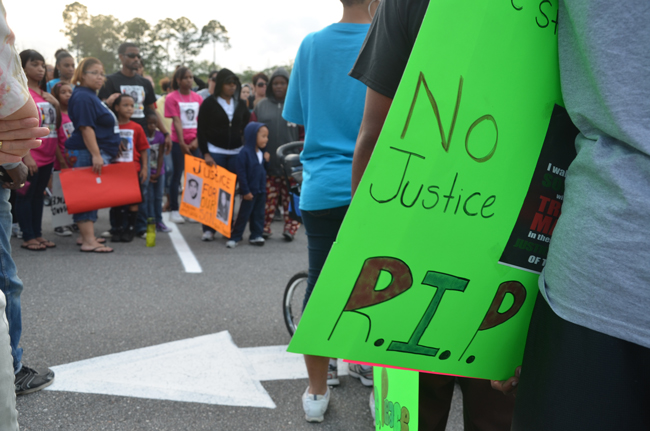 A solidarity march for Trayvon Martin in the aftermath of the not-guilty verdict in George Zimmerman's trial is scheduled for Palm Coast Saturday, starting at 8:30 a.m. from the Kohl's parking lot on Belle Terre Parkway.
The route will follow Palm Coast Parkway west, turning around at U.S.1 and returning on Palm Coast Parkway east to Kohl's. It follows a small march held in South Bunnell last Sunday, and innumerable, though never massive, marches held across the country since the verdict late on July 11. For Palm Coast, Saturday's will be the second such solidarity march, the first dating back to March 21, 2012. That one drew well over 100 people and followed a route from Kohl's south on Belle Terre and back.
The Saturday morning march is being organized by Valerie Ottley, a retired Palm Coast resident of 22 years who is herself a neighborhood watch coordinator: eight years ago she organized the neighborhood watch group at Indian Trails. The irony is not lost on her that George Zimmerman, the man who shot and killed the unarmed Martin in Sanford, was the neighborhood watch coordinator at the gated community where Martin lived.
"I am a neighborhood watch coordinator, but that has nothing to do with it," Ottley said. "I'm a concerned citizen of Palm Coast."
She said she decided to hold the march because the outcome of the trial "weighed heavily" on her. She called the sheriff's office (Sheriff Jim Manfre is a member of the NAACP) to secure permission for the march. "This is just a peaceful march asking people if they want to support this, or whatever," Ottley said, citing, among other concerns, the state's permissive Stand Your Ground self-defense law, which has been drawing acute attention from critics and supporters since the verdict, and triggering calls to tourists, cultural organizations and conventions to boycott Florida.
Students who call themselves the Dream Defenders ("an organization directed by Black & Brown Youth, who confront systemic inequality by building our collective power") are in the fourth day of a sit-in outside Gov. Rick Scott's office in the state capitol. The students are demanding that the governor to call a special session of the Legislature to change the 2005 self-defense law that includes the Stand Your Ground provision. Scott met the protesters Thursday but rejected their demands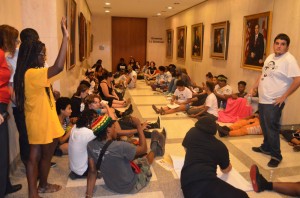 Scott told the students to speak to their respective lawmakers. "I also told them that I plan to call for a Statewide Day of Prayer for Unity in Florida this Sunday, July 21st," Scott said in a news release. "We have a great state with wonderful, resilient people that rise to meet any challenge. While emotions run high, it is even more important that we join together to strengthen and support one another."
Saturday's march in Palm Coast will be echoed by similar marches and vigils elsewhere in the state and in the country. Ottley insisted that she alone had decided to organize the march locally, with no backing from any particular organization. "If it is in your heart and you do it peacefully, by the book, why do you have to have an organization to back you?"
She wants other concerned citizens to join her. Many might: word went out through word of mouth, Facebook, Twitter and churches that the march was on.
Flagler County NAACP President Linda Haywood, who goes to Ottley's church, was among those contacted. Haywood will be joining the march.
"We're not connected to the march but we're going to march in support of them" Haywood said on WNZF this morning after returning from the national NAACP conference in Orlando.
It's not black and white thing, Haywood said. "No it's not. It's showing solidarity in a common belief that there is a need for significant change," Haywood said. The march, she said, is not a march for the black community. Last year, she said, millions of people of all races marched for the same purpose—to bring justice for Trayvon Martin. "There were white students across every college campus that participated in the marches. There were Asian students, there were Latino students, there were elderly people that marched in new York City and in Los Angeles and San Francisco and Boston. So there is a commonality. Everyone is seeking justice and equality and fairness in the justice system. That is what this is about."
Just as there's been a sustained movement to hold rallies and larches since the verdict, there's been a sustained movement—on Twitter feeds, on Facebook, in the comment sections of websites like this one—to counter the marches with criticism. Some running themes: marches are more divisive than unifying, media are fueling the conflict, or the Zimmerman verdict had nothing to do with race.
John Winston, speaking on the matter on WNZF this morning alongside Haywood, rejected the criticism. "Somehow people have gotten the impression that if you march, that if you protest, that if you say anything, you're somehow adding to the problem," Winston said. "That's not the case." Marches build bridges of understanding, he said, and show people willing to work together to improve matters. "We have every right to hit the streets, to let the world know: something has happened that's wrong, and we're trying to make it right."
Race, Haywood said, is "the white elephant in the room. You cannot act as though it does not exist. We are the only people, we're the only group of people that have to sit our young children down and talk to them about how to survive while walking while black, while shopping while black, while driving while black, while trying to go to school while black, or trying to get a job while black. We have to be better, we have to be smarter, we have to be more proactive. So it exists."