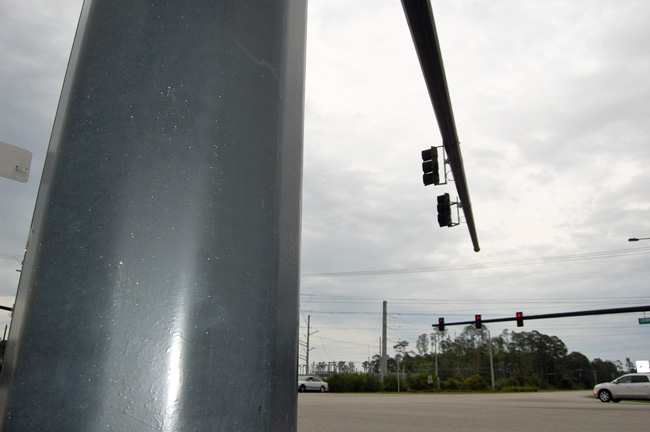 Palm Coast is about to optimize its 50 traffic signals. But don't get too excited. Optimization is not synchronization. But once accomplished, the optimization will still make it more efficient and less frustrating for drivers to get through intersections.
Tuesday evening the Palm Coast City Council was expected to approve a $55,000 study by DRMP, an Orlando-based engineering firm that focuses on traffic signals, to analyze the city's system and propose improvements. The actual improvements will cost more, but the city has budgeted $550,000 for traffic signal improvements in 2015. The city is hoping to have the project partially completed by the time the six-laning on Palm Coast Parkway is done: drivers will notice the changes along that road, which will be first to be optimized.
City Manager Jim Landon explained to the council last week why the study and the improvements were necessary—chiefly, to reduce wait times at individual intersections. But he was quick to caution against false expectations.
"I'm going to tell you one of the things it won't do," Landon said, "because I think the perception is we need to time our signals so when you drive down Belle Terre you can start at Matanzas Woods Parkway and go all the way to State Road 100 and never hot a red light. That will not happen. When you have signals as far apart as we have on Belle Terre, you will never have that happen because of left turns, because if you do that you'll have people sitting at a red light that would be waiting for green when nobody else is around. So what we do is try to optimize each signal so that when you get there, people get through efficiently, but don't have to wait when there's nobody else going in the other direction, because there's nothing more frustrating to someone sitting there and nobody's going."
The city will save about $22,000 by doing its own inventory of its traffic signals. Newer signals, for example, have timing lights for pedestrians to cross, older signals don't: "Those are the kinds of improvements we can make incrementally," Landon said.
"Why do we need to bring in a consultant to do what appears to be normal functions of operating a traffic system?" council member Bill McGuire asked.
"It is actually going beyond that," Landon said. "We have our system that we operate, but what we're trying to do is go to that next level and bring in experts who have knowledge of what is out there and how we can best optimize it," without duplicating what's already in place.
Council member Jason DeLorenzo is also concerned about aesthetics: he wants DRMP to propose how best to reduce the amount of signalization hardware at each intersection so it's standardized and less cluttered.
The council is expected to approve the project at its meeting this evening, at 6:30, at the Palm Coast Community Center.

Traffic Signal Optimization Study.