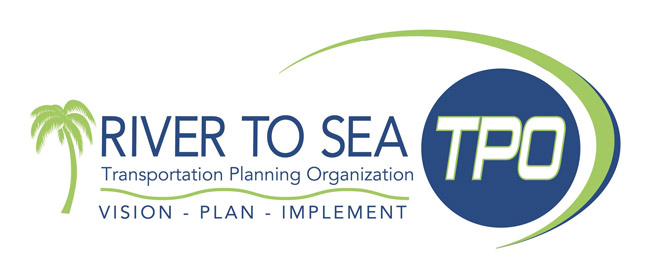 Palm Coast recently became a member of the River to Sea Transportation Planning Organization (TPO), and is now accepting applications from its citizens to serve on two TPO advisory committees.
The TPO develops transportation plans and programs for portions of Palm Coast, Bunnell, Flagler County, Beverly Beach, and all of Volusia County. The governing structure of the TPO consists of a policy-making body composed of elected officials from the various member jurisdictions, as well as various advisory committees composed of technical staff and citizen volunteers. Meetings are held at the TPO office in Daytona Beach at a specific time described below.
As part of a regional organization, TPO advisory committee members are exposed to a variety of transportation and bicycle-pedestrian topics from various communities and areas within the region beyond the boundaries of Palm Coast and Flagler County.
In order to fill the vacancies on the advisory committees, city government is seeking volunteers to represent Palm Coast on the following TPO committees:
Citizens Advisory Committee (CAC): The CAC typically meets on the third Tuesday of every month at 1:30 p.m. The CAC is responsible for providing citizen input to the TPO concerning transportation planning and programming; for reviewing of all transportation studies, reports, and plans and/or programs; and for making recommendations to the TPO that are pertinent to the subject document.
Bicycle and Pedestrian Advisory Committee (BPAC): The BPAC typically meets on the second Wednesday of every month at 3 p.m. This advisory committee is responsible for reviewing plans, policies and procedures as they relate to bicycle and pedestrian issues in the TPO planning area. In addition, the BPAC is responsible for the review and ranking of bicycle and pedestrian project applications submitted on an annual basis.
Palm Coast's representatives on the advisory committees must be registered voters and residents of Palm Coast.  Appointments shall be made on the basis of interest, experience and education in the subject matter.
The application can be downloaded below. More information is available here or at the City Clerk's Office, 160 Cypress Point Parkway, Suite B-106, Palm Coast, Florida 32164; phone: 386/986-3713, or by email.
Applications must be submitted by 5 p.m. Wednesday, Nov. 5.