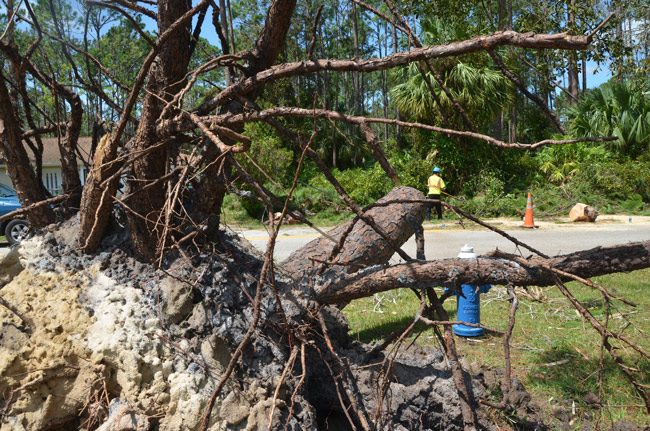 For most of its life Palm Coast has paid the National Citizen Survey to conduct a broad survey of city residents' impressions of all things municipal, from safety to culture to transportation and the like. Two years ago the city opted to go to an every-other-year format, with an in-house survey replacing the national survey on alternate years. The results of the 2017 national survey are in, and as may be expected for a survey taken in the wake of Hurricane Irma, reactions are a little dimmer than in 2015, but with few surprises.
Public safety agencies are the big winners. They get some of the highest satisfaction ratings. And in something of a contradiction, government is the loser, getting some of the lowest ratings: residents are not happy with their sense of participation or involvement in Palm Coast government, nor are they very happy with the direction of the city. They don't think the city is keen on economic development. But they're still enjoying the city for its outdoors and still consider it a good place to live–by large margins.
Only 444 people completed the survey out of 1,500 surveys mailed, a response rate of 31 percent. It's a relatively small sample rate compared to the city's population of over 80,000. The margin of error is plus or minus 5 percent. This latest survey cost $14,265.
Satisfaction with quality of life in Palm Coast remains high, but it's ticking down: two years ago, 77 percent found overall quality of life good or excellent and only 2 percent found it poor. Now it's 75 percent and 5 percent. That may not be statistically significant. But over the 16 years of the survey, satisfaction has usually fallen when the economy has, as it did between 2006 and 2012, when satisfaction bottomed out at 67 percent, after peaking at 82 percent in 2004. The question is why the downward trend now, when the economy has been relatively strong and unemployment in Flagler and Palm Coast at its lowest level since before the housing crash more than a decade ago. Irma may hold the answer. The city contended with an uptick in complaint over debris removal, for example, and the garbage-collection service faltered a bit in the second half of the year.
Fewer people now think Palm Coast is a good place to live—from 84 percent to 79 percent. A 5 percent drop is not statistically insignificant (in this case it's at the edge of the margin of error). Nor is a 6 percent drop in how residents rated Palm Coast's image positively overall: 67 percent did so two years ago. Only 61 percent did so this time.
There's been a drop in an overall feeling of security, with 72 percent of residents reporting feeling secure, down from 77 percent two years ago, though when it comes to residents' own neighborhoods, they still feel very secure: 90 percent do, up from 88 percent two years ago. The contradictory numbers may be a reflection of perceptions: 2017 was a year that saw Palm Coast, Flagler Beach, Bunnell and Flagler combine for five murders, more than 20 suicides and more than 30 fatal car crashes, all of which drew prominent headlines and perhaps increased anxieties even as residents in their own neighborhoods did not sense a distinct change in security.
The contrast is underscored by another set of numbers that shows residents more satisfied with their police services—significantly so in Palm Coast, with satisfaction vaulting from 72 percent in 2015 to 82 percent in 2017, which may be attributed both to public safety agencies' response during Hurricane Irma and to a broad perception that Sheriff Rick Staly—whose deputies police Palm Coast–has been a more visible and active sheriff, not least by winning the addition of five deputies to the city's ranks and 10 to the county's. Fire services have also seen a sharp improvement in satisfaction from already very high numbers—from 88 percent to 96 percent. So has ambulance service, which is mainly provided by the county, with support from the city.
Customer service from city government still rates a relatively high 69 percent in positive responses. And yet Palm Coast residents' overall satisfaction with the value of government services provided has fallen significantly, from 57 percent two years ago to 46 percent last year. Satisfaction with the overall direction of the city has also fallen 8 points, to 49 percent, and residents feel that their involvement is less welcome, not more, while their confidence in city government has fallen to 40 percent, down from 44 two years ago. Those numbers should worry a city council that less than two years ago saw three new members elected in part on the promise of broadening access to the city and lowering walls between government and residents.
Residents may be showing their displeasure when they take other factors than public safety into account, including the dynamism of the economy–residents find the local economy less dynamic than economic trends would suggest–transportation issues, the cultural landscape and affordable housing, all of which draw relatively negative responses. There is still great dissatisfaction with street lighting (only 28 percent favorable), public transportation (26 percent), the storm drainage system (35 percent) and even, surprisingly, the city's drinking water, which garnered just a 53 percent approval, its lowest level in 10 years despite a stream of city releases announcing awards for its water plants. Code enforcement, never a shining spot in city government, continues to garner middling reviews, at 44 percent, as does sidewalk maintenance. Economic development and land use also get poor marks.
The city has always put a premium on its parks and recreation services. It gets good marks there, with city parks winning 81 percent in positive responses. Residents are satisfied with the preservation of open spaces and recreation programs, but much less so with recreation centers. The city also gets 86 percent for public libraries, though to be fair the library is not a city service: it's entirely provided by the county. The library happens to be in Palm Coast. But residents are a bit less impressed with special events than they'd been before, with just 62 percent reporting positive responses, compared with 68 percent two years ago.
Since the survey took place in the wake of Irma, the city asked the national surveyors to add a couple of Palm Coast-specific questions, including a question about where residents sought out information during the storm. The city's question listed radio, television, newspapers, its website and the county's, but excluded online news, a reflection of the city manager's continued refusal to acknowledge that online news is a dominant source of information in the city. (FlaglerLive, which the city said would be considered part of the newspaper category in the survey, drew over 900,000 visits during the month of Hurricane Irma, a record.) In the survey responses, local television, WNZF radio and Flagler County's website were found to be most "helpful."
The survey is always useful as a reflection of Palm Coast's demographics, which provide additional context for the responses. It shows that just 43 percent of respondent s hold a full-time job (12 percent work part-time), almost half (47 percent) have lived in Palm Coast 10 years or less, a quarter have children 18 or younger living with them, and half are 65 or older.
The Palm Coast City Council is expected to discuss the survey results during a workshop Tuesday. The full results are below.

2017 National Citizen Survey of Palm Coast Residents