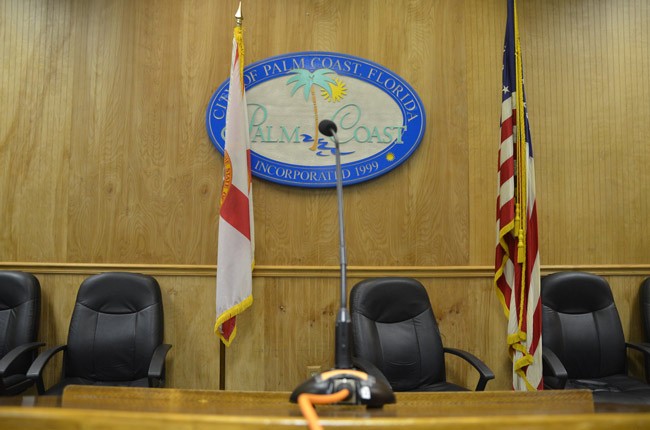 Once a year Palm Coast's government spends nearly $11,000 on a survey to better grasp how residents judge living and working conditions in the city. The 2014 results—based on 361 responses, a low sample–were presented to the Palm Coast City Council Tuesday. They paint a bright picture. They paint a dull and sometimes bleak picture. And yes, a contradictory picture, too, depending on how the numbers are interpreted. Discussions among council members themselves reflected those contradictions, though most numbers were blacker than gray.
In some ways, the 2014 results are a marketer's dream. Eighty percent of respondents would recommend living in Palm Coast. Ninety-two percent felt safe in their neighborhood. Eighty-seven percent said they were not the victim of crime (though if the flip side of that is that anywhere near 13 percent were the victim of crime, it would equate to almost 10,000 victims, an entirely improbable number: the whole county's crime rate is about a fifth of that).
Well over 80 percent rate positively the natural environment, and 70 percent or more gave good marks to the city's trails or ease of bicycle travel. Police, ambulance and fire services get some of the highest approval ratings in the survey, though ambulance services are in considerable part provided by the county and police services by the sheriff, neither of which a city service. City residents are happy with their garbage and recycling collections, their parks, their public library (again: a county service, though the survey does not make that distinction in its questions), and when they interact with government employees, residents by large margins find them courteous, prompt and knowledgeable.
In sum, in a town rife with anti-government rhetoric, what residents find most to cherish, appreciate and recommend is in one way or another made possible by their government. And yet, in one of the pronounced ironies of the survey, just 46 percent of respondents gave positive marks for the value of services they get in exchange for their taxes, a number that more likely reflects the trickle down rhetoric of national alienation from government than actual opinions about specific government services, as reflected by numerous specific questions.
There are warning signs: overall quality of life, while still rated positively by 73 percent of respondents, has declined from 82 percent 12 years ago. Palm Coast's image is also declining, but at a slower pace (that question has only been asked in the past five years), and the city's overall appearance has improved by 10 points in that 12-year span.
Beyond that, the responses are not so enthusiastic, especially when it comes to Palm Coast's sense of place, its economy, its shopping opportunities and its traffic.
In terms of the economy, a dismal 6 percent respond positively when asked whether Palm Coast has employment opportunities. That may have been expected as a consequence of the Great Recession, which struck Palm Coast and Flagler more severely than most counties and cities in the country. But the 6 percent response is actually a decrease from a peak of 13 percent positive response in 2013, the most positive mark that question has elicited in the past 12 years: Palm Coast has never been seen as a place of opportunities. Just 18 percent have anything good to say about Palm Coast as place to work.
"What would be interesting though is," council member Bill McGuire said, "how many people moved to the city of Palm Coast because they felt there were employment opportunities here. I didn't."
---
In one of several ironies, government services get the highest marks even as residents still think they're not getting value for their taxes.
---
"I ask that question all the time when I talk to groups," Landon said. "Some people moved here because they liked the quality of life, they like the neighborhoods and they work elsewhere."
Council member Steven Nobile was surprised by what he was hearing. "Are we satisfied with this? Is that what I'm hearing?" he asked.
"I don't think I'm saying satisfied or not satisfied. I think it's a fact of life in Palm Coast," Landon said.
"If we're OK with that, that means it's not going to change," Nobile said. "If we're not OK with it, if we believe this is an issue, then we're going to do something to try and get those numbers up."
"You've got the economic opportunity council at the county working on this, you've got the business assistance center working on this," Netts said.
Nobile wasn't convinced. "And apparently what's the trend?" he asked. "It's showing that maybe they need a little dicing up, because 6 percent for 10 years?"
Another poor mark: the cost of living, long considered a selling point for Palm Coast, is rated very low, with just 37 percent responding positively. Health care gets relatively fair marks, mostly in the 50 percent range, but the quality of mental health is seen as very poor, with just 31 percent responding approvingly.
Residents find some of Palm Coast's selling points not convincing, either. The council has been making much of the increasing shopping opportunities in town, and in terms of sheer number, those opportunities have indisputably increased over the past few years. But residents don't consider the increase as significant as the council does. Just 23 percent of respondents considered shopping opportunities good or excellent 12 years ago. That number went up well into the 40 percent range in the past few years, but was down to 36 percent in 2014, a year that saw the closure of the city's only real book store and the temporary dislocation of shopping opportunities created by the reconstruction of the Palm Harbor shopping center into Island Walk.
"I don't think that matches up very well with what's actually happening because we know from our sales tax revenue that there's more businesses and services now than ever before," council member Jason DeLorenzo said, though the fact that residents shop locally—and 99 percent say they do—does not necessarily mean they are satisfied with their choices.
Palm Coast rates low in two other significant indicators of quality of life: just 41 percent of respondents gave good marks for the city's cultural and artistic offerings. Just 25 percent said the city has anything like a vibrant downtown area (Palm Coast has no such thing as a downtown area), and just 46 percent gave higher marks for social events or activities.
Council members were critical of the low sample of 361 respondents, even though the city mailed out surveys to 1,200 randomly chosen residents (in a city of between 75,000 and 80,000 residents). Landon said a larger sample would not have significantly changed the results. Nobile pointed out that, according to the survey, 87 percent of respondents had voted in "local" elections. That's never happened, of course, and when local elections alone have been on the ballot–as when, for example, city council ,members or the mayor were in play–turnout was well below 20 percent until the city had its elections coincide with general election cycles. Netts suggested that people who respond to survey tend to be more engaged, and may well have been the lilier voters.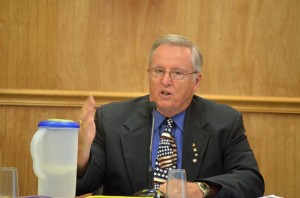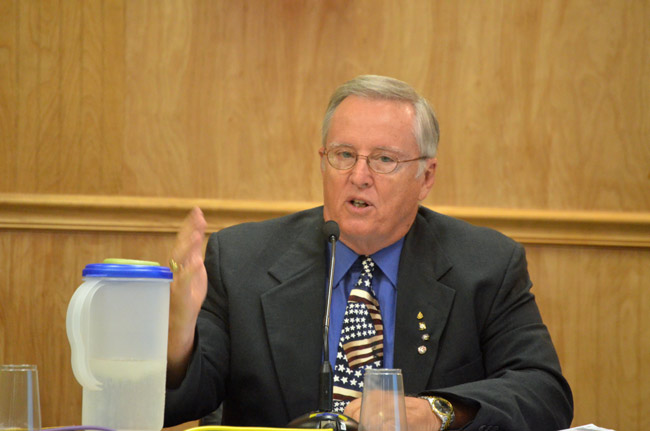 McGuire didn't like the method of randomly choosing respondents.
"How can I delicately say this? The people that show an interest in what the city of Palm Coast government does isn't very big," he said. "If you get four or five citizens at a workshop and five at a council meeting, these are people who care about what we do. Why do we not automatically include anybody that's ever been to the citizen's academy as part of this survey because they've already demonstrated that they're interested in what the city does, they know how the city works and they have an opinion that would be relevant, because a  lot of the citizen's survey questions are not real focused."
But the survey, Landon said, is "actually intended to do just the opposite of trying to get the opinion of the people you talk to on a regular basis because they show interest. This is more of a general population, it doesn't usually communicate with us, and it gives them an opportunity to express their opinion."
"You give as much credence to this as you feel it deserves," Mayor Jon Netts said, though he considered the response rate too low, "understanding that you are getting a response from people who are not familiar with—but I think it's important to understand what they think. Perceptions are reality in Mr. Landon's famous tagline. So if this is their perception, well, is it something that we need to deal with."
Landon returned to the notion of perception versus reality to dull the harder edges of the survey results, as in matters of job creation over the past several years, which Landon says has been in the thousands in Palm Coast—only to get a rebuke from Nobile.
"Let's be careful," Nobile said. "I don't think it's perception. I think it's reality. We can't count people working at the 10 McDonald's we have, or at the Dollar stores. When I hear and when most people I talk to hear the words employment opportunity, they mean livable employment opportunity, not just a job. They're talking about a job that I can support my family on."
The survey is part of the city council's annual exercise in determining what matters most to residents and how to address it when the council sets its goals for the coming year. "I'm sure every council member gets phone calls, emails, at home, on a daily basis, identifying issues," Netts said. "This is just one more piece of data that we receive that helps make doing our job better."
The full survey results appear below.