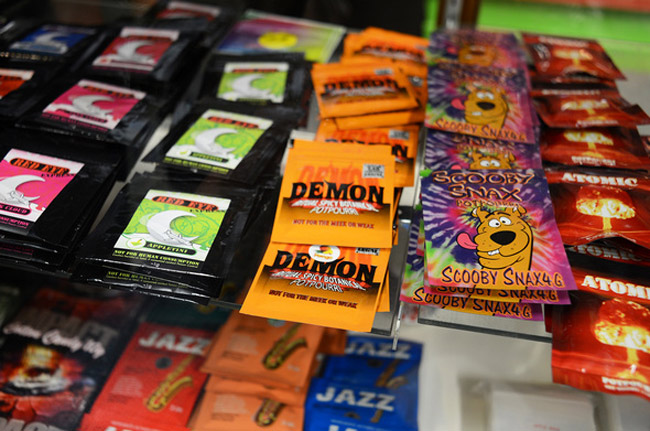 In a remarkable departure from the usual forms of city regulations and code enforcement, the Palm Coast City Council today agreed to impose a $300-a-day fine on sellers of "bath salts" and products termed synthetic marijuana, or fake pot. Palm Coast would do so even though those products may be legal, and the city, whose code enforcement officers would be visiting businesses with a deputy, has no way of proving that the products contain certain chemicals that have been declared illegal by the state or the federal government (as several have as recently as this year).
Many states have passed laws allowing local governments to enact ordinances prohibiting the sale of liquor. But it is the first time in the city's history that the council is imposing a prohibition on legal, if dubious, products. The city, which has been moving in that direction since mid-summer, recognizes its limits: the ordinance is written in broad strokes, it is replete with qualifiers, and it is unlikely to stand up in court. City Manager Jim Landon, City Attorney Bill Reischmann and Mayor Jon Netts know it. But they're hoping two factors—intimidation by code enforcement and deputies, and public pressure—may work in the ordinance's favor.
"The ordinance is very broad so the whole idea is if code enforcement and a sheriff's deputy go in and they change packaging but we know what it is, we're going to ask them to remove it," Landon said. "If they want to fight us, we may have a legal challenge. But we feel confident that they're going to know what they're doing, so we don't think your corporate convenience stores out there are going to want that fight, are going to want that publicity."
The attorney put it this way: "What we're dealing with here is a totally different animal. We're trying to deal with it and regulate it in a different way. If you'll notice in the definitions, which are the key portions of this ordinance, there's not a list of one chemical. There's not a list of one product. Rather, we're going towards what the purpose of these products is."
And Netts invited a challenge. "With tongue firmly planted in cheek," the mayor said, "I would just love for one of our local businesses to step up and say I demand the right to sell this stuff to your kids."
The council hasn't approved the new ordinance yet. It would do so at two subsequent city council meetings. But its members left little doubt that they would vote for it. Only Frank Meeker, qualifying his questions with assurances that he was also for the ordinance, raised several issues with the uncertain wording of the ordinance and legal quicksands.  "Are we opening ourselves up to an adult coming in and saying, you're preventing me from doing something that is perfectly legal?" As Landon had put it, the answer is yes, but the city would welcome the challenge.
Council members heard some powerful testimony along the way.
"As students, we get to talk a lot with some of the kids around school and some of our friends. We actually know some people who have used these substances, these synthetic drugs, who use drugs on a regular basis, and who use these synthetic drugs," the 11th grader at Flagler Palm Coast High School said. He spoke to the council as part of the hour-long discussion.
"A lot of them feel very poorly about making the decision to use this synthetic cannabis," the student continued. "They feel as if they were going to die. That was a very serious testimonial that we received from one of our friends. We get worried about these people because we're close to them, we talk to them on a daily basis. What they're doing outside of school that we don't know about, and what these things are doing, they're smoking these substances which are extremely harmful to them. A lot of the side effects such as vomiting, hallucinations, things like that have occurred, and we've heard of these things. And it is very concerning to hear about this in your friends."
The 11th grader isn't himself a user. He's part of FPC's Community Problem Solvers, a group that focuses on particular community issues and designs projects to address them. He'd been introduced to the council, along with another student, by Jacob Oliva, the deputy superintendent and former FPC principal, to illustrate what council members and local law enforcement think is a growing problem in the community, though the student's presentation, like a presentation by Mark Carman, the Flagler County Sheriff's liaison to Palm Coast, and Cpl. Don Apperson, who heads the sheriff's contingent of cops in schools, was based on scant and anecdotal evidence. The extent of the problem, if it is a problem, is unknown.
"We don't see this as a huge epidemic in Palm Coast right now, but we want to jump out before it gets like the rest of the country," Carman said, though it hasn't reached the level of an epidemic in the country, either: many legislatures, Florida's included, are passing laws banning synthetic marijuana, and President Obama signed a bill in July doing likewise, citing the same reasons Carman did: to stay ahead of a potential problem.
The evidence about synthetic marijuana—both its effects and its prevalence among children—can also be overblow. "Even though there's not a whole lot of information available, a whole lot of studies done, there are some facts we have learned in the short amount of time that we have learned of this stuff,"  Apperson said as he presented a powerpoint on the matter.
One of the startling facts he presented under the red-lettered banner of "Safety Concerns": that synthetic marijuana is "800 times stronger than marijuana."
The figure is one of those startling numbers that's frequently been associated with synthetic marijuana in news articles, but it is inaccurate and out of context. Aside from its recurrence in news stories—which never give its source—it is also cited in a Wikipedia article about HU-210, one of the original synthetic marijuana compounds developed in an Israeli university.
That article itself cited as its source a medical journal article from the Journal of Medicinal Chemistry, from May 1992, written by a team of academics from universities in Sweden and Israel. "In numerous pharmacological tests, in various animal species," they wrote, HU-210 "has been shown to  be 100-800 times more potent than THC," the main compound in marijuana, and 80 times more potent than marijuana in pigeons. The article does not cite effects of the synthetic drug on humans, nor does it specify the amount of the drug that must be administered to elicit a reaction approaching 100 times the effects of marijuana, or higher.
HU-210 is a schedule I narcotic, making it illegal to possess under federal and, now, state law: Florida passed a law in the last session of the Legislature making bath salts and several chemical compounds used in the making of synthetic marijuana illegal, and targeting such products as "K2" and "Spice," so there is a policing role for the sheriff's office. The Putnam County Sheriff's Office used that law to launch what was believed to be the first law enforcement raid on synthetic marijuana sellers in Northeast Florida, in July, netting 2,500 packets of Spice and K-2 at 10 stores–but arresting no one, preferring instead to take a more educational approach.
Despite the new law, problems of enforcement remain. "The Manufacturers of Spice or K2 products attempt to evade these legal restrictions by substituting different chemicals in their mixtures," Cpl. Jason Neat, supervisor of the Flagler County Sheriff's Office's Narcotics Enforcement Team, said today, "while the DEA continues to monitor the situation and evaluate the need for updating the list of banned cannabinoids. It almost is summed up as a game of cat and mouse. If the DEA bans a substance they replace the chemical compounds to achieve the same high without the substance that was banned." The DEA is the federal Drug Enforcement Administration.
The prevalence of the drug is also in question, not only locally, but across the nation, especially in relation to the prevalence of other drugs, alcohol included, and their effects, in the hands of children and high school students. The University of Michigan's annual Monitoring the Future survey is the most authoritative data on drug use in schools. It is sponsored by the federal Institute on Drug Abuse and the National Institutes of Health.
It only started tracking synthetic marijuana use in 2011, and only among high school seniors, asking them only whether they had used it at least once in the past 12 months (the survey usually asks respondents whether they've used a drug in the past 12 months, in the past 30 days or daily, for better understanding of a drug's prevalence.) The survey found that 11.4 percent of seniors had used it at least once in the past year, compared to 63.5 percent for alcohol, and 15.2 percent for prescription drugs.
The use of any drug falls drastically among adolescents when asked if they've used it at least once in the past 30 days, and falls even more when asked if they've used it every day in the past month.
"The issue here is one of education," Netts said. "Generally speaking, good people do good things. They don't intentionally do bad things. By passing this ordinance, we are educating some of our local businesses that this is not a good thing. I suspect there's significant profit in gasoline and hot dogs and the other things that are sold in these convenience stores. You don't need this product. This is not going to put them out of business."
To explain why Palm Coast didn't want its name associated with synthetic marijuana, Netts went so far as to make a comparison with the council's recent refusal to allow home-based bakeries, because it didn't want the city associated with the risk of Palm Coast-based products making anyone sick. It was a remarkable stretch, comparing cupcakes to narcotics, that advocates of home-based bakeries won't likely swallow easily.  But the stretch also illustrates the distances the city is willing to go to justify an ordinance rich in qualifiers.