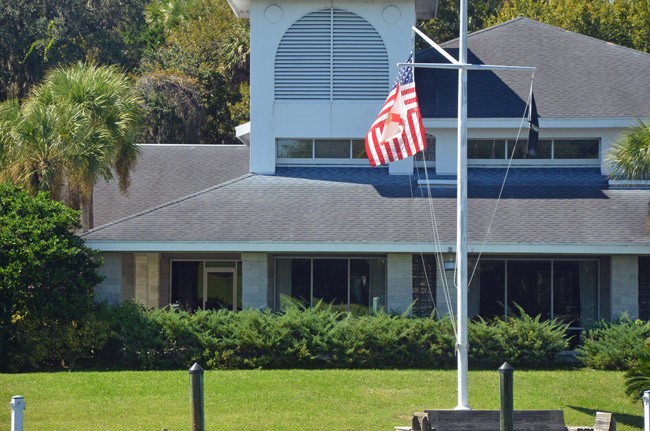 The Palm Coast City Council is hearing clamors for one, two or nine new senior centers in town. But it doesn't appear interested in moving in that direction: after hearing from half a dozen advocates for such a center at a meeting this morning, some of them passionately resolved not to let age define their commitment, the council merely deflected the agitation toward its planned expansion of the Palm Coast Community Center, which is due to start next year.
Some of the advocates say the city should not be confusing a community center with a senior center, though the distinctions can be difficult to see when even some of the same advocates concede that, but for lack of storage, the community center has been a fine home for their weekly activities.
For the council, the on-again, off-again rumble for senior centers is a story as old as Palm Coast—which is to say, not a very old story: the city is still in its mid-teens.
"Our seniors are not getting the proper acknowledgment that they should be getting," Pastor Sims Jones of Palm Coast told the council this morning. He described the absence of a senior center as "a real crime," and said any attempt to combine a community center with a senior center would dilute the mission of a senior center, creating conflicts and problems "because you're trying to do two things in a building [where] they should be separate." He did not explain precisely why activities or uses should be separate, or how current activities at the community center, which includes programs for the young, the old and in-betweeners, might be incompatible. But Jones asked for two senior centers in town. "It's a vital thing that we need," he said. "Our seniors are the ones who paved the way for us. Now we need to stand up for them." (Another speaker would top Jones and ask for nine senior centers, claiming that's the number in St. Augustine.)
In 2003, the city attempted to do just that. It floated a referendum to its electorate, proposing to build two senior centers, but not without a tax increase to pay for them. The proposal failed decisively.
Last fall the council took an interest in the property of the Palm Coast Yacht Club toward the north end of town. The club was for sale for around $1 million. The city's relatively new Long Creek preserve is across the water, and due for a nature center, if the city is to stay in the good graces of the state's conditional grants. The city theorized that it could buy the Yacht Club, use it for a nature center, and also for a senior center.
The city might have saved some money up front: a nature center could cost $2 million. But operating the new property as a senior center would have cost it recurring dollars it does not currently have.  Aside from Mayor Jon Netts—a former Yacht Club member—and council member Jason DeLorenzo, the idea never excited the rest of the council members. The recurring costs were a concern, as were the possible costs of renovation.
---
Seniors remind the council they're not dead yet, but a senior center will remain unb orn.
---
By January, anyway, the idea was moot. The Yacht Club had sold. (What it sold for is not exactly clear: Flagler County Clerk of Court records show two transactions on Dec. 31, 2015. The first is of the Yacht Club selling the property to Light Source Consulting Group of North Carolina, for $906,800, the second, on the same day—though the property appraiser's site lists the two transactions as Dec. 29 and Dec. 31—being a sale from Light Source to Palm Coast Commercial Inc., for $376,800. Jennifer Bonner, listed as the vice president of Palm Coast Commercial in the Department of State's Division of Corporations documents, did not return a call Tuesday.)
"I have received confirmation that the yacht club property was sold to restaurant entrepreneurs," City Manager Jim Landon wrote council members on Jan. 12. "I have heard they plan to open the club facilities to the public as a restaurant."
The city comes out ahead in the deal: the Yacht Club property had been generating zero property taxes. Under new ownership, it will return to the tax rolls. But it also puts to rest any notion of a senior center there. The city for now is content with its community center, and is expanding uses of its community wing at City Hall in Town Center.
This morning the council was set for a laborious workshop as it focused on what it calls its "strategic action plan," a fancy say of describing what had previously been more simply but more prosaically called a goal-setting session. Either way, those meetings don't draw a crowd and require a hefty dose of caffeine to power through. Yet the workshop meeting room was unusually packed, mostly by silver-haired seniors. Extra chairs had to be brought in. Had they had a peek at the strategic plan and learned that senior centers might be on the horizon? No: senior centers were not discussed.
They were there because Annette Russo Pilgin, who established the People's Friendship Club in 2010—it meets at the community center every Tuesday—decided to bring her membership to the council instead of holding the club's regular session at the center, so she and others could make their case for a senior center to the council.
An inquiry about their interest might have prompted council members to shift the public participation portion of the meeting to the top of the agenda, so as not to make the large group of people wait two and a half hours. Other local governments do that routinely to accommodate large groups. Not Palm Coast, where protocol can be an end in itself.
Russo Pilgin was finally able to speak. When she started in 2010, she collected 350 members in three months, she told the council. "We didn't have a space for them, we had to stop taking members, we had to turn away people." The community center worked as a meeting place, but it has no storage place. "My house is the storage. We had a carnival for Mardi Gras, we built a float, then we had to break it down and store it in my house. Every event is stored at my house. We do so many things for seniors. When you hear the word seniors, you think Oh God, they're over the hill. But we are not."
That would be a recurring theme from the half dozen speakers who addressed the senior center issue. "I'm a senior. I am not dead. I am a viable source of energy," one man said.
"You're going to hear me another 20 years," Russo Pilgin promised. "I'm going to be doing things. I'm going to be helping these people. They are my friends. I know what they're going through because I've been there. When I was alone with nobody, thank God there was one club I could go to and make friends. There, I met my husband, and we said, we need more. We've got to have events, we've got to have programs."
Those programs exist in Palm Coast—not least Russo Pilgin's among them. But if it's storage she and her group need, the renovation of the community center will solve that problem. "It's hard to visualize how major of an expansion  or what this building is going to loo like, but nothing compared to what we have there now," Landon, the city manager, said, promising an overview of the coming renovation soon.
And that was it as far as the council's discussion of senior centers. The lunch hour was beckoning, as was adjournment minutes later.