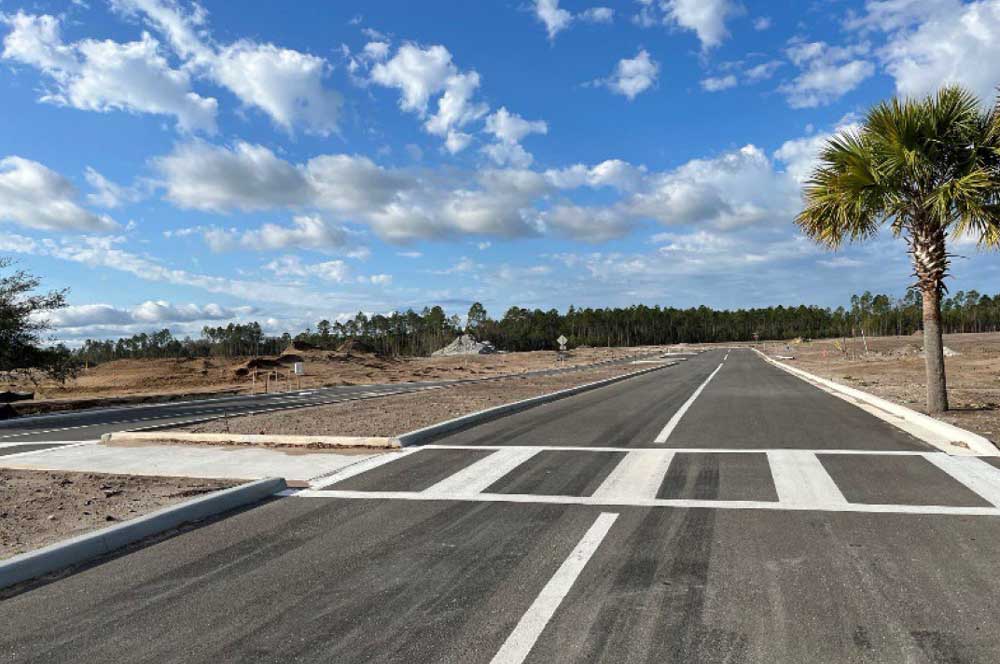 In a counterintuitive sign of sustained buoyancy for the local construction and housing market, two branches of Palm Coast government this month cleared the way for a combined 382 single-family homes in two unrelated developments–one on U.S. 1, and one in Town Center.
The developments were cleared just as the Flagler County Association of Realtors' latest monthly report shows that the number of home sales closing last January (144) was the lowest in four years, continuing a downward trend that began in summer.
Homes' average sale price county-wide in Flagler leveled off in summer and have declined slightly since, and it now takes a month longer to sell a house than it did last summer, when it took about 60 days. Flagler County's inventory of homes available for sale, bottoming out near 200 a year ago, is back up to 800. (See that full report here.)
Nevertheless, it's been development as usual in the city's regulatory pipeline, though the larger development the Palm Coast City Council cleared has been in the works for several years, and has just now reached its final regulatory step.
In June 2020 the Palm Coast planning board issued a development order for Spring Lake at Palm Coast, a two-phase development over 478 acres that will eventually total 421 single-family homes. The development is about a mile north of Palm Coast Parkway, on the west side of U.S. 1.




Spring Lake has been renamed to The Reverie at Palm Coast (the word is French for dreamy ore dream-like). Earlier this month, the Palm Coast City Council, with no discussion, approved the first phase of the development's final plat, the last step before homes go up.  That first phase will consist of 272 single-family homes on 113 acres, resulting in a density of 0.88 homes per acre. (Curt Wimpee of Alliant Engineering is the project engineer.)
Spring Lake/Reverie is part of the Palm Coast Park "development of regional impact," the sort of huge, planned developments localities approve for development in phases, involving thousands of housing units. Hammock Dunes, for example, is a DRI. The city approved the Palm Coast Park DRI in 2004. It sprawls over 4,600 acres, straddling U.S. 1 from just north of Hargrove Grade to Matanzas Woods Parkway. (There's nothing "park"-like about it: the name is purely utilitarian.)
Spring Lake is the third large subdivision in Palm Coast Park, but the first in the southwest portion of the DRI, so it'll stand out at first, as it has since the acreage was cleared of trees and vegetation.




The development will have two access points to U.S. 1. Its western limit is the Florida East Coast Railway corridor. But the vast acreage along the rail line is to remain in conservation. Infrastructure construction–roads, intersections, ponds, a lift station–began after 2021. Homes are next.
When it is built out, the development will have 101 fifty-foot wide lots, 74 sixty-foot wide lots, and 246 seventy-foot wide lots. The minimum lot size will be 4,000 square feet. Minimum building setbacks will be 5 feet to the sides, 20 feet to the front and 10 feet to the back. There will be an amenity center.
The next step for Reverie/Spring lake is the pulling of building permits.
Separately last week, in a development that does not require City Council action–not at this stage–the Palm Coast Planning Board approved a 110 single-family development called Palm Coast Seascape in Town Center. The 72-acre development will rise on the north end of City Place, about 0.2 miles north of Lake Avenue, or just north of City Hall and south of the canal along Royal Palms Parkway.  It'll be luxury homes.
That development will be more dense than the one along U.S. 1, with 58 homes on 40-foot-wide (5,200 square foot) lots, and 52 homes on 50-foot wide (7,000 square foot) lots. There'll be one and two-story houses.
"Essentially this project will assist in getting some use out of the public infrastructure that already exists, and it will provide numerous construction jobs while the project is being built," Palm Coast Environmental Planner Jordan Myers said.
The site has been cleared, though it is currently vacant, and includes 32 acres that will remain in conservation. Normally ahead of a development the city requires the developer to host a neighborhood public meeting for residents who will be affected. But there are no immediately neighboring residents, and no neighborhood meeting was required.
The next step for the development is for a preliminary plat approval, which would be done administratively, before a final plat goes to the Palm Coast City Council.
"It'll be a nice community to drive into," Michelle Widick, the project engineer, said of the development, which will also include an amenity center. "Their motto is affordable luxury for this community. So it'll be nice looking homes at an affordable price," she said of the developers, Toll Brothers, which dubs itself "America's Luxury Home Builder."




"We're coming in at an affordable luxury price point," a Toll brothers representative told the planning board. The homes the company advertises in the Jacksonville area are in the half million dollar range and up.
Town Center developments are exempt from having to meet school concurrency, Ray Tyner, the city's chief planner, said, meaning that they do not have to match up with available seating in schools. The school district has been warning of a coming crunch in enrollment, though the crunch has yet to materialize. A majority of the people buying homes are retired or without children.
Meanwhile, what enrollment increase may have taken place has for now been countered by a drain on that surplus  provoked by a surge in public school dollars underwriting private and home school education. Just today (Feb. 21) the Florida Senate's Education Committee approved another vast expansion of public-dollar subsidies for private education.
Reader Interactions