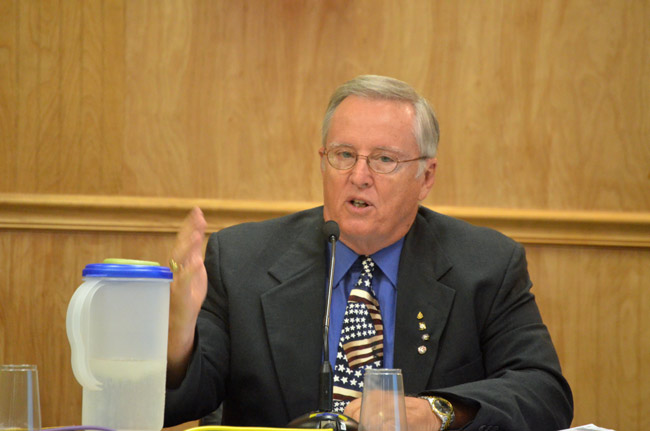 Last Updated: 2:36 p.m.
A majority of the Palm Coast City Council spoke strongly, and at times derisively, against a proposal by Flagler County Commission Chairman Barbara Revels on splitting revenue from a half-cent sales tax.
But County Commission member Alan Peterson, who addressed the council, floated two ideas that may give the city an honorable way back to compromise.
That half-cent sales tax expires this year. Voters would have to approve its renewal in August or November. But Palm Coast and the county are at loggerheads over it. The current sales tax revenue is split in Palm Coast's and other cities' favor, with Palm Coast getting some $2.6 million of the annual $4 million revenue. The county wants to change that formula. The change would diminish Palm Coast's revenue by $500,000 a year.
For the past several weeks, Palm Coast has essentially said: No way.
On Monday, the county held a "task force" meeting bringing together representatives from every city and the county to consider various proposals. The proposals turned out to be in short supply. Revels provided the only concrete one, though it left the cities cold. That proposal would expand the sales tax to 15 years, and only gradually reduce the cities' share in line with the county's preferred money split–over five years. Revels saw that as a compromise. The cities didn't, but promised to take the idea back to their councils.
This morning before the Palm Coast council, Netts submitted the Revels plan, but it was clear, even before he spoke, that the plan–aside from council members Jason DeLorenzo and Frank Meeker–had no majority support.
"I don't see why the default formula should be changed," council member Bill McGuire said, referring to the formula currently in place, which heavily favors Palm Coast. "I guess maybe I'd be a little more receptive if somebody came forward from the county and said, if we had the revenues that we don't have now, here's what we'd spend it on. Because that's what we do in the city. When we sit here and talk about what we're going to do with money, we say, this is why we need it, and this is what we're going to spend it on, here's what the result is going to be. But all I've heard from out at the Taj Mahal is, we need more money, because we can't make ends meet with what we're getting now."
McGuire persisted in saying that he has "no idea what the county wants to do or how they intend to do it." It's an exaggeration, but not by much. While the county has been clear about its need for a new or expanded jail, and has been just as clear with its desire to move the sheriff to downtown Bunnell, into the annex top the old courthouse, the County Commission in this case has been nowhere near as detailed with its plans as Palm Coast has been with, say, its road resurfacing program in the past decade or its stormwater program in the coming decade. In other words–and setting aside debates about the neglect of the past several years–there's little question where and how Palm Coast wants to spend its money. There's no equal certainty about the county's plans.
While the county has made the case for a bigger or newer jail, it has not yet settled on how big, or shown how it would pay for the larger operation. While the county has spoken favorably of moving the sheriff to the old courthouse, it has not yet made a convincing argument about that need being so critical as to warrant a battle over sales tax dollars. McGuire was not so much disputing county needs as questioning their certainty and clarity.
"We have been above board and put everything on the table for everyone to see," he said. "This is what our plan is, here's why we need to do it, here's what it's going to take to fund it, and here's our plan to fund it. I didn't see those things forthcoming. I see things that bother me, whether they're rumors or not, and I don't really want to go into them in this meeting, but I think I'd be more receptive to what Ms. Revels put on the table if I knew that the county's need is justified by the following projects that need to be funded."
Given the county's history with tax dollars, his opposition naturally resonated with other council members.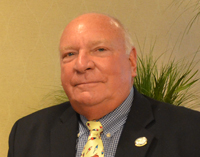 "Let's go back historically 10 years ago when the half-cent sales tax was initiated," Netts said. "We were very clear about what we were going to do with the money. The county was somewhat less clear, but they essentially said that there were several major projects. A new government services building, a new courthouse, an emergency operations center. Those were the high priorities to the county 10 years ago, not the jail, not this, that and the other thing. So now we come to today. Our priorities are still essentially infrastructure. I would be much more comfortable in talking about compromise if I knew that the county had looked at and made decisions about some of their other options. We today took what is undoubtedly an unpopular position. Mr. McGuire you said a franchise fee, a utility tax, is not popular. Absolutely, it's not popular. The county has several other options. Gasoline tax. Not popular, especially with the price of gas being what it i8s. But it is an option."
The mayor concluded: "I'm just not convinced that the county has looked at all the options that are open to them before they reached into our pocket."
Earlier in the meeting, the council had voted to add a new levy on residents' electricity bills, a 6 percent "fee" (essentially, a tax) that will, in part replace the elimination of an $8-a-month stormwater fee residents have been paying through their water bills.
Netts had his manager's support. "The best thing to do is leaving it alone in my opinion," Jim Landon said of the Revels plan. But he had a compromise of his own: extend the gradual reduction of the city's share over 10 years instead of five years, and apply only a 10 percent reduction a year, as opposed to a 20 percent reduction.
Netts likes compromise. Not in this case. "Our infrastructure needs are going to increase," he said. "I'm just not comfortable saying the county should continue to get larger and larger shares of money that we're clearly going to need. The growth is going to be here, more and more of the sales tax are going to be paid by Palm Coast residents, more and more of the sales tax is going to be collected by Palm Coast businesses. I see good, I see growth down the future, hopefully not the way it was in the past, that's exponential growth, but that's going to put an increase in demand on the council to provide services."
Alan Peterson, the county commissioner, appeared before the council to make his pitch in defense of the Revels proposal, which the county commission has not officially discussed. But Peterson did not appear to sway what have been hardened positions on the council.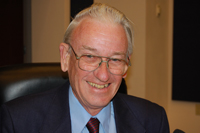 Peterson then made two original proposals of his own–which, again, have not been discussed at the county commission. He proposed reversing the Revels idea: give the county enough money, through the sales tax, upfront, to enable it to bond such projects as a larger jail, then reduce the amount going to the county. Second, he asked the council to end its Community Redevelopment Agency at Town Center, which keeps taxes in that CRA, denying the revenue to the county. "Last year, the county turned over to the CRA $800,000-plus." If the ity were to pull out of the CRA, that annual amount would then go to the county. That switch, Peterson said, could be built into a new agreement between the city and the county, enabling a sales tax formula that favors the city while also letting the county claim back some of its property tax revenue at the CRA.
Netts said Peterson had given the city something to chew on. (County commissioner Nate McLaughlin was also at the meeting, but he didn't speak.)
Bunnell, meanwhile, voted 4-0 Monday evening to support the Revels plan. But that vote carries little weight against Palm Coast's.
DeLorenzo was the lone voice in favor of the Revels plan. "I would be happiest to continue the current agreement. But I think we're heading down a very slippery slope," DeLorenzo said, citing the danger of the city's position if it were to oppose the compromise: it could still end up with the tax, since it's the county's prerogative to put it out to referendum, or it could end up with different taxes the county could yet approve.
"This is a compromise that I'm comfortable with," DeLorenzo said. "If we have nothing, we're going to be in big trouble. That's the slippery slope. If we get down the road and we have to find that between $2 and $2.6 million, then we'll really be in trouble, and it's not just going to be us, it's going to be the entire county that's going to be in trouble, and sometimes it's important to be a community as well. That's why I think this compromise works."
DeLorenzo got some support from council member Frank Meeker, who warned that the county is "driving the bus" on the issue, not Palm Coast.
"The real question in the end is, is it worth a battle over this kind of money," Meeker said. "A little over half a million dollars at the end of six years, it's nothing to go to war on and perpetuate, in my case I think it's kind of a quasi myth out there, that none of us get along with each other, and I don't think that's the case."
Council member Bill Lewis suggested he might be interested in some compromise away from the current formula of splitting sales tax revenue, but not in line with the Revels plan or what DeLorenzo and Meeker were suggesting.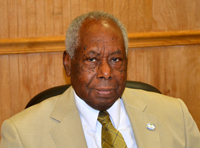 "The population is here, and the population is what's creating the money for all of Flagler County," Lewis said. "The distribution of that I think has to recognize that the bulk of that money is coming from the bog elephant. So, is the big elephant willing to give up all its advantages or is it willing to retain what it has? I think we reach a point where we should give up some of it, but I don't like the current distribution. I think it should be a revision in the distribution but I think it should still reflect where the bulk of the money is coming from. Unlike others, I'm not as generous with my money as others are, so I like to protect my money and use it for my benefit. But I'm willing to share some of it. I don't want to share all of it. So I have a disagreement with my colleagues."