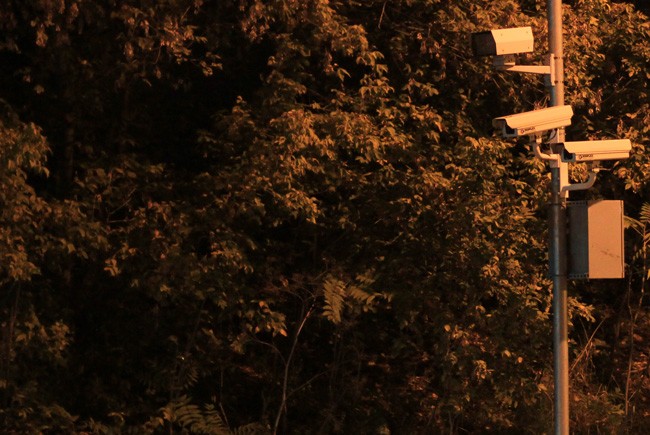 The Palm Coast City Council may formally suspend the city's red-light camera program as early as March 3 as Florida law is now explicit that portions of the city's program are illegal, and city officials find their current situation "untenable."
City Council member Steven Nobile was ready too suspend the program immediately, as he told the council in a workshop this morning. Mayor Jon Netts, once an ardent supporter of the program, nearly concurred. "I'm beginning to agree with Mr. Nobile," Netts said. "This thing should not drag out. Where we are is untenable. Let's get a resolution. If the resolution is a declaratory judgment, so be it."
"I think the program is inherently good, I think the state of Florida messed it up so badly that it's probably irrevocably broken. But I don't want to just see this thing go on. And to say that we're going to suspend the program, I wouldn't be surprised if ATS says we're going to sue you for breach of contract. If we're going to suspend it, I think we ought to suspend it at the same time ask for a declaratory judgment from the judge."
And Jim Landon, the city manager, told the council that it was time for it to make a decision. But he and City Attorney Bill Reischmann cautioned the council against taking a decision before Landon and Reischmann meet with American Traffic Solutions officials Thursday to discuss the city's contract.
"We're going to work very hard Thursday to pin down ATS on these issues," Reischmann said. "It really depends on whether I've got a partner to that discussion, whether they're willing to respond to our concerns, and what our suggestions are, and what they're going to do in response" to the city's various options.
ATS believes "there is a solution," Reischmann said. "All of that can be taken care with a modification to their business rules. It's their idea of how to amend the contract. That's debatable." But ATS officials would also want the chance to go before the council to respond to its questions.
The city has three options, as Reischmann presented them: amend the contract with ATS so the city can comply with the law, which would mean that Palm Coast would have to pick up responsibilities previously—and now illegally–delegated to ATS. Palm Coast suspended that portion of the agreement, so it would not be in violation of law. And Landon and the council have made clear they have no interest in picking up those responsibilities: the city has neither the personnel nor the money to do so.
The city could invoke Section 27 of its contract with ATS and suspend the red-light camera program altogether. It could also renegotiate the length of the contract with ATS, which does not expire until 2019. "I would suggest at the next workshop we put these options in front of you," Landon said, referring to the Feb. 24 workshop, with a final decision to be taken by the council, by vote, at the subsequent business meeting at the Palm Coast Community Center, on March 3.
Netts pinned down the attorney, asking him specifically, regarding Thursday's negotiations with ATS, "what positions are you going to suggest that the city council is taking? Or is this just an open negotiation? Because I think they need to know that we're very serious about resolving this issue."
"I have not had that conversation with the city manager," Reischmann said. "I believe that it would be appropriate for the City of Palm Coast at this time to suspend the program pending further clarity from the court system on our contract, and I would be surprised if ATS is going to be willing to amend the contract such that the change that would have to be done and the mechanics of the issuance of the NOVs and the UTCs could be done in a fashion they would be satisfied with, based on earlier conversations."
"I concur with that," Landon said.
NOVs are Notices of Violation, which are generated when a driver is certified by ATS to have run a red light. That fine is $158, if paid immediately. Those NOVs are still being issued. But if a driver refuses to pay or challenges the ticket, the NOV converts into a Uniform Traffic Citation, and the fine rises to around $264. The 4th District Court of Appeal ruled that ATS cannot legally issue those UTC tickets. They must be issued by a local government, or by the state.
That's what's thrown the system in disarray. To stay on the legal side of the law, Palm Coast has ordered ATS to stop issuing the UTC tickets. In effect, a driver may get a $158 Notice of Violation and refuse to pay it. That driver is no longer liable for a fine–either the $158 or the UTC, because the driver will not get a UTC, and after 60 days, the original $158 ticket becomes invalid.
If all drivers were to simply ignore their $158 violation, the system would not generate any money, and drivers would not be incurring any additional fines–or facing legal ramifications. ATS has no authority to pursue those drivers. Nor does Palm Coast.
"I'm uncomfortable with what we're doing right now," Landon said, referring to the half-way measure in place: issuing the NOV, but not following up with UTCs if necessary. "I think we're headed towards that suspension, but I do think we need to go through it and carefully and through our normal process, to make that decision, so you have all the information before we just shoot from the hip and hopefully hit the target. But unless ATS comes up with some surprise, I think we're headed in that direction."
"I think we are, too," Netts said.
"In order to comply with our contract we have to break the law," Nobile said said, pressing his case for an immediate suspension. Nobile was elected last November in part on a promise to end the city's unpopular red-light camera program.
So by all appearances from the council's discussion this morning, the council is ready to end its program as it is now configured.
ATS, the Scottsdale, Ariz.-based company that runs the city's red-light camera program and dozens like it across Florida, is facing a class-action lawsuit, as is Palm Coast, filed in November by drivers who claim they've been illegally ticketed. Reischmann said the League of Cities appears ready to provide the legal defense for that case, probably keeping Palm Coast from having to spend money in its own legal defense.
"In the meantime though," council member Heidi Shipley said, "we need to let people exactly what's going on with the red-light cameras, because as I've told you before, the social media is saying that we don;t fight any tickets, it won;t be challenged in court."
"And that's correct, essentially that's a true statement," Netts said.