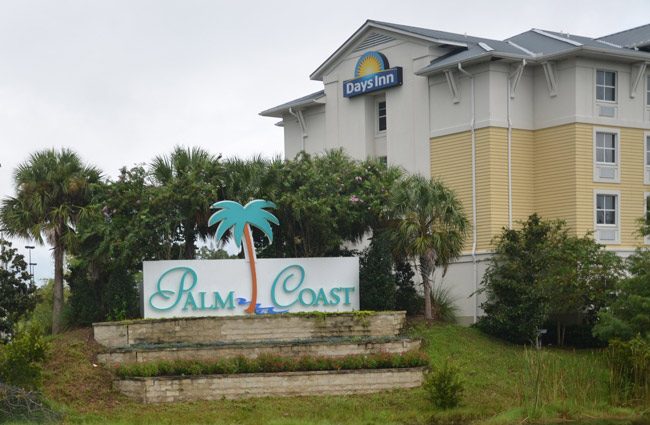 A dozen people were arrested Wednesday and Thursday for soliciting prostitution in a sting operation the Flagler County Sheriff's Office organized with undercover cops after running an ad online offering services.
The arrests took place the same week that Obtravies Watkins, 34, was arrested after allegedly kidnapping, raping and brutalizing a 25-year-old woman he said he picked up in Daytona Beach for paid sex. Watkins faces an attempted murder and rape charges. But the sting operation was not related to that incident.
"This operation was planned before the Watkins incident earlier this week so they weren't in any way related," Sheriff's spokesperson Brittany Kershaw said.
"The investigators were aware of prostitution activity in Flagler County so they wanted to do an investigation to find out how much of this is going on in our community. That's why they did this operation."
Some 100 people inquired in response to the ad, which was placed on the website backpage.com, but only 12 showed up at a room at the Days Inn in Palm Coast, off of Palm Coast Parkway, near Home Depot.
Typically, as one of the arrest report states, a respondent would pay $60 for a "massage" and go from there. In one case, a respondent asked the under-cover cop if she was, in fact, a cop–who told him that a massage was "pretty boring." At that point the respondent looked at his genitals and looked back at the undercover cop, implying a desire for sexual acts, then got "completely naked without being asked." (The ad the sheriff's office posted had not mentioned massages.)
Soliciting prostitution as a first offense is a second-degree misdemeanor in Florida, which can result in a jail term of up to 60 days and up to a $500 fine, though jail terms are rare. A second offense is a first-degree misdemeanor with a penalty of up to a year in jail. If the solicitor is soliciting a minor, it is immediately a second-degree felony with a penalty of up to 15 years in prison. But in none of the cases this week was underage soliciting in play.
All those who showed up and were arrested were men. Seven were from Palm Coast, one from Bunnell, one each from Palatka, St. Augustine and Jupiter. One man's address was listed simply as Pine Gardens—no town, no state. They ranged in age from 19 to 66, with the average clocking in at 36.
All but two with charged with soliciting prostitution. One was charged additionally with purchasing or possessing a controlled substance, and one, Jeffrey Nowden, a 32-year-old resident of 76 Providence Lane in Palm Coast, was charged with many additional charges after he proposed to pay for sex with drugs. He allegedly had in his possession cocaine and heroin laced with fentanyl. He was charged with soliciting, heroin possession, cocaine possession with intent to sell, possession of drug paraphernalia, and violating probation: he'd been found guilty previously as a habitual offender after an arrest for driving on a suspended license with knowledge.
"I'm not sure what that really tells us about what's going on in our community, but it does show that it's at least going on with some people," Kershaw said. "A lot of people like to claim it's a victimless crime, but typically in those situations there's drugs involved." She added: "It's definitely something we don't want in our community."
It isn't clear to what extent the sting revealed the extent of prostitution's presence in Palm Coast and Flagler County, or its whereabouts, though searching for "prostitution" and "Palm Coast" on the Internet reveals something of a smorgasbord of choices, including a number of so-called escort services in Flagler and Volusia listed on "The Real Yellow Pages" (A An Divas, Fantasia's and 1 800 Jet Doll all advertise "Serving the Palm Coast Area") or the more direct page called "Prostitutes in Palm Coast," which states: "Login to the web's safest website where prostitutes in Palm Coast can meet local people from the safety of their home or cell phone, join Find Prostitutes for Free and start meeting up."
Attempts were made to arrest actual prostitutes as part of what the sheriff's office termed "Operation Red Light to Green Roof" (a reference to the county jail's green roof). "However," a sheriff's release indicated later this afternoon, "no women showed up to meet the undercover 'John.' Most women cited transportation issues as their reason for not making the trip, as they were coming from surrounding counties."
"The good news for Flagler County is that it does not appear we have prostitutes in our community," Sheriff Rick Staly was quoted as saying in the release. "The bad news is that there are many people from Flagler County trying to solicit prostitution."
The Sheriff's Office's arrest reports state that the local ad was placed "on a web site known by law enforcement to be used to solicit prostitution." It did not list specific services on offer beyond stating that the services would be provided by a female.
Arrests for prostitution are very rare in any of Flagler's law enforcement agencies. The Sheriff's Office has conducted several sting operations at Graham Swamp in particular, but following specific complaints that men were exposing themselves publicly there, or using Graham Swamp to meet up to exchange sexual favors, though prostitution appears not to have been involved in those instances.