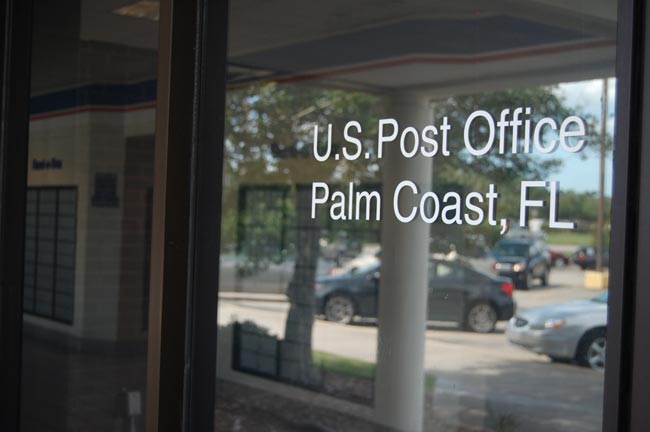 There is no such thing as a Palm Coast postmark. Mail sent from anywhere in Flagler County (or with the 321 zip prefix)—even mail destined for Flagler County mailboxes—is processed in Daytona Beach 30 miles south, and carries either of those cities' postmarks. That's about to change.
The Jacksonville postmark will remain. The Daytona Beach postmark will vanish for most—and for all mail originating in Palm Coast or Flagler County. Get used to a postmark from Lake Mary. That's where the U.S. Postal Service is planning to consolidate its Daytona Beach processing operation—something it's been considering since 2006. The consolidation is now almost certain subsequent to a study that shows annual savings of $5.7 million (almost $5 million more in savings than when the post office estimated the amount last December).
The main reason for the consolidation: People just aren't using the post office as they used to. Ten years ago, the Daytona Beach facility processed 55 million pieces of first class mail. Processing was down to less than 35 million pieces by 2009. It's a national trend. After peaking at 213 billion pieces of mail ion 2006, the postal service handled 166 billion pieces in the last 12 months ending in 2010. Electronic mail and other forms of instant communication are replacing the postal service.
Last year, the postal service lost $1.4 billion. This year, it's expected to lose $7 billion. Though it's a federal agency, it's supposed to pay its own way. General John Potter warned Congress that short of a major revamp—or taxpayer subsidies—the postal service will lose $238 billion over the next 10 years. Ending Saturday mail delivery, for example, would save $40 billion over 10 years. Closing post offices and replacing them with automated tellers would also save billions. Higher rates will also be almost certain. As will consolidation.
That's where the Daytona Beach and Palm Coast post offices come in.
Post Office officials say the immediate change won't affect next-day service for mail dropped in Palm Coast for delivery anywhere in Flagler County the following day, even though all of it would have to travel double the distance to the Lake Mary processing facility (which is about 70 miles from Palm Coast). "It is our goal to maintain our existing levels of delivery service to your homes and businesses," USPS spokesman Gary Sawtelle said Monday.
Nor are jobs in jeopardy in the Palm Coast Post Office. Collection pick-up times won't change locally or in Volusia County.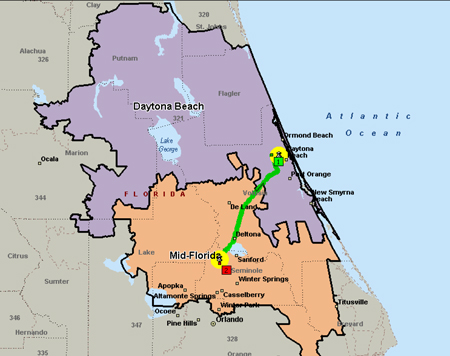 The Daytona Beach processing facility will lose 109 jobs. Strictly speaking, the Post Office won't actually fire 100 people: some 40 positions will open in the Lake Mary facility, others would be given the option of being reassigned. (The postal service has about 600,000 employees nationwide.) "Throughout our history," Sawtelle said, "we have been very responsible about keeping people employed, and we will continue to do so. It is true that some employees may have to change jobs, hours, and/or work locations."
But the local job market will feel the effect of yet another serious loss of well-paying, formerly stable jobs. It's likely that some of Daytona's employees live in Flagler County, further affecting the county's high unemployment rate.
Back in January the postal service held a public hearing in Daytona Beach to outline its plans, which back then were smaller scale than they have since become. The postal service conceded that many Daytona Beach postmarks will vanish, but some would still be preserved: those metered at offices, for example, won't change. About 200 people attended that January meeting, and more than 1,000 had contributed written comments. By far the biggest concern (995 written comments and 17 spoken comments at the meeting) concerned the loss of the local postmark. Job losses drew just 33 written comments and 18 spoken comments. Delays in service or worries about increased costs drew even less concern.
The postal service will hold another public hearing on its latest plans on Oct. 7 at the Plaza Hotel at 600 N. Atlantic Avenue in Daytona Beach, at 7 p.m. The postal service is also taking written comments. Those may be sent to the following address:
Consumer Affairs Manager
USPS North Florida District
P.O. Box 40005
Jacksonville FL 32202-0005.
Comments must be postmarked on or before Friday, Oct. 22, 2010. Daytona Beach postmarks included.