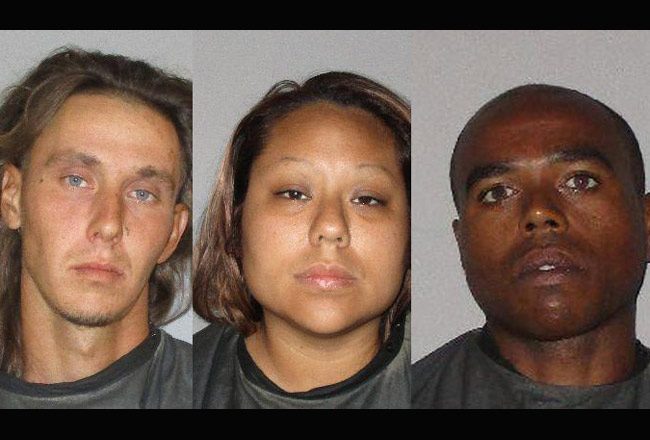 Three residents of a house at 17 Port Lane were arrested on various drug charges after deputies served a warrant and searched the house Thursday, among them Yumi Obama, a 30-year-old woman who was charged with trafficking in oxycodone and possession of pot with intent to distribute.
Also arrested, on lesser charges, were Yuriy Krivoshey, 28, and Jeremy Toumbs, 37.
Sheriff's investigators and the SWAT team served the warrant just after 6 a.m. at the Port Lane house. According to Obama's arrest warrant, after detectives began searching a room where Obama's 5-year-old son was sleeping, she volunteered to show detectives where all her "contraband" was located.
She told detectives that the bedroom where her son was asleep used to be hers, but that she was in the process of moving her belongings into the garage, which she would use as a bedroom. She then led detectives to a pair of safes that were stacked one atop the other in the bedroom closet. The top safe was locked with a key. The bottom safe had a combination lock. A digital scale was placed on top of the upper safe.
The key to one of the safes was under an open notebook that, according to detectives, looked like a ledger, with names and dollar amounts handwritten. She called out the numbers of the bottom safe: 97 left, 79 right, 42 left.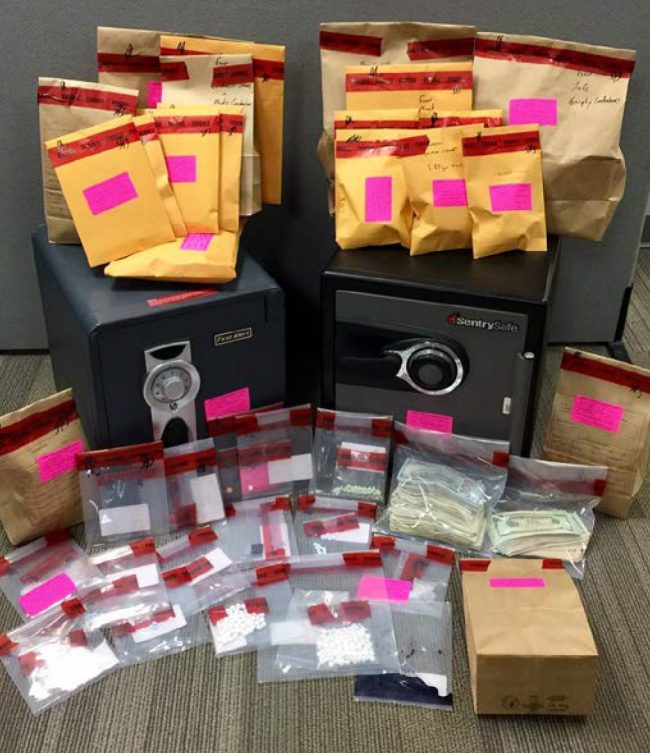 Inside, detectives found some 331 grams of pot in various containers, 208 round white tablets of what was later identified as oxycodone, a prescription pain killer at the root of much of the ongoing opioid addiction epidemic, and three or four dozen additional tablets of different sorts. Also, a purple fabric bag with $1,390, and a bronze fabric bag with $390. In a different part of the room detective found a further stash of currency totaling $7,000.
Obama, according to her arrest report, told detectives that she buys the pills from "a source within Flagler County." But she would not elaborate. (Her profession is listed as "animal house grooming" on her arrest report.)
Detectives also found two digital scales, lots of plastic baggies typically used to package drugs for sale, rubber bands, and empty, unlabeled prescription pill bottles.
During the search, Obama's 61-year-old mother arrived at the scene. Startled, she asked her daughter: "Are you using drugs?"
"No mom," her daughter replied, according to her arrest report. "I'm selling drugs."
Obama was booked at the Flagler County jail on $165,000 bond.
Toumbs, a landscaper, was arrested on a drug charge in 2008 and served a brief sentence at the local jail. Thursday he was arrested on a pot possession charge, and possession of a controlled substance. Deputies found small amounts of various substances, including ecstasy, on him or in his bedroom. He was released after posting bail on $3,000 bond.
Krivoshey, a roofer by trade, whose jail records lists his address as 13 Panorama Drive in Palm Coast, has a long arrest record, but mostly for minor, or non-violent drug charges. He was at the Port Lane property when the warrant was served. A detective who'd had the house under surveillance had concluded that Krivoshey lived there with Obama, his girlfriend. Nothing illegal was found on him when cops searched the house, but 1.89 grams of pot and two glass smoking pipes were found in Obama's bedroom—the bedroom where Krivoshey was alleged to be staying. His Social Security and military ID cards were also found in that same bedroom. He had been on probation on a prior conviction
On Aug. 29, he also faces a sentencing hearing on a felony drunk driving conviction, third offense. Just last April he was found guilty of DUI (second offense) and possession of a controlled substance, pot and drug paraphernalia, and was sentenced to a year's probation. On Thursday, he was charged with probation violation and held at the county jail without bond.