Last Updated: 7:55 a.m. Tuesday
The first call to the Florida Highway Patrol that someone was driving recklessly south on I-95 was logged at 5:36 p.m. It was about a silver Dodge Charger, near State Road 207 just south of St. Augustine. A Florida Highway Patrol trooper started pursuing the car at the St. Johns-Flagler County line.
The driver sped down I-95 to the 289 exit at Palm Coast Parkway, off-ramped and drove west on the Parkway only to U-turn at Pine Lakes and start heading east again on the Parkway, with the trooper in pursuit.
Just before 6 p.m. the Charger, driven by 33-year-old Jacqueline Luckett of Jacksonville and going east on the Parkway, plowed into cars, pick-up trucks and a van that had all but stopped at the Parkway light with Cypress Point. Nine vehicles in all were involved in the smash-up, five of them damaged badly enough to require towing. One of the victims, Joan Marie Cole, is 83. She had minor injuries.
No one was killed. Luckett, who has a history of arrests on driving charges, was airlifted with serious injuries to Halifax Hospital as Flagler County Fire Flight landed and took off near the scene of the wreck. One woman was taken by ambulance to Florida Hospital Flagler. Another was taken to the hospital by her boyfriend. Others involved in the wreck did not require medical attention.
Luckett has a decade-and-a-half long history of arrests, jail and prison. (See her complete Florida Department of Corrections rap sheet at the foot of the article.) She served two stints in state prison, the last, ending last mid-April, a one-year-and-one-day sentence for cocaine possession and grand theft auto. She was jailed last August and again last September in Volusia County on charges of habitually driving without a license. She was jailed in Duval County in December for failing to appear in court while on bail. She was also arrested in Duval in late November for disorderly conduct and disturbing the peace and in May for grand theft. Earlier in the year, she was jailed in Volusia on a driving without a license and drug paraphernalia possession charges. Her multiple 2007 jailings in Volusia include charges for grand theft, cocaine possession, disorderly conduct, injunction violation, burglary and more. She's been in and out of jail every year in Volusia since at least 1999.
Palm Coast Parkway eastbound was closed for almost an hour, and rush-hour traffic diverted through Cypress Point. One lane on the Parkway eastbound was opened a little after 7 p.m. The first vehicle was towed, by Roger's Towing, at 7:30 p.m.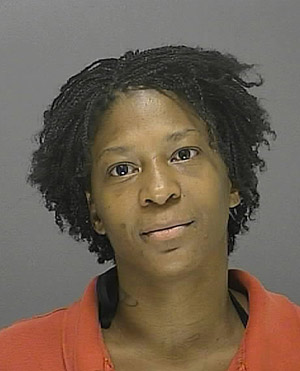 Palm Coast Parkway has five lanes at the intersection with Cypress Point. The two left-most lanes are turning lanes, going toward Boulder Rock Drive. The three remaining lanes are for through traffic and traffic turning right, onto Cypress Point. The wreck's ground zero was the center lane, which Luckett appears to have tried to navigate, as if to make her way between the slowed or stopped cars. She turned her car into a virtual pinball, smashing vehicles to her left, right and ahead of her as her velocity turned the car into a missile that forged a path through steel and glass, of some 30 yards, before finally coming to a stop.
Alberto Domenech, a 26-year-old Palm Coast resident, was at the wheel of his Dodge Ram pick-up truck, in the second lane from the right, and saw it all happen.
"We were all coming in at a stop light. She started hitting everybody in the back," Domenech said, describing her speed as very high as she smashed into one car after the other. She hit his Dodge on the left-rear side, after she had collided with two other trucks behind Domenech–one of them in his lane, the other in the center lane–then smashed into three more vehicles, two of which hit another. Domenech's truck was mostly spared, but he had his driver's side window down and the violence of the crashes was such that some shattered glass ended up in his truck. Luckett and her car came to a rest almost parallel with Domenech, having literally displaced the two cars that had previously been there. Those cars–a 4-door Subaru Impreza and a Mitsubishi SUV–were among those that sustained the most damage. They were pushed into and past the walking strips at the intersection, into the line of cross-traffic.
"I stepped out of the car to help her, she didn't respond, she was shaking," Domenech said of Luckett, describing her at that point as if she were having a seizure.
Troopers were at the scene immediately after the wreck, Domenech said. They searched the vehicle soon after the driver was transported out.
Behind Domenech's truck, a black 2001 Ford Ranger truck had been hit on the left side and sideswiped along the driver's side. The rear tire was no longer operable on that one. Further back, and to the left of the center lane, a blue Toyota pick-up SR5 had been left quite damaged. A Toyota Corolla and a Grand Caravan van were also lightly damaged.
Crews from the Palm Coast Fire Department worked the scene, dropping sand in parts to sop up vehicle fluids–the smell of engine oil was in the air, but not gasoline. Flagler County Sheriff's deputies were also at the scene.
Here's a list of the vehicles and people involved; three of the vehicles were not officially identified and tied to their drivers:
2001 Ford Ranger driven by Frank Benham III, 59, of Palm Coast. He was not injured. The Ford sustained $15,000 in damages.
2006 Toyota Tacamo driven by Poheng Ung, 48, of Palm Coast. Ung was complaining of back pains at the scene. The Toyota sustained $10,000 in damages.
2011 Toyota Camry driven by Thomas Dugan, 62, who had no injuries. The car sustained $3,00 in damages.
2004 Dodge Ram, driven by Alberto Domenech, 27, of Bunnell, who had no injuries. The Dodge sustained $100 in damages.
2005 Dodge Caravan, driven by Stefan Tucker, 40, who had no injuries. The Dodge sustained $500 in damages.
Joan Marie Cole, 83, of Palm Coast, had minor injuries and was taken to Florida Hospital Flagler.
James van Brocklin, 40, of Palm Coast. No injuries.
Christa Santamaria, 28, of Palm Coast. No injuries.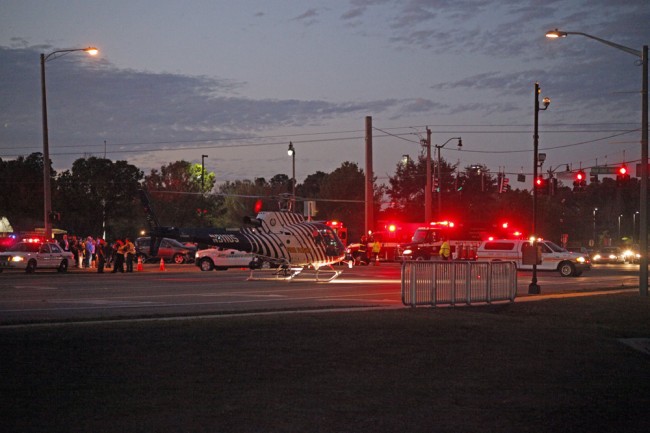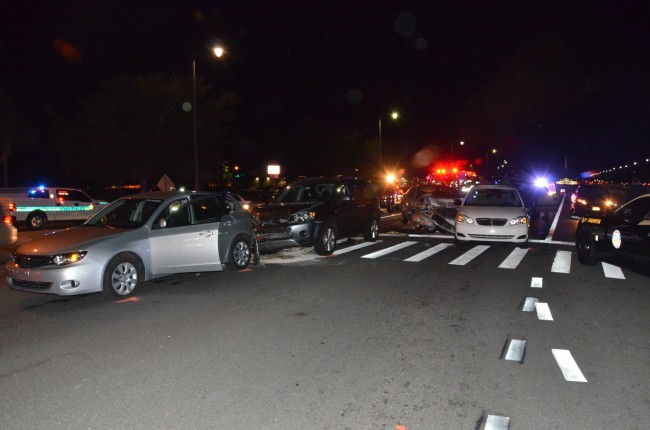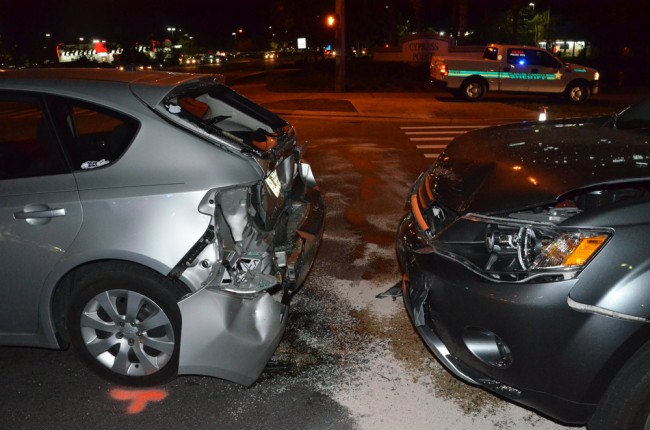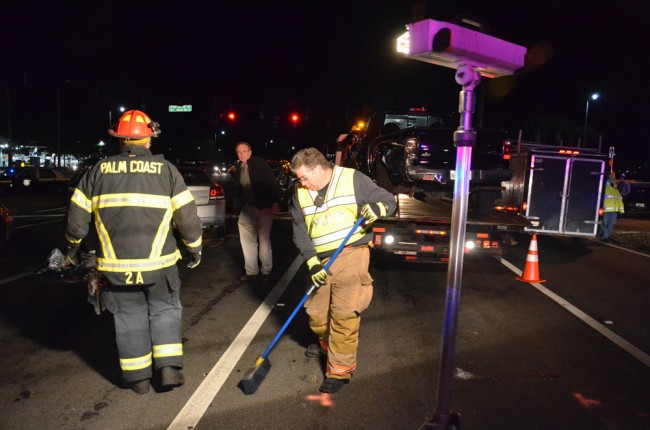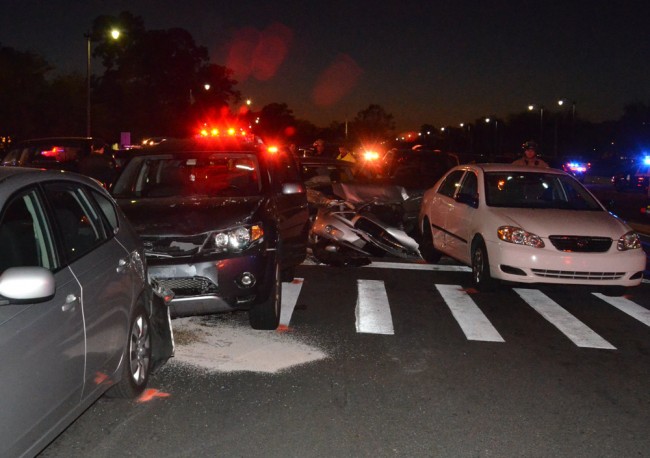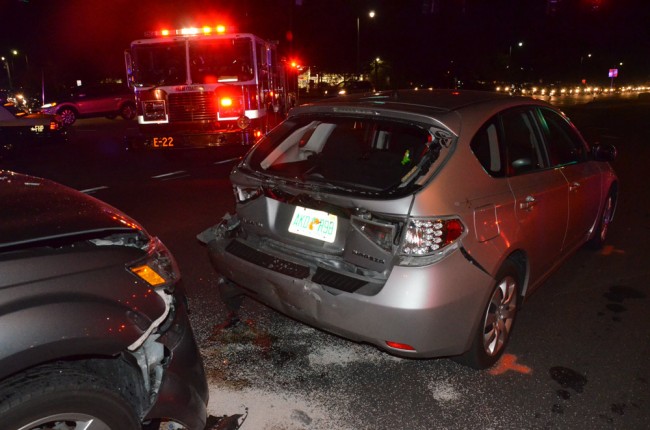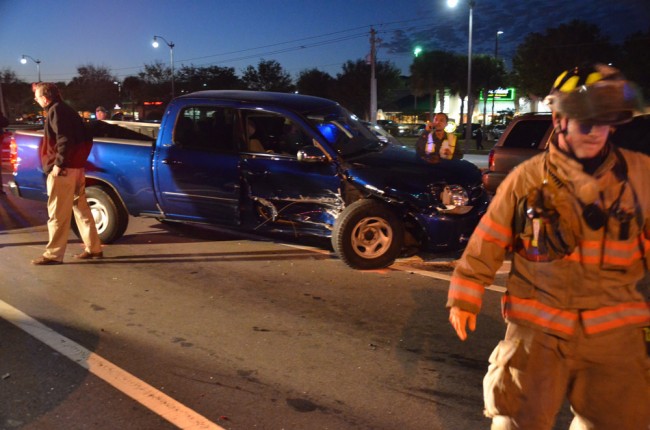 Jacqueline Luckett's rap sheet from the Florida Department of Corrections. Click on the image below for larger view: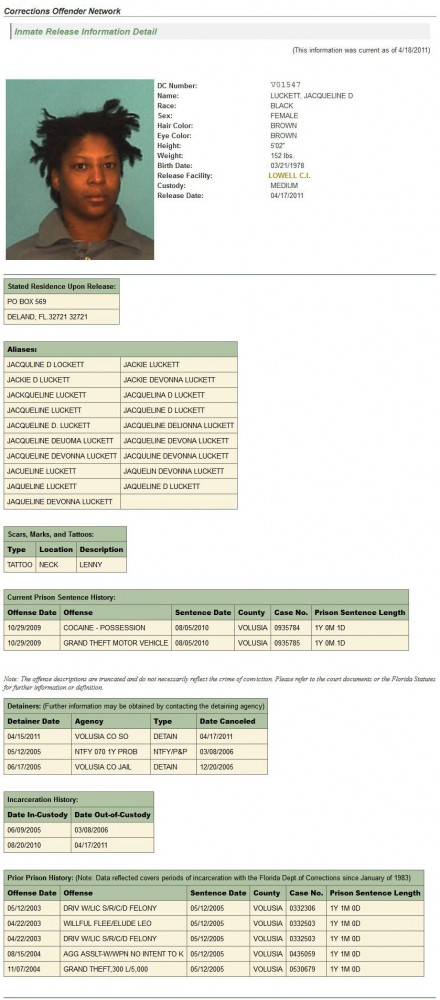 The Florida Highway Patrol's Accident Report: