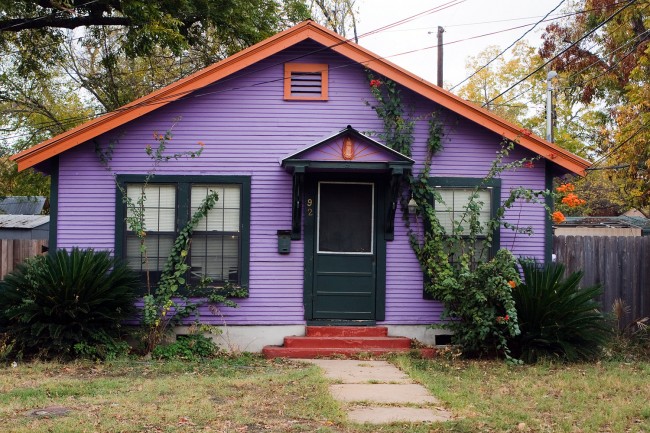 Palm Coast may get a little bit less unyielding about something many residents don't even know the city controls: the exterior color of their house.
The city's Business Assistance Center, along with the Flagler Home Builders Association—one of whose top executives, Jason DeLorenzo, sits on the council—are developing a plan that would better define and expand the allowance of color usage on homeowners' outside walls, giving homeowners more flexibility to decide how to paint their property.
"What we're trying to do here is to look at a business process and decide: can we improve upon it," Joe Roy, the director of the Palm Coast Business Assistance Center, said. "Not that it's right or wrong, but can we make it better—better for the customer, better for the builder, and better for the city, to make life simpler." The esthetic principles of the city's color regulations would stay in place. "What we're trying to do with this is to take out some uncertainty and ambiguity that is part of the process," and to come up with a process that "pushes the limit just a little bit."
It's been a vexing question, especially for people moving in from the north (or west, or south, or from just about anywhere in the free world and most of the unfree one), where one's house color is not usually the government's business. It is here. And the city code is rather specific, restricting architectural designs of homes, garages, sheds and other structures, and outlining color schemes down to coordination requirements and what earth tones or pastels may be used.
For example, "Earth tones include shades of brown, taupe, beige, and gray. Acceptable earth tone shades shall have a Munsell lightness value of 30 or greater." (The Munsell color system is named after its inventor, who defined the way the eye reacts to color according to such things as lightness and hue.)  See the restriction's details below.
Custom-home builders are driving the issue. Customers who  buy a custom-built house typically think they get to decide what the color of their house will be, until the builder disabuses them of the assumption. That dims the notion of having a custom-built house.
Palm Coast isn't about to go Miami Beach on its house walls. But if the council eventually approves a more colorful version of the code in August (the city's planning board takes a first crack at the plan in July), it will relax its current regulations a bit.
The administration will finalize the proposal with the Business Assictance Center then submit it to the planning board. It will consist of new color schemes that supplement what's in the code already. Deed-restricted subdivisions that already have regulations in place would be exempted. That includes home-owner associations, whose regulations can approximate the rigidity of old East German edicts (think Hidden Lakes, Grand Haven, Grand Landings, Covington Garden, and so on). The target audience will be the hapless homeowner who is not aware of existing rules but may want to try a new color.
Bill Lewis, the city council's code-enforcer-in-chief, was worried that the proposal would drench Palm Coast in rainbow colors. That's not the plan, Roy reassured him.
"What we're trying to do is stay within what the code defines today, right?" Roy said. "But when you get into some of the colors, some of the colors are so close that when you look at them you might say, is that pastel or is that something different? To one eye it may look one way, to another eye it may look another way. When you take them as looking at the main color and accent colors, I think that what we're trying to do is to get at something that's very pleasing to the eye that meets within the city code, and maybe this becomes a supplement to what the code is, at there are pre-approved colors that someone is looking to buy a custom home, might say, well, I prefer something just a little bit different. But these are very close."
"Like yellow?" Lewis said, presumably seeing red.
"No yellows, unless there's something out there already existing as yellow," Roy said.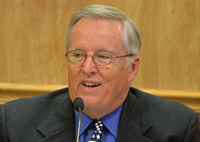 Bill McGuire suggested a mechanism to better educate the public on the city's color code. "I know a lot of people, myself included, came from communities up north where if you wanted to paint your house, you went down to Central Hardware, you bought whatever color you liked and that's what you painted it," McGuire said. "My wife and I bought our house in Palm Coast some years ago and nobody ever told me—of course it's a brick home, so I'm not planning on painting it—but nobody ever told me what I could and couldn't [paint it], and the people that I represent that I've talked to have had issues with what they wanted to do relative to the color of their house are simply unaware that there even is a code of restrictions. So I think a very important part of this process that would guide it to success would be a program whereby the citizens are made aware of the fact that there are codes in this city of Palm Coast, and here is what they are."
Nets wants the proposal to go further. Once residents have learned of the restrictions, their next logical question would be what colors are in and what aren't. He'd like to see the city develop a web page that illustrates the pre-approved color schemes rather than just outline restrictions in words that may still have subjective interpretations. "We need to have clarity," the mayor said.
He reminded the council of the case of the single mother who a year ago was fortunate enough to have her neighbors and friends get together to paint the outside of her house for her, out of charity—only to find out that the chosen color was not allowable. She couldn't neither afford to paint the house in the first place nor ask her benefactors to do the job over. Clearer, more accessible and flexible rules would help.
The council Tuesday morning gave Roy and the administration the go-ahead. (DeLorenzo and City Manager Jim Landon were absent from the meeting.)
"This probably will not bring the city down in ashes," Netts said. "On the other hand, if we can make things easier for our residents, easier for our homebuilders, and easier for our paint supply stores, why not?"

Palm Coast's Architectural Design Regulations: Sec. 13.02. – General Requirements.
The following architectural design requirements shall apply to all new development and construction, redevelopment, and alterations to existing structures within the City. Alterations shall include any change, addition, or modification including, but not limited to, repainting, that affects any of the elements governed by these architectural design criteria.
13.02.01. Architectural styles.
 The City has identified several recognized architectural styles for the design of buildings within the City. One of the following styles shall be used in the design of a nonresidential building. Applicable styles include Spanish Mission, Mediterranean, Italianate, Colonial, Neoclassical, Greek Revival, Modern, Craftsman, and Florida Vernacular.
13.02.02. Green building.
 Green building principles related to energy efficiency, resource protection, and environmental protection (e.g. reusable building materials, light colored roof materials, living roofs to treat stormwater, etc.) set forth by agencies such as, but not limited to, the United States Green Building Council and similar agencies are encouraged.
13.02.03. Coastal building visual relief. 
Buildings within 300 feet of the Intracoastal Waterway shoreline shall be oriented to provide one foot of unobstructed view to the waterfront for each three feet of view obstructed by the building.
13.02.04. Garages.
 Garages that are detached from the principal structure shall be designed and constructed so that the roof and exterior walls of the garage are of similar architecture, materials, and colors as the exterior of the principal structure.
13.02.05. Accessory structures. 
The roof, exterior walls, and exterior colors of accessory structures, excluding prefabricated sheds, shall be compatible with the design of the principal structure. Accessory structures must meet the requirements as set forth in Chapters 3 and 4.
13.02.06. Exterior colors.
Colors of walls, roofing, and accents such as trim and doors, shall be coordinated to achieve a visually and aesthetically positive effect consistent with sound and generally accepted land development principles and practices. While varieties of natural and painted colors are permitted, certain color principles shall be followed. The range of roofing materials and colors allowed for residential and nonresidential uses shall be as described in this section.
A.
Measurement of color. The appropriateness of proposed building colors shall be determined using the Munsell color system or an equivalent methodology. The Munsell color system allows precise documentation of colors using an alphanumeric code to describe the color attributes of hue (pigmentation), value (lightness/darkness), and chroma (color intensity).
1.
Light pastel colors and white. Acceptable light pastel colors and white shall have a Munsell lightness value of 80 or greater.
2.
Earth tones. Earth tones include shades of brown, taupe, beige, and gray. Acceptable earth tone shades shall have a Munsell lightness value of 30 or greater.
3.
Fluorescent colors prohibited. Fluorescent colors shall be prohibited on all exterior surfaces. Neon lighting is not included within the term "fluorescent." Colors that are deemed loud or garish shall be prohibited.
4.
Colors without a Munsell value. If the Munsell lightness value of a color sample is not available, the Land Use Administrator shall compare the color sample to a color chip with a known Munsell lightness value and determine whether the sample is lighter, darker, or equivalent.
B.
Building color combination. Each building is allowed to have a maximum of three colors, excluding unpainted natural stone, brick, and roof materials or natural appearing substitutes:
1.
Wall colors. One color shall be selected for the main surface of the building.
2.
Accent colors. Accent colors should offer some contrast and can therefore be darker, lighter, brighter, or richer than wall colors. However, the main consideration in choosing accent colors shall be compatibility with the wall color. Two accent colors shall be allowed per building. One for architectural elements such as doors, shutters, keystones, quoins, and awnings, and another color shall be used for details, such as window trims, windows, door frames, window sills, cornices, and banding. Accent colors shall complement the building's wall color.
C.
Roof color. Roof color shall be compatible with the selected wall color. Roofs may be in the color of natural roofing materials (such as slate or clay) or may be finished in shades of gray, galvanized silver, copper, brown, green, red, black, blue, or white, except that a roof made of copper may be left in its natural color. Lighter colored roof materials, such as white or galvanized raised seam metal, are strongly recommended for energy efficiency purposes.
D.
Faux building features. It is prohibited to paint faux features or elements of a structure such as, but not limited to, windows, doors, shutters, or flower boxes.
E.
Repainting. When repairs are being made to the building's exterior wall surface, the wall may be repainted in the same color or another approved color. When repainting any portion of the building's exterior, the structure shall be painted in the same color or a color approved by the City.
13.02.07. Exterior material/finishes.
A.
Exterior walls. Exterior wall finish materials shall include stucco, stone, natural brick, finished concrete, split-faced block, wood, or other material including, but not limited to, synthetic materials similar in appearance and durability to those previously named. Finishes of exposed concrete block or corrugated metal are prohibited.
B.
Roofs. Roof material visible from the ground shall consist of concrete, slate, or clay tiles, asphalt fiberglass shingles, or metal standing seam. Residential uses may also have cedar shake wood. To allow for the introduction of new roofing materials of similar quality and appearance, the Land Use Administrator may maintain a supplementary list of acceptable roofing materials.
Source: The Palm Coast Land Development Code.