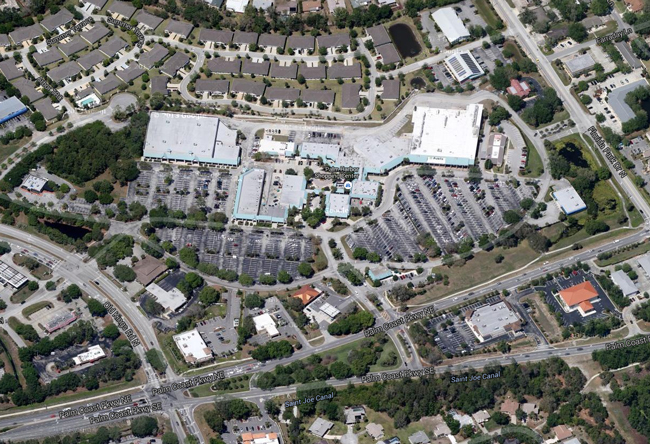 In early August Dennis McDonald, the reigning champion of virulent criticism of city and county policy, filed suit in Flagler County Circuit Court, seeking an injunction to stop the city from cutting down trees in and around the Palm Harbor Shopping Center. McDonald made broad and alarming claims that trees were about to be leveled and the canopy in that area diminished or erased, and that Palm Coast was violating its own covenants along the way.
The claims lacked evidence and raised serious questions about their veracity, first prompting official denials from the city that tree-removal was afoot, and, on more than one occasion, personal but public derision against McDonald from City Manager Jim Landon.
The city then filed its response to the lawsuit. It not only denies McDonald's claims in its motion to dismiss the case—which goes before Circuit Court Dennis Craig on Jan. 27. It also seeks to sanction him for making false claims, asking the court to make McDonald pay the city's costs of fighting the injunction, including interest on any costs incurred before the judgment. It's a way to discourage similar suits in the future, if not to intimidate McDonald.
Josh Knight, McDonald's attorney, described the city's response as "definitely overly hostile" and a "scare tactic" to get McDonald to withdraw his suit for a temporary restraining order–which he will not do, Knight said. Rather, he said the city essentially admitted that it was carrying out arbitrary administrative variances that skirt the normal process, since such orders have been granted, Knight said. "Their response gave us a little bit of what we were looking for," he said. Knight will be amending the original action in response, but will continue moving forward against the city.
In its motion to dismiss, the city—represented by William Reischmann, its usual attorney—argues that McDonald has no standing to sue because he makes no allegations that he will be personally affected by the changes, which would take place two to three miles from the property he owns. McDonald claims the loss of canopy will damage the area's aesthetic beauty and lower property values. Merely citing proximity to an area or aesthetic concern  does not give him standing to sue, the city argues, calling McDonald's standing "pure speculation and fantasy." (The citation's use in the context of the Palm Coast lawsuit is itself an overreach by Reichmann, however: the words were borrowed from a 1992 opinion by Supreme Court Justice Antonin Scalia rejecting environmentalists' claim that they had standing to challenge the limits of the Endangered Species Act. But Scalia's words were leveled at claims that the act affected federal activities abroad . McDonald is making claims about potential environmental changes affecting his own neighborhood.)
The city's response also claims something indisputable: McDonald did not file supporting documentation that trees are about to be removed. McDonald based his assumption on an observation: ribbons had been placed around most of the trees in the area of Palm Harbor. But they were merely being surveyed, not slated for removal.
Still, two points are also indisputable: First, Palm Coast is widening Palm Coast Parkway, including a stretch that will shear off green property—and several stately trees—along the Palm Harbor shopping area. Second, the owner of Palm Harbor Shopping Center, Oak Brook, Ill.-based Inland Group, is selling the property to a developer—Michael Collard, according to the Palm Coast Observer—who plans to demolish sections of the site and build bigger, boxier store that may by next year include a Bed Bath & Beyond and a World Market. City officials have acknowledged that such rebuilding of the site would inevitably entail the loss of some trees, but that the trees would be either moved to different locations or be replaced with more numerous trees. McDonald's contention is that tree-replacement doesn't avoid the loss of canopy.
Of course, Palm Coast does not control most of what a developer or a property owner may do with a site, which leads to the city's third contention in its effort to have the case dismissed: the city cannot be enjoined from removing trees on a property that doesn't belong to it. The city has a rigorous tree ordinance that forbids the removal of most trees absent a strict process, which does include replacement. But in McDonald's case, the lawsuit is not directed at any of three owners of properties affected by McDonald's "convoluted" allegations, the city's response states.
"If [McDonald] believes Dunkin Donuts, or Wells Fargo, or the shopping center is or will be removing trees in violation of some law or contract," the city's response states, then McDonald "should sue these private property owners, not the city of Palm Coast."
McDonald today said the city in its response "did its best to spin this to make it appear that it was about the shopping center. My complaint was focused on the taking and subsequent violation of the covenants and restrictions setbacks and percentage of coverage on Palm Coast Parkway. Had it been concerning the shopping center then they would have to have been named in the suit."
Even if the city was about to remove trees, the city claims, McDonald doesn't have a case for an injunction. McDonald will not suffer "irreparable harm" from such removals, especially since what trees are removed will be replaced. But it would take a series of "if"s for McDonald to have a reason to sue "someone" for damages, and that someone would not likely be the city.
McDonald, the city claims, "simply has not plead [sic.] any facts showing that cutting down trees, wherever they may be, is wrong pursuant to any law, agreement or other relevant document," while the public interest would not be served by an injunction because the city followed all laws and procedures in so far as its own projects along Palm Harbor are concerned.
The motion to sanction McDonald restates many of the arguments in the motion to dismiss, citing "numerous false, misleading and unsupported allegations" along the way, such as inaccurate timelines, the vague targets of McDonald's claims, and his misinterpretation of regulatory steps the city did take while working toward laying the groundwork for Palm Coast Parkway's expansion.
"It hasn't always been about the mall and the trees. They want to make it about that, but that's not really what we're doing," Knight said. "They want it to go away, they don't want undue attention brought to what they're doing."