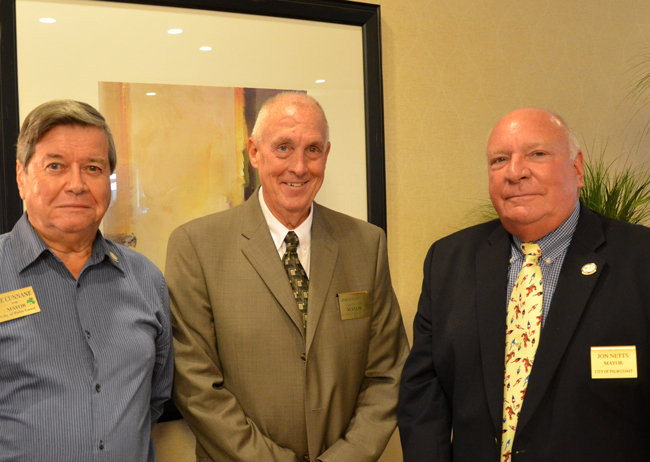 The numbers are stunning–if they are, in fact, reflective of the electorate most likely to cast a ballot in the race for Palm Coast mayor. It is a big if for several reasons.
First, the results.
In a Flagler County Tea Party straw poll conducted online and involving 205 responses, the results were as follows:
Charlie Ericksen, 121 votes, 59 percent.
Incumbent Jon Netts, 73 votes, 35.6 percent.
Joe Cunnane, 11 votes, 5.4 percent.
There are between 1,00 and 1,200 Tea Party members in the county, Tea Party Chairman Tom Lawrence said on Wednesday, with 700 to 800 of them in Palm Coast. "So we got about 25 percent response from the city residents, which is statistically significant," Lawrence said. "I would have liked more but I was pleased that we got the response we got."
The poll was conducted through Survey Monkey, a very popular surveying tool, commonly used media organizations, schools and governments. An email was sent to each tea party member registered by that email, with the link to the survey. That email address could only vote once. If, as in the case of Lawrence and his wife, two Tea Party members were registered under the same email, they would only have one vote.
By polling standards, it's not a scientific tool. The sample is also quite low. It sampled a very particular kind of voter. And non-resident, non-registered voters could have taken part.
So the results, while very likely indicative of trends, must be taken with a grain–or a pile–of salt.
Still, the results of the local Tea Party poll were lopsided enough to surprise even Ericksen.
"I thought it would be pretty even with the incumbent," Ericksen said on Tuesday. "I didn't do anything to seek the tea party vote, but I do go to their meetings, I do talk to many tea partiers, because they are voters. I couldn't limit my campaign against an experienced politician to one group of people. I'm trying to get out to as many people as possible."
He added a caveat about the Tea Party: "It's just one group of voters that are out there, and it's just one indication. I'm not overreacting to it."
Netts, too, was not overreacting. "I don't know to what extent the tea party is representative of the electorate as a whole," he said. Was he surprised by the result? "Not really, not when you consider that the Tea Party, at least initially, held a fund-raiser for Ericksen, McGuire and Cross, so they clearly or at least a faction of them support those three candidates." Bill McGuire and Dennis Cross are running for city council seats.
In fact, there was a fund-raiser, but not one sponsored by the Tea Part, Lawrence said. "There were some people in the camps of the candidates who tried very hard to portray these people as the tea party candidates," Lawrence said, "so I can understand why Jon would think that, because that's what those people were trying to portray it as, but it has nothing to do with the tea party."
Ironically for both serious candidates, Cunnane's numbers, while predictably low, may be a more accurate gauge of the straw poll's validity as a whole for being close to what Cunnane's numbers always are in a local race: somewhere between 5 and 10 percent. In other words there was nothing aberrant in Cunnane's abysmal showing, which may mean that the two other numbers aren't aberrant, either.
Cunnane, at any rate, used as he is to losing, and eager, as always, to score one-liners, wasn't troubled: "That's wonderful," he said of the numbers. "I don't want the tea party support I guess Netts doesn't either." He added: "The whole thing is insignificant as far as I'm concerned."
Early voting started on August 29 at the public library in Palm Coast, with close to 1,000 ballots cast by now. With a week yet to go in early voting, a fifth to a third of voters may have cast a ballot by Election Day on Sept. 13. The turnout is expected to be very low. In the last primary election for mayor, in 2007, just 6,442 people voted, a turnout of just 16.8 percent of Palm Coast's 38,695 registered voters. (Netts handily won that one, with 63 percent of the vote. Cunnane got just under 10 percent.)
Ericksen has been campaigning–particularly at the library, where he's been every day, and likely picking up free votes from people who don't even know voting is going on. They approach him, he educates them (the Ericksen way, naturally), they vote for him. Netts has not been campaigning at the library location, essentially ceding the ground to Ericksen. In a close election, those votes could be the difference, though Netts also has the establishment vote in his pocket: when he appears at clubs and societies–even the Democratic club at Grand Haven, though he's a Republican–the enthusiasm is his to reap.
But appearing at big events isn't enough in local, contested campaigns. When Netts spoke on Tuesday, he'd just ended a shift for the tow boat company he works with part-time, and said he was "doing my job as mayor." Between work and the office's obligations, he said, it "doesn't leave an awful lot of time to be campaigning."