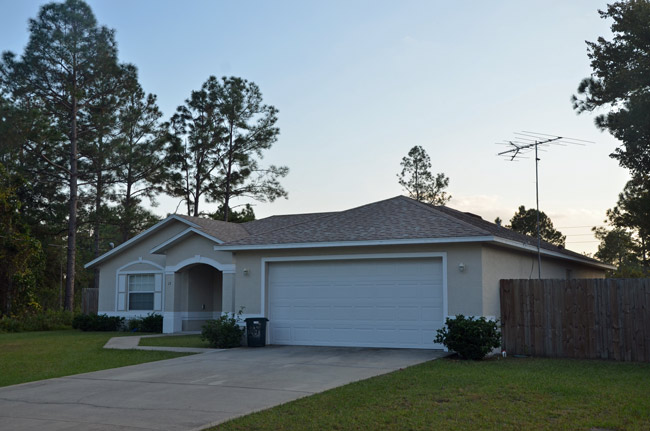 It's a cookie-cutter house like so many others in Palm Coast: one level, about 1,900 square feet, built in the earlier part of the last decade. Like most houses on Wheatfield Drive in Palm Coast, parallel to Whiteview Parkway, its lawn is neatly (and freshly) trimmed, its wooden fence blocking off the backyard well maintained, a large garbage can, stenciled with the number 15, sits next to a shrub out front. The only thing distinctive about the house is its old-fashioned analog television antenna rising from just behind the wooden fence. The house is owned by a woman in New Jersey.
Tuesday, the Flagler County Sheriff's Office's Narcotics Unit and the Florida Department Law Enforcement revealed that the property has been used as a marijuana-growing house, the third such grow house busted in Palm Coast in the last nine months.
Authorities arrested Jorge Rodriguez, 61, and charged him with marijuana cultivation. He faces stiffer felony penalties because there were more than 25 plants in the house. Rodriguez, a native of Puerto Rico, was arrested Monday afternoon at the house.
Initially, the Sheriff's Office reported, Rodriguez claimed to be 51-year-old Jose Soto. After being fingerprinted in the Flagler County Inmate Facility, jail deputies discovered his true identity. He remains in the custody at the jail on $10,000.00 bond. The Federal Immigration Customs Enforcement agency also placed a hold on him, though as a native of Puerto Rico, he would presumably have American citizenship.
Detectives got an anonymous complaint that the house was being used to grow marijuana, and launched their investigation, serving a search warrant Monday. Detectives discovered two active grow rooms in the house, containing a total of 48 plants. According to the sheriff's office, the plants, at full potential, can produce up to 96 pounds of marijuana for sale and distribution each year, yielding a street value of $86,400. Deputies dismantled the grow equipment from the residence and removed the plants. More charges are pending.
In February, the Sheriff's Office busted a marijuana-grow house at 20 Princeton Lane in Palm Coast, where the plant count was cleverly kept at 24, one short of triggering the stiffer penalties. Louis Urra was arrested and charged with growing marijuana, but was able to reduce a felony charge to a "pre-trial intervention" contract, essentially deferring prosecution in exchange for supervision, and the payment of court and prosecution costs ($450).
In June, Kevin Fitzgerald was turned in by his wife upon her discovery that he'd been growing pot at 111 Birchwood Drive, where cops discovered an elaborate grow house with a ventilation system. He pleaded no contest to the marijuana growing charge and also got a deferred prosecution deal. His wife filed for divorce in October.
Earlier this month, Washington State and Oregon legalized the use and sale of recreational marijuana, becoming the first two states to do so in the country, while Massachusetts became the 18th state to legalize the use of marijuana for medicinal purposes. The medical marijuana allowance is a thin fig leaf for the the way the laws have been used, in practice–for recreational use of marijuana. Federal laws prohibiting the growing or smoking of marijuana trump local laws, however. But federal laws have not been enforced as rigorously as in the past, and in some states, such as California, marijuana is grown and smoked with growing freedom.
The drug is far less dangerous or lethal than alcohol or cigarettes: while some 80,000 deaths a year are attributed to alcohol, and 400,000 deaths a year are attributed to tobacco (in the United States), no deaths have been attributed to marijuana–not even through side effects such as cancer or heart disease.
Nevertheless, around percent of state or federal prisoners were serving time on marijuana charges in 2004, the last year for which comprehensive data were available.
Florida maintains some of the harshest marijuana laws in the country. This year, Rep. Jeff Clemens, a Lake Worth Democrat, introduced a proposal in the Florida House to let voters decide whether to legalize medical marijuana through a constitutional amendment. Larcenia J. Bullard, the Miami Democrat, introduced a companion measure in the Senate. The Legislature never took up the proposal.