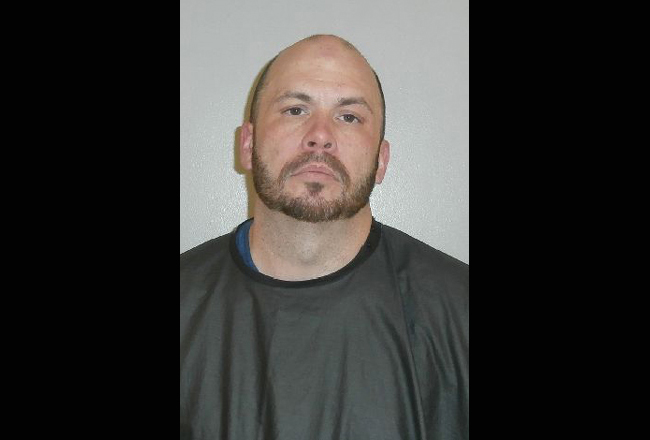 It's a small house–1,350 square feet, flanked by two wooded lots, at the corner of L-shaped 2nd Path at the southeast edge of Palm Coast's Seminole Woods, within hearing distance of I-95.
And there for the past year, according the Flagler County Sheriff's Office, Shawn Dyer, 38, had been growing marijuana for the past year, in a somewhat elaborate operation that drew its electrical power by bypassing the house's power meter. (The sheriff's news release does not specify whether it is one of Florida Power & Light's new, "smart" meters.)
At 7:20 a.m. Friday, sheriff's investigators, along with Florida Department of Law Enforcement agents knocked and entered the house to serve a search warrant signed by Judge J. David Walsh on Sept. 27.
Dyer was alone in the house. Police, according to his arrest report, found 26 marijuana plants–two more than the threshold below which an individual accused of growing pot faces lesser punishment. Those convicted of cultivating 25 or more plans can face up to 15 years in prison. The plants were discovered in a grow room equipped with grow lights, ballasts, planters, dehumidifiers and other equipment necessary to grow pot.
The plants, a sheriff's release noted, "had an estimated street value of $78,000. An estimated 6.5 pounds of packaged marijuana, worth $19,500, was found throughout the residence in plastic bags and bins. Deputies also recovered 152 grams of Hydrocodone liquid, 5 grams of oxycodone and 13 grams of valium."
There had been something of a lull in the past 10 months in marijuana grow-house busts until the Friday arrest. On the last day of the year last year, sheriff's investigators had busted their fourth grow house in 10 months, that one precipitated by the house's tenant, Shaune Lawrence, then 54, who'd called cops to report a home invasion.
Instead of finding the perpetrators of the home invasion at 5 Fleming Court in Palm Coast, cops found 110 marijuana plants, most of them small, though at full potential they could have yielded some 55 pounds of pot. Lawrence's case is still wending its way in Flagler County Circuit Court. He faces two third degree felonies (for possession and manufacture of pot) and a first degree misdemeanor.
The previous month, there was a pot bust at 15 Wheatfield Drive. That June a wife turned in her husband over a grow house at 111 Birchwood Drive in Palm Coast. And In February 2012, the rash of busts began with the discovery of small pot plants at at 20 Princeton Lane in Palm Coast.
"This operation has removed a substantial amount of marijuana and drugs from the streets of our county," Flagler County Sheriff Jim Manfre said, referring to the 2nd Path bust. "We realize, however, that another dealer will step up, so we will continue with these special investigations with the objective of removing illegal drugs from the community."
Dwyer, whose home address in his jail booking is listed as 59 White Feather Lane, was charged with one count of marijuana cultivation and released on $7,500 bond.
Florida's pot laws remain among the harshest in the nation. Two states have legalized possession of small quantities of pot outright (Colorado and Oregon), while some 20 states have decriminalized pot possession or legalized the possession of pot for medical purposes. Marijuana's effects are far less dangerous than alcohol or tobacco, though it has a number of medical benefits.