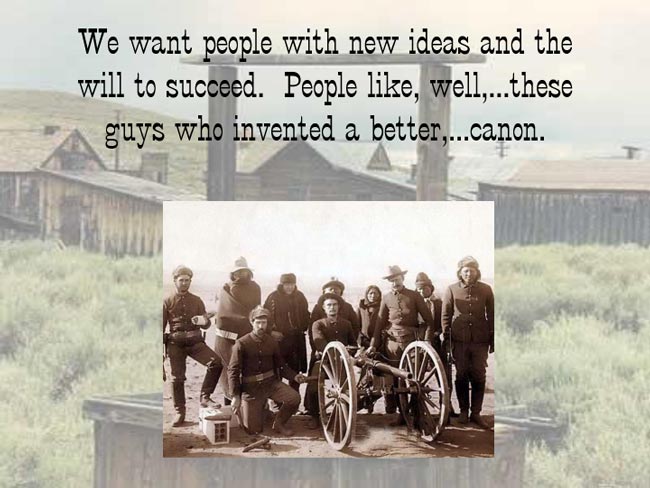 When Palm Coast City Council member Frank Meeker proposed the idea in September 2010, it was practically laughed at. "We create a posse of 75,000 interested citizens by offering a financial incentive to go and seek out individuals interested in moving their business to Palm Coast," Meeker had proposed in a slide presentation using Wild West imagery for background. "They scatter to the four winds in the hopes they will be one of the lucky ones to find a willing prospect that meets the city's strict, but as yet undefined requirements."
Twenty months later, and despite repeated warnings from the city manager and the mayor about the program's potential for corruption and administrative headaches, Meeker's posse is about to become policy.
"Recruiters" who are instrumental in creating local jobs will get a $1,000 reward. Realtors are eligible. Most government workers are eligible. Employees of economic development departments are not. Owners and part owners are not. Home-based businesses don't count. The business must be a new one, or one that's expanding or relocating from outside the county (though that clause is rife with confusion), and it must be located in a commercial or industrial zone. It must employ a minimum of three full-time employees.
The recruiter gets $500 after six months, and another $500 after 12 months, assuming the jobs created are retained. That's a flat fee, regardless of the number of jobs created. And it doesn't accrue in subsequent years. There's no incentive for recruiting more jobs. But from the city's perspective, there's also less incentive to fudge job-creation numbers. The program is considerably scaled back from Meeker's original vision, which entailed $300 per job created and retained for a year, plus $200 per job at start-up.
Far less clear is the definition of "recruiter." The council did not narrow it down, leaving open the possibility that someone will claim to have encouraged a business to move to Palm Coast, without necessarily being directly affiliated with that business, and seek out the reward–ahead of, say, the someone else involved in that business. It's just as possible that the owner of a expanding business could himself invent a recruiter as a front, cook up a good story and cash in on a free $1,000.
The city is pledging $10,000 for the remainder of the year, assuming the council ratifies the plan by vote next week. Meeker is looking for $50,000 for the program next year.
"What I was thinking of," Meeker said, "is mom, pop and a daughter move down, they had a business that was–they didn't like paying the high taxes up north and they decided to go to, you know, 'find your Florida' and come up with a better way of life." Meeker was citing Palm Coast's new tag line. "Part of the purpose of this was to fill up empty storefronts in Palm Coast, and this is why I was asking for three years up front. I'd like to have seen that their business was successful someplace else so I was reducing my risk of throwing good money after bad."
The program never had the most enthusiastic support of the whole council or the administration. Mayor Jon Netts was reluctant all along. City Manager Jim Landon, initially turned off by the idea, repeatedly reminded the council that city staff will end up not only administering the program but also dealing with its unintended consequences. Those could potentially be an administrative and legal nightmare, since the city is not equipped to be an arbitrator.
"I will tell you, this is the only one I'm really opinionated about," Landon said of the process that actually picks eligible recruiters. "This will get your city manager fired, because we won't give money to somebody and somebody won't like it and we'll find out that oops, there was something behind the scene. This needs to be full disclosure, it needs to be all done out in the public."
"I have no problem with full disclosure, I have a problem with city council voting on it," Netts said, "for the same reasons."
"I will tell you that this is fraught with corruption, but when you di it at a staff level you're more likely to see that corruption occur versus if it has to come for a full disclosure. If you don't want to approve it then I'll at least bring it to you and let you know it's happening. You can veto it if you like. There has to be something here that is not just behind closed door."
"I don't want to pt city council in a position where we have to pick this guy and not that guy," Netts said, essentially leaving it to the administration to do just that.
But there was also a desire, on Netts's part especially, to let Meeker have a signature achievement on the council, especially now that Meeker has decided to run for the county commission, where economic development is perennial campaign fodder.
"I still have problems with this whole thing, I don't love it, I'm not married to it, but if we pick this thing to death it will never happen," Netts said. "Let's get something in place, and as Frank points out, if nothing ever happens, it's only cost us a lot of time, trouble and effort. We can modify the program any time we want. We can expand it, we can narrow it, we can eliminate it."
"I'm not going to spend taxpayer dollars to reward anybody for bringing a business here that doesn't address the fundamental issue that we've been talking about, and that's unemployment, and empty storefronts. Any business that goes into business will fill an empty storefront, but to use Frank's example, mom and pop and one daughter, and they each have a third share in the business, they're the only ones that benefit, the landlord benefits. If we're going to do something like this I want to see how it affects our unemployment status, so I would like some kind of exclusion for ownership."
Netts was also cautioning against bringing, say, a new pizzeria in town only to create competition for an existing one and putting it out of business. "So we've hired three people here, we fired three people there," Netts said.
"We don't put anybody out of business," council member Bill McGuire said. "The consumers do that. If you come in with a pizzeria and you make a better pizza at a competitive price, you're probably going to force somebody out of business, that's the nature of the beast."
"Absolutely true," Netts said. "Absolutely true Bill, I agree with you completely, but do we want to pay somebody to indulge in that process? Government does not create businesses, consumers create businesses," Netts went on, citing almost word for word the iconoclastic conclusion of Nick Hanauer. But he stressed that existing businesses will raise hackles the moment taxpayer dollars are used to subsidize competition. That's why he wanted the money more focused on so-called "primary employers," that is, employers who produce more goods or services than can be consumed locally (manufacturers, for example, or call centers). But those jobs are less likely to be created in the first place.
"It's not going to work unless we loosen up," Jason DeLorenzo, another council member, said. "And I don't like the idea of having another pizza place that's going to interfere with our current pizza place, but maybe we'll get an Indian restaurant, which we don't have, and I wish we did. There's plenty of other businesses, and if businesses look and do their due diligence, they're going to find the niche that works for them."
But at every turn, Netts raised potential scenarios to illustrate how "this thing is fraught with opportunities for abuse."
"This is a business decision that they're making," Netts said, trying not to demolish the concept. He preferred limiting the incentive to Meeker's original idea: recruiting from out of state. "If I have a business somewhere else, I'm not going to move to Palm Coast so my good next-door buddy can pick up a thousand bucks. I'm going to move my business because it makes business sense for me."