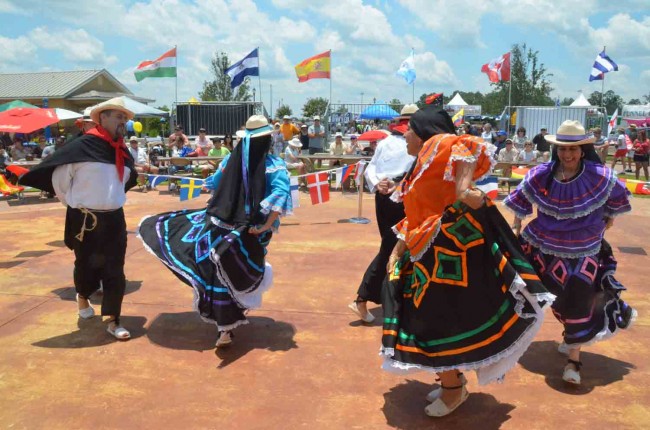 Palm Coast may well have discovered how to host a festival with down home charm even as it went global to do it: the International Food and Wine Festival taking place Saturday and again Sunday from noon to 5 p.m. has those rare ingredients of successful festivals: a mix of the intimate and the urbane, at the finally affordable admission cost of $3 per person. The city, along with Beach 92, the radio station, are hosting the first, and hopefully the first of many, annual International Food and Wine Festival at Central Park in Town Center.
If it weren't for the buzz-fly clutter of political candidates peddling campaign paraphernalia every two and a half steps (and multiplying the number of booths) you could have thought yourself at an Epcot annex. Coincidentally or not, food vendors from a half dozen countries and regions–or, in one case, the entirety of Africa–were arranged around the park's lake, just as Epcot's World Showcase is spread around Showcase Lagoon.
There weren't that many places represented–Hawaii, the Philippines, Poland, the Mediterranean (gyros are claimed by everyone from Greece to Israel), Africa, Portugal, Italy, Mexico, rumors of France and Germany, and if you threw in non-foody booths, places such as Grenada in the Caribbean. Then again for all of Epcot's claim to be a world showcase, it comes down to just 11 countries, including the United States and Canada, which don't really count food-wise (the United States because it's in your fridge when you go home, and Canada because the only cuisine it can call its own besides poutine–the dish that keeps every Canadian cardiologist in business–it owes to immigrants.
Most dishes are reasonably priced, beginning with small tasters at $1 a serving and topping off at $8 for gyros. In Poland you could get a full taster's smorgasbord (about five or six items) for about $12, not including Zywiec beer. On Saturday, the wine took a while to make it to Central Park, but it finally did around 3 p.m.
Beach 92 had lined up a dozen entertainment groups for both days, including performances tuned to Polynesian, Latino, African, Portuguese and American traditions. Add some bagpipes for Saturday from noon to 1 p.m. The festival continues today through 5 p.m.