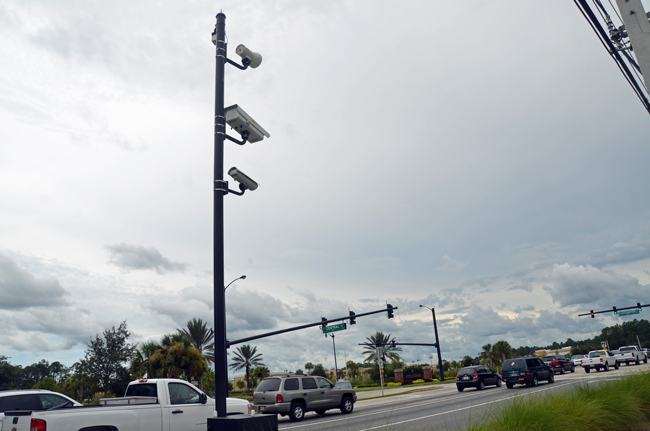 The Florida Supreme Court in a 5-2 decision today declared illegal schemes such as Palm Coast's that operated red-light camera systems before July 2010, when the Florida Legislature expressly allowed and codified such schemes. The court did not address the legality of red-light cameras after July 2010, as that question was not before the justices. So post-2010 red-light camera schemes remain legal and in full force.
What that means to Palm Coast, however, is that every red-light camera ticket issued between 2007 and July 2010 was illegal, and may have to be reimbursed.
Palm Coast and its red-light camera contractor, American Traffic Solutions, were actually sued over the ticketing scheme prior to the 2010 law. ATS chose to settle with drivers, paying back to those who applied for reimbursements a share of their fine. Palm Coast refused to settle, choosing instead to take its chance and wait on the Supreme Court's decision.
The city may rue that decision.
According to Palm Coast's finance department, the city collected a total of $1.76 million in red-light camera revenue in the years before the so-called Mark Wandall Act, which codified red-light camera systems statewide. Of that, $562,280 went to ATS. That left $1.19 million to Palm Coast.
The city may now have to pay back that money.
The majority decision today does not specifically address the financial schemes of cities, and whether or not they would have to pay back what they took in. But inn a footnote in her dissent, one of the justices spelled out that the 2010 law had not made the issues in the local cases "moot, particularly given the significant amounts of money that were collected by the cities of Orlando and Aventura pursuant to their then-existing municipal ordinances — which the majority has decided must now be returned to the individuals who violated these ordinances."
Precedent in other cases where ordinances are invalidated also suggests that when transactions are involved, the party levying a fine or a cost under an illegal ordinance is responsible for paying that money back. The Palm Coast City Council is aware of that very strong likelihood, and has discussed it in the past with its attorney.
Today's decision is only the latest in a series of blows against Palm Coast, resulting directly from the city's attachment to its red-light cameras, that have successively damaged the city's reputation and sense of fairness.
The decision today was the result of two lower-court decisions that had reached the supreme court from different appeals courts. In a case from  Aventura, the Third District Court of Appeal ratified the red-light camera scheme there, saying that local governments had the right, under home rule, to run such cameras. In a case from Orlando, the Fifth District Court of Appeal reached the exact opposite conclusion, saying that no, state law explicitly pre-empted local governments from establishing red-light camera schemes, because the law specifically reserved such traffic rules to itself.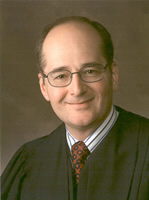 Justice Charles T. Canady, writing for the majority, said that the Fifth District had it right, and that the pre-2010 "ordinances are not valid." Canady, the most conservative member of the court, was joined by Chief Justice Ricky Polston, Justices Fred Lewis, Jorge Labarga and James Perry. Justices Barbara Pariente and Peggy Quince—the court's two most liberal justices—dissented.
The majority decision was brief but narrowly focused on state power at the expense of local jurisdictions, when that state power is spelled out in state law. "[M]unicipal ordinances must yield to state statutes," Canady wrote emphatically, whether the "pre-emption" of local ordinances is explicit or implied.
"Preemption of local ordinances by state law may, of course, be accomplished by express preemption—that is, by a statutory provision stating that a particular subject is preempted by state law or that local ordinances on a particular subject are precluded," Canady wrote. " Preemption by state law, however, 'need not be explicit so long as it is clear that the legislature has clearly preempted local regulation of the subject.,'" he wrote, citing a 1989 court decision out of Miami. "Implied preemption is found where the state legislative scheme of regulation is pervasive and the local legislation would present the danger of conflict with that pervasive regulatory scheme," that decision stated.
Pariente, in her dissent, took the opposite view, siding with the Third District in the name of local control, or home rule. "The majority's holding unnecessarily broadens this Court's interpretation of legislative preemption, while, at the same time, limiting the home rule authority granted to municipal governments by the Florida Constitution. I would quash the decision of the Fifth District Court of Appeal," Pariente wrote. She said she would "adopt the well-reasoned opinion of the Third District Court of Appeal in City of Aventura v. Masone, 89 So. 3d 233 (Fla. 3d DCA 2011), and hold that the red light camera ordinances enacted by the cities of Orlando and Aventura prior to 2010 were proper exercises of their municipal home rule authority. "
Canady cited explicit passages in state law that relate to traffic rule-making. That law leaves room for local governments to set up their own rules and schemes. But it very clearly defines that room, spelling out the areas local governments may address. Otherwise, the law states in a passage Canady emphasized, "It is unlawful for any local authority to pass or to attempt to enforce any ordinance in conflict with the provisions of this chapter."
In essence, Canady said of red-light camera ordinances in Orlando and Aventura—and, by extension, in Palm Coast and other jurisdictions that imposed such cameras before July 2010—" Each of the ordinances creates a municipal code enforcement system for the disposition of red light violations that is entirely separate from the enforcement system established under chapters 316 and 318," the two chapters in state law relevant to traffic rules.
"The prohibition and punishment of red light violations are matters 'covered by'" state law, Canady concluded, while the section proponents of red-light cameras pointed to does not "expressly authorize" local ordinances on those matters. Nothing in state law, the majority ruled, "provides that municipalities are granted the authority to enact an enforcement regime different from the enforcement regime applicable under the provision of section 316.075(4) that red light violations are 'punishable pursuant to chapter 318.' And nothing in section 316.008(1)(w) creates an exception from the express preemption imposed by section 318.121 of any fines other than the penalties imposed as provided in chapter 318."