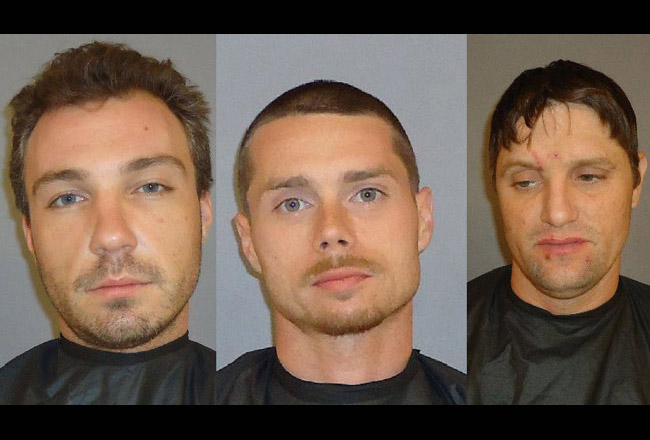 Three arrests that may or may not be related–two for heroin possession, one for heroin trafficking–have Flagler County Sheriff Don Fleming warning that the crackdown on pill mills may be provoking a rise in heroin use and trafficking.
"Detectives have identified an organization that is a major distributor of heroin in the area. There will be more arrests in connection with this organized crime ring," Fleming said in a news release this afternoon. "We are committed to protecting our community from this attempt to do business in our county."
The release was prompted by two Saturday arrests on heroin possession charges, and one arrest early this morning on a trafficking charge. Other than those, there has not been any indication that heroin trends have changed. Heroin use nationally has been a minor blip on the drug-abuse charts, with those saying they'd used the drug at all in the past year fluctuating between 0.1 and 0.2 percent of those surveyed in the annual Substance Abuse and Mental Health Services Administration's annual survey (except for 1997, when it was 0.3 percent).
But the survey years cover 1979 through 2008. Since then, heroin use has reportedly increased across the country. ABC News reports that since 2007, heroin use "has nearly doubled," with 50 percent of new users younger than 26.
The Saturday arrests involved Denis Chervyakov, 32, and Jason Hanson, 28, both of Palm Coast.
Detectives were conducting surveillance in the business area around Palm Coast Parkway and Old Kings Road. At about 4:45 p.m., they saw Hanson get out of a dark 2000 Chevy, approach another vehicle, and make "a hand exchange with an unknown person consistent with drug activity," according to a police report. Hanson then got back into the Chevy, holding something in his hand. Then Chervyakov got into the back seat, and the car traveled to the back parking lot at Wendy's on Old King's Road.
When detectives approached the car, Hanson had a band tied around his arm, according to the report. A detective saw, in plain view to him, a needle, aluminum foil, and a spoon, "all consistent with drug use," according to the report. Both men were arrested and taken to jail. The substance they were using tested positive for heroin.
The third arrest took place 36 hours later.
All it took was for Edward McLaughlin, 29, of 1911 County Road 75 in Bunnell, to drive his 2008 Dodge Ram on the solid white line as he traveled south on I-95, by the Palm Coast Parkway exit, to trigger the traffic stop and the arrest a little after 3 this morning: "McLaughlin," the arrest report states, "appeared to be nervous." He had reason to be: he had been under police surveillance, and crossing the white line was the least of it.
The arresting deputy called for back-up, including Deputy Dominic Guida's a K-9 unit. "Deputy Guida and his K9 walked around the vehicle two times," the report continues. "Each time as they passed the front passenger door McLaughlin made a gesture. The first time he looked at them and began to tap his right hand on the steering wheel. The second time he looked at them and began to shake his head to the left and right." The dog signaled that he had sniffed something. McLaughlin was asked to leave the Dodge. He was searched. Nothing turned up. Cops then turned to searching the Dodge.
Then an unusual change of pace: "Due to McLaughlin being extremely nervous and low light conditions, the vehicle was moved to the Home Depot parking lot by deputies for a more in depth search," the report states. Two detectives removed the passenger-side door panel "and a round object was observed resting on the bottom lip of the door panel. This object had black electrical tape wrapped around it." McLaughlin was taken in for questioning, the Dodge was taken to the impound yard, and the object was taken to the Criminal Investigations Division, where, after four layers of electrical tape and dryer sheets were peeled off, a brown rock-like substance was revealed. It weighed 26 grams. It tested positive: heroin. Just before 6 a.m., McLaughlin was read his Miranda rights and arrested on one count of trafficking heroin. No bond was set.
Detectives said he'd been transporting the heroin from South Carolina to Bunnell. This was his first arrest in Flagler County.
Jason Paul, of 7 Pine Grove Drive in Palm Coast, has been arrested twice before: in May and August 2011, he was booked at the Flagler County jail on charges of shoplifting, bringing contraband to the jail, possession of a controlled substance without a prescription and possession of drug-cultivation paraphernalia.
Chervyakov, of 6 Pillory Lane in Palm Coast, has been arrested and booked into jail four times before going back to 2009–on drug paraphernalia possession, probation violation, grand theft, accessory after the fact, shoplifting and a driving on a suspended license. charge.
The total amount of heroin seized in the three arrests is street-valued at $26,000.
Palm Coast hasn't had the sort of pill-mill problem that South Florida had, but the city and the county cracked down on allowances of new pain clinics last year as the Legislature was refining its own crackdown on the clinics. Those laws have now been strenghthened, making it more difficult for fly-by-night pain-clinic operators to ply their trade.
In the first two months of 2011, Sheriff's narcotics detectives noticed none or very little heroin activity within the county, when oxycodone pills, mostly Roxicodone 30 mg pills, were plentiful and detectives were purchasing pills on the street for prices ranging between $13 and $17 a pill, according to the sheriff's office. These medications were being funneled into the county mostly from South, Central and North Florida. In the past several months, detectives have noted that there has been a spike in the price for Roxicodone with detectives now paying $25 or more per pill. Narcotics detectives have also noticed an increase in the local distribution and consumption of heroin, according to the sheriff's office.