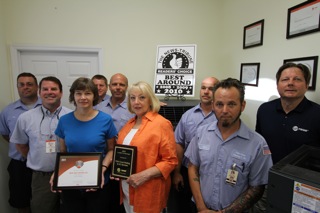 In a first for Palm Coast Heating & Air Conditioning, the company earned three awards from TRANE, a world leader in air conditioning systems, services and solutions.
The first award is the '2010 Top XL/XV' award. This was awarded for selling the most TRANE XL brands. These are high end, top of the line models.
The second award is the '2010 Pinnacle Award'. This is for being an outstanding dealer in sales.
"The award I am most proud of is our 2010 Leader in Surveys award," President Doug Jahn said. "This represents a 99.1% customer satisfaction rate," he added. "It's a team effort – our staff made it happen – and we are humbled and honored to be recognized by our wonderful customers."
TRANE dealers from North Central Florida to Southern Georgia were considered for the awards.
Jahn attended the 2010 Top Performer Awards banquet to be recognized as a winner on April 7th at The Shores Resort & Spa in Daytona Beach Shores. The banquet was held in the Richard Petty Room.
Palm Coast Heating & Air Conditioning, Inc. has been serving the Flagler County area since 1990. They are proud to be celebrating their 21st year in business. They have grown from 1 to 10 employees. Customer satisfaction is their number one goal. They have earned the News-Tribune's Reader's Choice Award for Best Heating & Air Conditioning company for three years in a row. They are also a member of the BBB and the Flagler County Chamber of Commerce. They can be reached at 386/446-5123 or on the web at http://palmcoastac.com/. They are also on Facebook at http://www.facebook.com/palmcoastac, Twitter at http://twitter.com/#!/pcheatac and on YouTube at http://www.youtube.com/PalmCoastHeatAC.