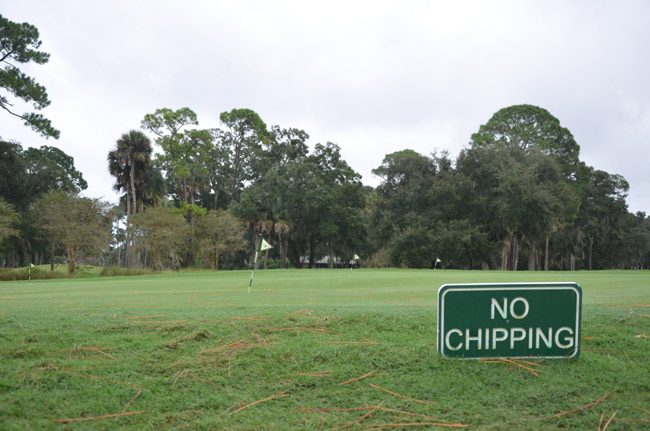 Palm Coast government will be taking over day-to-day management of the troubled Palm Harbor Golf Club and the Palm Coast Tennis Center by mid-summer, ending management by KemperSports, the company that's run the two operations for the city for eight years, but at significant loss year after year. The city has had to make up the annual deficits, which totaled close to half a million dollars in 2015.
The city and KemperSports have been unable to agree on a contract extension, which in effect forced the city's hand to take the more controlling approach.
There is no guarantee the city will more profitably run the two operations under its own management. That business plan and profit-and-loss statement is yet to come. But by more completely absorbing them into its parks and recreations operations—as opposed to running them as separate, contracted budgetary line items—the line between profit and loss will be blurrier, and the operations will be more similar to city parks, which don't make money (and aren't intended to make money), though unlike parks both the tennis and golf clubs will remain fee-based amenities.
"Today we are hoping to change the conversation and go into a whole new direction," City Manager Jim Landon told the city council Tuesday, acknowledging, as a previous council had last year, that continuing the old contractual approach no longer made sense, but in stronger language. "What do they say, the definition of insanity is when you keep doing the same thing over and over again."
Still, the approach had City Council member questioning how—and whether—it would substantially differ from losses prevailing now, especially as golf remains a troubled leisure industry: it's hemorrhaging users.
"A little more control," is how Landon explained it. But also more directly fusing the operations with parks and recreation. "Golf itself is a tough business right now," Landon conceded, with many clubs not making money. "We're trying to approach this from an amenity, from a recreational standpoint, and getting away from the formal management like a club-type setting."
Council member Steven Nobile, concerned about future costs, agreed that the golf club is an amenity, "but I don't see it as a lot of our amenities, because this is a very high-expense amenity," Nobile said. "I don't mind putting money into it, but we've got to make sure we're not throwing money at it, so that it's an effective, efficient and well-designed plan and organization." If the course is not producing a lot of money that can be reinvested in the course, then taxpayers would still have to subsidize it as they do now. "I'd like it to be able to sustain itself," Nobile said.
The city could not reach a continuing agreement with Kemper, with whom it's on a month-to-month basis, because the two sides finally parted ways on risk, even though that had been the arrangement all along. "They have no risk, they make $84,000 a year no matter how the course goes," Landon said, reflecting the flaw at the heart of the city's relationship with Kemper all these years: Kemper could run the operations at any loss to the city. City taxpayers would always be there to pick up the difference. And they have. Even when Kemper employees had workers compensation issues with Kemper—and would sue the company—the city had to pick up some of those costs, Landon said.
"And we said no," Landon said. "If your employees screw up, that's your liability, that's your responsibility, and they said no, that's not our model, we're not going to sign a contract where we have any risk involved." So if the city were to have more risk, it would assume more control.
The current approach is to change direction. The city would adopt a hybrid system. It would retain management of the tennis and golf operations but contract out specific services such as running the restaurant, marketing, maintenance, janitorial services. It's not much different from what's in place now: the city owns the facilities and contracts out with a single management company (Kemper). The "new" approach would mean that it would contract out with a number of companies, and itself also be in the management business. The city would also hire a consultant to craft what proposal requests it would advertise. That approach would allow the city to eliminate the current management fee it pays Kemper–$84,000 at the golf course, $23,000 at the tennis center for the year.
The city would take control of the course conditions, programming and special events, marketing and fee collections.
The city got some management consultants interested too implement the hybrid approach, but some of the responding companies wanted ultimately to manage the facility, "which isn't what we were interested in," Landon said. The city settled on a company called Morningstar Golf and Hospitality of Princeton, N.J., to put in effect the 30-day transition away from Kemper at the tennis center. The city plans to maintain current programs, with the transition completed by the end of April, and the city's recreation department running the facility by then. A city recreation supervisor would have a full-time office there.
Five consulting companies applied to manage the transition at the golf club. Morningstar got the nod. "The main factor for it was that they were a true consulting option," Alex Boyer, the city's parks and recreation director, said. "They had a short contract timeline that would allow us to come in, focus on what we want to do and then make it city management." Morningstar will help the city write a business plan, hire staff, set up internal controls and prepare requests for proposals for the various services the city will contract out.
Kemper would end its tenure at the golf course on July 31. The course would close for two weeks after that to shift management to the new system, re-opening under city management on Aug. 14.
"As far as what it's going to cost," Landon said, "it'd be very similar to what we're paying today."
That's the approach the council appears ready to adopt next week in the form of a $30,000 contract with Morningstar.
"I see a lot of advantages to this conversation, in particular about putting it under parks and rec and truly making it part of Palm Coast's great amenities," Mayor Milissa Holland said.
Klufas suggested partnerships with other public courses, especially those that have had similar experiences with Kemper.
But the city is now using the same language as Kemper did over the years—projecting success far into the future, meanwhile giving the approach of the moment a chance to work. "Everyone is kind of figuring out what it is," Boyer said of the new process. "The reason we proposed the hybrid model is that we're not diving in to a full choice. Right now we're trying to maintain the asset itself, maybe looking at growing some programs but also looking how we can continue to focus on specialty things, which is contracting those areas out. But this gives us a long-term plan that maybe we go back to something else. But we're not completely making one decision or another, we're going to have to wait three or four years before we can make a decision to 'yes.'"
"We're trying to do a very comprehensive approach," Landon said. "But it is a specialty area that we don't have the expertise, and that's why we're trying to bring in somebody that does, is really what it amounts to. We need another team player to finalize this."
Of course, that's also what the city had said of KemperSports year after year.