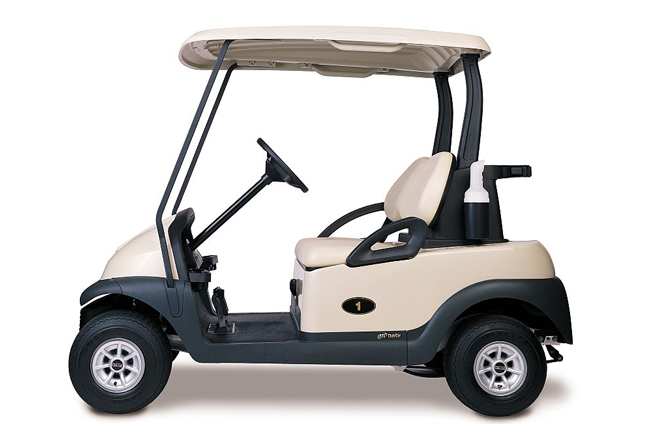 Taxpayers and city council members could be assured of two certainties since Palm Coast contracted with Kemper Sports to run its golf course: the operation has never made money despite City Manager Jim Landon's predictions since 2009. And 11th-hour surprises, costly surprises at that, have been, like atrocious puns, par for the course.
Two weeks ago the council again discussed the fate of the troubled golf course (and the city's tennis course, also under Kemper management, also riddled with deficits). Its 2012 deficit was initially estimated at $50,000, but the actual deficit was $70,000. The estimate for 2013 was that the golf course would break even. It is heading toward a $50,000 deficit instead. Council members took heart that the deficit was at least shrinking.
Tuesday, council members were hit with another late-breaking surprise: the administration's request that they approve a three-year lease worth $194,000 (or $258,000 if a fourth-year option is exercised, as expected) for 70 electric golf carts, a café cart and a driving range cart. The lease is between the city and the golf cart company, not between Kemper Sports and the company, though Kemper worked out the bids first before pushing the purchase through the city's procurement system.
Council member Bill McGuire has been the most vocal critic of the golf course, and is awaiting an October 8 presentation by Kemper Sports to determine how the company promises to turn a profit—a promise it made four years ago when it won the contract to run the course.
"I would propose that we table this until we hear Kemper's proposal on how they're going to make this golf course break even," McGuire said.
Landon said that wasn't an option—as much spending with the golf course has not been. "If you're going to continue the operation of the golf course, I haven't heard otherwise," he said, "you're going to have to do this no matter what you're going to hear from Kemper in October. You're still going to do this, and financially it's going to save us money to do it sooner than later."
McGuire wasn't pleased by the timing of the deal. "The other side of that, Mr. Landon, is if we knew these golf carts were going to have to be replaced, and time was of the essence, maybe this should have been proposed some time ago instead of now, we're at the 11th hour," McGuire said. "We don't really have any choice. There's no other alternative. And if that's the way it is, that's the way it is, but again this gets back to how well is the course being managed, because if I am managing an investment for someone else, and I know that coming up I'm going to have a major expenditure, I'm not going to wait until that expenditure falls on my head before I say, hey, you need to start thinking about what you're going to do about this."
Landon said it had nothing to do with Kemper. "If you take Kemper out of the equation, this is a lease between us and the golf cart," he said. "Whether they're here or not, we would need carts for the course."
Mayor Jon Netts saw three options: "Get the carts, convert it to a walking only course, which would then automatically bring about the third option, divest yourself of the golf course."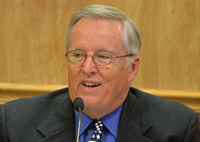 The city is not prepared to divest itself of the course, though if it knew four years ago what its council members and taxpayers know now, it's unlikely the council four years ago would have approved the deal. It has helped Kemper and the city manager that three of the council's five members who approved the deal five years ago, including Mary DiStefano, who was the most "nervous" about it, are no longer on the council. That absence of memory helped cloud—or erase—the degree to which the city has gone into debt on the golf course's behalf. That debt is never mentioned anymore.
McGuire's objection to an 11th-hour deal was nothing new to Landon, though McGuire was not on the council when council members noted it four years ago, regarding that very issue: spending on the golf course.
The golf course was borne of a surprise: exactly four years ago, as it was getting ready to open, the Palm Coast City Council was slapped with a $1 million bill on top of the $4.5 million it took to build the course. The $1.065 million was start-up costs to launch Kemper and the course.
The council had discussed the golf course matter during a budget workshop, but the $1 million "pre-opening" item was never brought before them at a regular workshop, where such significant items are always discussed. Suddenly, they were faced with having to approve the full $1 million item at a council meeting without having hashed it out ahead of time.
"It was not on your workshop agenda because it was discovered that it needed to come to city council since the workshop," Landon explained. "It is something that is important from a timing standpoint because the grass is growing, we do need to get the order in etc., so I placed it on the agenda for your consideration."
Landon made clear that Kemper was to repay that $1 million.
"What is the time-frame that we hope to be reimbursed for this expense?" DiStefano asked the day the council was to approve the deal.
"A good portion of it should be reimbursed within the first five years of the opening," Landon assured DiStefano. "As you know, we've talked about the first year we've been very conservative and have a balanced budget, but Kemper knows that the goal here is that there will be a net profit on this facility, and we really believe that that will happen. I can't guarantee it, but based on projections that everybody involved in this course and the market in this region, we really do believe we will be able to turn a profit on this. And then that profit will go toward paying back these funds."
There's never been a profit, so that $1 million expense to taxpayers was never reimbursed.
"And do you foresee them coming forward as we progress for opening for more money, and for the fiscal year '10?" DiStefano continued.
"This is what the budget calls for, so the answer to that is no, we don't foresee it," Landon  answered. "I can never promise you with a new project and new program, something unanticipated, but this $1.063 million is what the budget that we worked through with Kemper and don't anticipate anymore otherwise we would bring that forward to you at one time."
Of course, that, too, proved inaccurate. The golf course has been a money pit for the city from day one, and continues to be, never turning a profit in four years. The $1 million pre-opening expense wasn;t even part of the annual, operating budget. "This does not include any operations fund so once the course opens there's another whole set of budgets that you'll be adopting as part of your regular budget here in a month or so," Landon had told the council in August 2009.
DiStefano was not alone in raising questions. Holsey Moorman, another member no longer on the council, was not comfortable with the equipment the city was buying, without warranties. "We have no type of assurance that this is going to be worth the money we're spending on it," he said.
"Your questions are good," Landon said, "but we have to have some trust and confidence that they are into this for the long haul, because this is their business, and that's what we're counting on."
The council at the time nevertheless approved the deal with Kemper, unanimously.
Moments later, it was slapped with a lease deal for 70 golf carts, exactly like the one the council was faced with Tuesday. It approved that one, too. "I'm getting kind of nervous with all these figures today," DiStefano said on that score.
Jack Carrell, who attends virtually every council meeting, was leery of what he was hearing even then. "If our expenses are not covered by our income, what happens?" he asked, wondering how the course would get the required 40,000 rounds of golf a year it needs merely to break even. "Do we take more money from the budget to cover the cost of the expenses, or do we close up shop, like most people do when they're losing money?"
Landon even then was brushing aside the notion that the city would not guarantee the course's existence—at taxpayers' expense. "The idea of just walking away from the course I don't think is a viable option," Landon said, "and so if it does not pay for itself, you will have the option of using general fund dollars to pay for the operations. Once again, we do not anticipate that. Primarily because we don't have heavy debt on this course, as many courses do."
But only general fund dollars have, year after year, kept the golf course going.