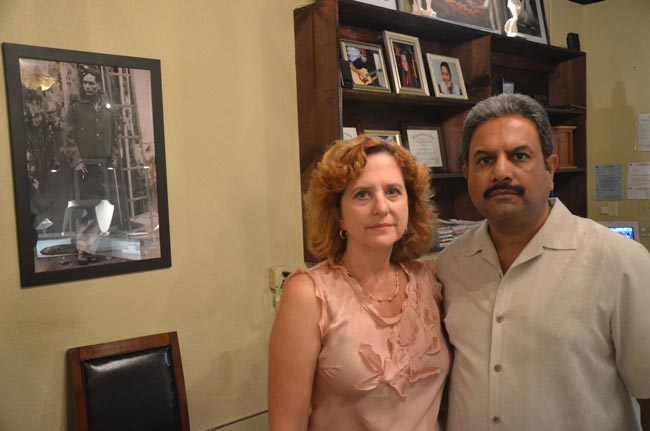 Note: The State Attorney dropped the charges against Dan Ferrena on Nov. 29, 2011, closing the case. See the story here.
Dan and Edith Ferrena were in disbelief Friday evening as they cleaned up more than the routine clutter of a day's work at Palm Coast Gold Buyers, the store they've owned at European Village for about two years. The store actually looked quite orderly, its many family portraits arrayed higher than the jewelry and a red oriental carpet warming the center floor space. It was the events of the day that threw the Ferrenas' lives in shambles: Dan Ferrena, 54, had just posted $1,500 bond and left the Flagler County jail, where he'd been booked earlier in the day on a charge of aggravated assault with a deadly weapon–a charge both find stunning, considering what had unfolded around noon.
The day was going along normally in what has been a particularly busy season of buying and selling at the store: twice the Ferrena's store was featured in recent editions of the News-Journal as an example of the bustling gold business of late. With the nation's credit rating downgraded, customers have flocked to the store to sell gold and silver, or to buy gold as an investment, rather than invest further in stock-market-dependent 401ks. With the enduring poor economy, customers have also come in to sell gold to buy groceries.
Two customers were in the store at about noon when Joshua Newby, 28, walked in to look at a watch. He initially went in with his son (the police report erroneously says he went in with his daughter). He then asked his wife and a friend both to come in and have a look at the watch as well. The couple's anniversary was coming up, and Newby was thinking of buying a charm bracelet for his wife. The pair had several children with them–five pre-school children, as Edith Ferrena remembered them (she was once a school teacher). Three of the children are the Newby's.
According to a sheriff's report (see the full report below), shortly after the children went into the store, Edith "rudely told them to leave." According to Newby, Edith told him that "a jewelry store was no place for children," so Newby told the Ferrenas he would take his business elsewhere, and left. "My kids were in there for maybe–maybe 15, 20 seconds before she said something," Newby said in an interview Saturday morning.
That's not quite how it went down, according to the Ferrenas. Edith was minding one of the two customers who had been in the store before the children had come in. Dan was busy behind the counter. The children, as young children often do, wandered about the store, "and they really did look adorable," Edith said. "It was like a day out for the kids, the lady was saying, 'see the pretty jewelry?'" The jewelry is arrayed in L-shaped glass-encased displays. At one point, one of the children, according to Dan, had lifted himself up on the glass case by the hands, his feet off the ground, his weight entirely on the top of the glass case–which is not designed to bear that much weight. "God forbid that breaks and he gets hurt," Dan said this evening, recalling the scene. "We face a lawsuit."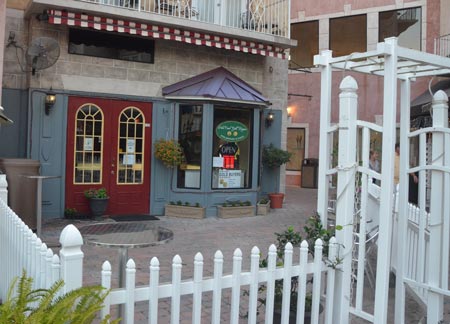 At that point Edith said she politely asked the adults to take the children out of the store, saying, as the police report states, that the store is not suited for children. One of them immediately lit into the store owners–according to Edith and Dan–saying huffily: "I can see you don't want to sell jewelry." More words were exchanged, then the group walked out.
Newby was himself in disbelief Saturday morning, saying the Ferrenas were making up the story about the display case, among other things. "There's no way a child, a 4-year-old, can climb on a counter that's chest-high," Newby said. The kids never climbed on the glass counter. The kids are very well behaved." And again, Newby said, the children were barely in the store before they were told to leave.
The police report states that Newby, after going outside, got upset at the way he was treated "and went back inside to speak with Dan and Edith about the incident."
There was no "speaking," the owners say, and at that point Dan was still not quite involved: it was aggressive yelling, with Newby claiming to be a doctor "at one of the local hospitals" who was going to let all his colleagues know not to shop at the jewelry store. Again, not so, Newby said: he mentioned he worked at local hospitals–he is a registered nurse at Florida Hospital Flagler and Halifax Hospital in Daytona Beach. "I never said I was a doctor. That makes no sense," he says.
More words were exchanged, at which point Newby said something neither side disputes, and which goes to the heart of what followed next, as it escalated matters by bringing Dan Ferrena fully into the fray: Newby called Edith Ferrena "a fucking cunt," a supreme insult in any language on many levels. It was spoken loudly, with the two previous customers still in the store.
Dan Ferrena doesn't deny it: he was livid. "They're more than fighting words," he said this evening, "and this was not in the street. This is in our store."
Speaking Saturday morning, Newby didn't deny that he used those words, but he did so after Ferrena called his family trash. "You don't call my family trash," Newby said. "When he said that, I snapped. I'm sorry. You don't call my family trash." There's disagreement between the two sides about the sequence of events. The police report has Ferrera lashing his insult only after Newby had thrown out his.
Dan tells Newby that he ought to beat him up for disrespecting his wife. According to Newby, cited in the police report, Dan demanded that Newby leave the store, followed him out and uttered the "trash" words, then dared him to repeat the insult to his face. According to both men, Newby then threw down his glasses and his car keys and dared Dan to "bring it on," though both Dan and a witness in the store, who gave a statement to police, say it didn't stop there: that Newby charged Dan. Newby denies he did any charging.
This is the point at which the central disagreement unfolds, and also the key to the veracity of the charge against Dan Ferrena–or lack thereof: Newby says Dan threw out the threat to his face about repeating the insult "as if to provoker a fight," then Dan removed his semi-automatic 9mm Walther PPS from his waistband, cocked it, and pointed it directly at him. Newby told police he was in fear for his life, walked away while Dan continued to provoke him with yells of "come back," and called 911.
The police report doesn't mention what Newby spoke of repeatedly on Saturday: Ferrena pointed the gun not just in his direction, but in his children's direction, with one of his children's direction–in five children's direction. "He pointed it at five kids 4 years old and under," Newby said. Standing from the jewelry store's entrance, and looking out, the perspective is on the Mezzaluna Pizzeria's sidewalk tables.
The Ferrenas–and a witness in the store, who gave her statement to police–saw it differently. Dan doesn't dispute that he carries a gun. He has a permit. As a jewelry store owner, he says carrying a gun is a must. But he says he never pointed the gun or cocked it. He lifted his shirt and displayed it, telling Newby that he was armed. The witness also told police that Dan never pointed the gun or cocked it, but removed it from his waistband "and displayed it down by his side," according to the police report.
The Ferrenas are incredulous about another detail relating to Newby's claim that he was in fear for his life: after the end of the confrontation, he went with his group to a the nearby pizzeria and had lunch, the Ferrenas say.
Sheriff's deputies say Dan Ferrena cooperated throughout. But in early afternoon, he was walked out of the store by a deputy and taken to jail, with a charge of aggravated assault with a deadly weapon, which now begins an entirely different ordeal for the Ferrenas. "Our business runs on trust," Edith Ferrena said this evening, worrying about the business' future. "We earn that trust every day," her husband says.
Words, two words in particular, fired at Edith Ferrena by a man the Ferrenas say had never been in the store before, turbocharged what had already been an ugly confrontation, with consequences that now have a thriving business' reputation and future in jeopardy.
Newby says the Ferrenas' version of events "makes these people sound like they're angels. They pulled a gun on five children."
Newby doesn't have an entirely clean sheet. In late 2003, when he was 20, he was jailed for armed burglary and grand larceny in Port Orange. "It was eight years ago, before kids, before my wife, before my life changed," he says, noting that adjudication was withheld, and that he has long since changed his life around. "Nothing has happened since except good things in my life."

Newby-Ferrena charging affidavit: European Village Palm Coast jewelers