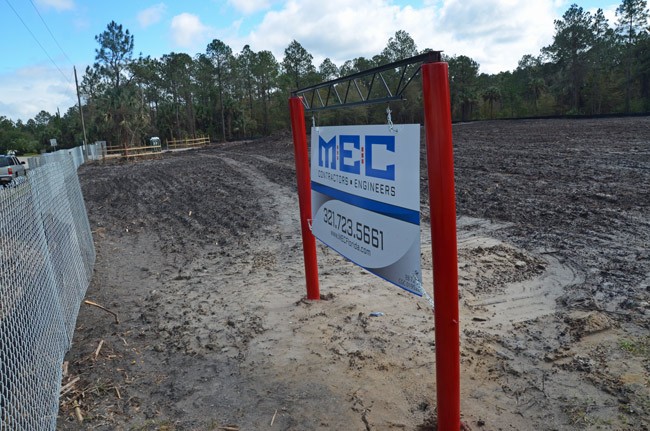 The neighborhoods on either side of Belle Terre Parkway south of Palm Coast Parkway, and the area along State Road 100 from just west of the Interstate all the way to Bunnell, are densely populated, but lack one convenience: a gas station. The gas desert is ending as up to three gas stations may be operating in those areas in the near future.
Starting around June, drivers and residents of Palm Coast's W and P Sections will have a gas station and convenience store at the corner of Pine Lakes Parkway and Wynnfield Drive (at the second intersection of the two roads, driving south or west on Pine Lakes). MEC Contractors, the Florida-based construction company, has cleared much of the 12-acre site, which has long been zoned commercial–to the surprise of many neighboring residents, who last year pleaded with members of the Palm Coast City Council to reject the siting of a gas station there.
But the council is powerless in the matter: being zoned for just that sort of purpose, Cocoa-based M&R United, the company developing the gas station, did not have to appear before either the city's planning board or the city council. It acquired the property in late 2013 and went to work securing the necessary permits and clearing the land.
The project superintendent, speaking at the site today, said the project is moving along, with current plans to remove about 40 trucks' worth of topsoil and replacing it with a different type of soil before concrete can be poured. The type of gas station that will be sited there, however, has yet to be determined. What's certain is that the structure will have a pitched roof, so that it can fit better with its residential surroundings.
---
A gas desert along Belle Terre and west of I-95 is about to end.
---
The even larger parcel across the street from the future gas station, going east toward Belle Terre and stretching almost half-way to Wellington Drive along the east side of Pine Lakes, is also zoned commercial, and may feature stores in the future, though no such plans are currently in the works. That parcel abuts residential streets that include Wilkins, Wildwood and Wild Rose Place.
The second certain gas station to be built will be a Race Trac similar to the one on Palm Coast Parkway. The Race Trac will be built on the southwest corner of State Road 100 and Seminole Woods Parkway.
"At this time, we are working toward obtaining our permits and approvals for this site. We do not currently have a timeline for construction," Race Trac spokeswoman Jessica Rice said this week.
"Race Track may have plans, but they haven't submitted them to us for review," Cindi Lane, Palm Coast spokeswoman, said. "This isn't unusual — lots of developers/business owners work on things for months before they're ready to submit.
Thursday afternoon, Rice specified that "the timeline for construction will largely depend on when we receive final permits and approvals, but it is our hope to commence construction during the second half of 2015 or early 2016." She added: "We chose the location at State Rd. 100 and Seminole Woods Parkway because we felt there was a need in the area for a RaceTrac and the site met our development requirements."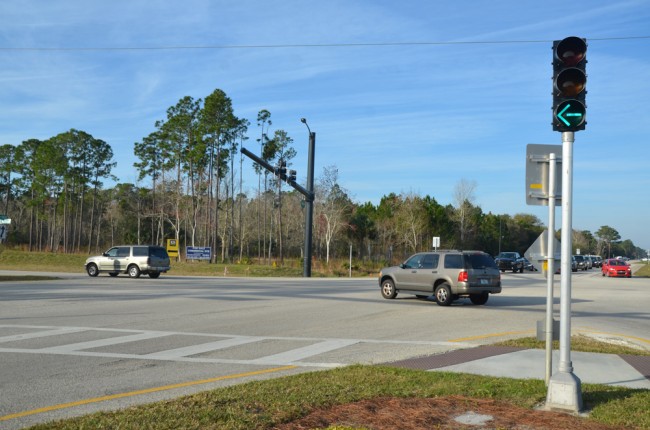 The station will stretch mostly along Seminole Woods Boulevard on a parcel that runs to the intersection of Utah Path. Race Trac has not yet acquired the 26.6-acre parcel, which last sold in 1996 to Palm Coast Holdings for $23.4 million, according to property appraiser records, and currently has a taxable value of $475,795. That land abuts a 46-acre parcel to its west, that belongs to Flagler County.
Race Trac notes in its company profile: "In January 2012, RaceTrac debuted our new store prototype and we are continuously introducing this new 6,000 square foot store model to new areas and locations on a regular basis. With this new prototype, we are able to serve our guests with enhanced design features, including indoor and outdoor seating, free WiFi and stacked exterior stone accents. These new stores also feature endless beverage options and premium food offerings, including Swirl World, our new frozen yogurt bar which has 10 flavors and more than 40 toppings for the most pleasant guest experience."
A county official and Lane confirmed that yet another gas station–a Gate, a privately held, Jacksonville-based company–is looking to site a station at the corner of Belle Terre and and State Road 100, on the south side. But that prospect appears to be the most distant for now, with no formal site plans submitted.
A typical gas station and convenience store hires around 15 to 20 employees. Rice said each Race Trac station brings 20 jobs.
Most of the jobs offer relatively low wages: a Race Trac store manager can make up to $50,000 a year, but store clerks are paid around $9.50 an hour, according to Glassdoor, the job-recruiting and employment data company. But the site's taxable value rises significantly, yielding additional property tax revenue to the city and the county and helping to diversify the predominantly residential tax base.