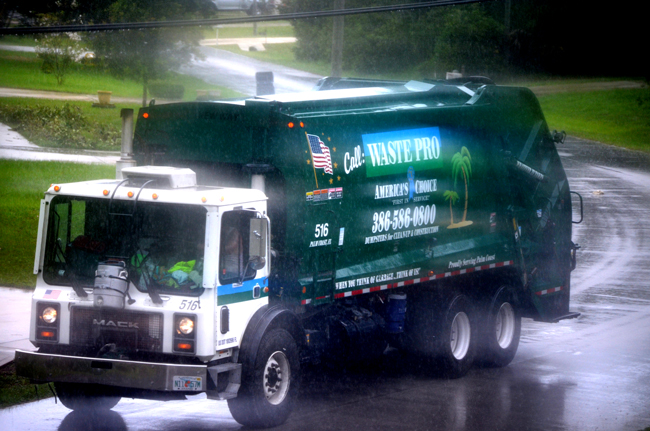 There's a dirty and not-so little secret controlling the dynamics of Palm Coast's $7.7 million contract with its garbage hauler, which expires at the end of the year: the city has no incentive to lower the contract's cost. It has no incentive to lower the price you pay for garbage pick-up: $239 a year, even though many other cities get the service at a lower price, and garbage haulers may propose to provide it here at a lower price, if the contract was allowed to go to bid–something City Manager Jim Landon is resisting.
If anything, the city's incentive is to keep the cost level or increase it, because the city skims off 10 percent of the contract's value for its own uses–a legalized kick-back called a "franchise fee" that local governments across the country use to supplement their revenue.
On Tuesday, Landon recommended that the city council allow him to negotiate a five-year extension with Waste Pro rather than bid out the contract, and repeatedly talked down the benefits of bidding, going so far as speaking derisively of a $1-a-month saving if poorer service was the result. One doesn't necessarily follow the other, but Landon never mentioned that every $1-a-month drop in cost for residents would translate to a loss of $38,000 in revenue for the city.
Even those amounts matter to a city nickel and diming its budget: The city is planning to close Frieda Zamba pool for the winter to save a little bit more than that amount.
The city makes $700,000 off of its contract with Waste Pro. About $500,000 of that goes into the general fund. Most of that $700,000 goes into the $26 million general fund, subsidizing the fund and helping to keep property taxes lower. Essentially, residents' property taxes stay low but they're taxed in other ways: the median household's garbage bill in Palm Coast is more than two-thirds the equivalent of its city property tax bill.
If, say, the contract was lowered to $5 million a year, which is a possibility (if the city allowed bids), the city's annual take would fall by $200,000, and the revenue would have to be made up through the property tax. Keeping fees higher enables the city to maintain the pretense that its keeping taxes low, because few residents object to rising fees the way they object to rising taxes.
At no point did any city staff touch on the franchise fee Tuesday when Landon recommended to the city council not to bid out the garbage contract, and negotiate a five-year extension with Waste Pro instead. At no point did city council members raise the matter of the franchise fee, either, or the consequence of getting a cheaper rate for customers.
Which may explain why, to hear Landon make his recommendations to the council during an 80-minute discussion, you'd think going out to bid was a toxic waste hazard.
---
The Haulers' Proposals (Never Presented to Council):
---
---
"If you go out to bid you still may get Waste Pro," he said. "You also could get a low bidder, and I can tell you that some of these, we've already dealt with, you don't want in the community in our opinion. You don't want their total lack of—so then if they come in low bid and we tell you they're going to be a real pain to deal with for five years, you want that low bid?"
And: "By doing this, we think we can get the price down, or keep it, at least not have it go up," he said, speaking in favor of re-negotiating.
And: "I can just tell you from experience, if you have a good thing going when it comes to a service like trash, and you think you can get a fair price, saving $1 a month but having constant problems, I'm not so sure that $1 savings is worth it."
And: "Going out to bid has some very, very serious, inherent risks."
There's no question that Landon may be right on every count: that's true of every contract with every company in every town, though it doesn't invalidate the bidding process. And he was presenting a truncated picture to the council. For all that, the council was not convinced. But Bill Lewis and Mary DiStefano were uncomfortable with skipping the bid process. Frank Meeker hedged. Holsey Moorman was non-committal. Mayor Jon Netts wanted to renegotiate without bid. But clearly, the council was not ready to do what Landon was recommending: give him the authority to renegotiate.
Yet at next Tuesday's meeting, the council will have a resolution Landon drafted giving him the authority to do just that. "I would suggest that we go ahead and put this on the agenda for next week and actually finalize that," Landon said, "and kind of anticipate a split vote on this one and let people just decide."
"We're not voting on anything yet," Netts said. "By putting it on the agenda we'll let the public have an opportunity to weigh in."
"Right, exactly, and then you can all decide whether you're going to accept our recommendation or just tell us to go out to bid," Landon said.
DiStefano had made clear why she was uneasy with renegotiating at a time when low prices matter to residents: she would, in the same meeting, be adamant about not raising the stormwater fee $1 a month—that $1 a month Landon referred to derisively in the context of a garbage contract—because residents were stressed enough. "In the first months we had Waste Pro, we had problems, we had a lot of problems, so keeping that in my mind, I really don't want to go to a new one, OK? But on the other hand I have to get the best price, and how do I know I have the best price if I don't go out to bid?" As she spoke, a Waste Pro truck was outside the council chambers, hauling trash.
An exchange between Lewis and Netts was instructive about the sensitivity of the issue, though it has received virtually no attention beyond the council.
"My problem still is, how do I know you gave me the best" price Bill Lewis asked.
"You don't know, you don't know," Netts said.
Lewis: "So you can't come back and tell me that OK, we sat down with Waste Pro and here's what they're going to do—"
Netts: "Of course I can tell you that."
Lewis: "Well, you can tell me that, then you come back and say, council, this is a good deal. Well, it may be, but—"
Frank Meeker: "Compared to what?"
Lewis: "Compared to what?" Lewis said.
"Gee, wouldn't it be nice if life came with guarantees," Netts said. "That's why we're elected, to make the best possible decision."
But the council wasn't given the tools to make the best decision, nor choices between haulers.
As contract manager Dianne Torino explained to the council, on May 4, the city sent out letters of request for information to trash haulers. Only three responded, including Waste Pro. "If we do go out for a request for proposal, we're going to get more than three. We're going to get at least five or six," Torino said.
The three haulers were invited to make 30-minute presentations each to the five-member administrative committee, plus Landon, on July 6. Those presentations were never forwarded to the council. Haulers were barred against having contact either with the council or with staff, other than for minor follow-ups prompted by the staff. Even on Tuesday, the council didn't see—nor did it ask—what the substance of those presentations were. All it got was a large-print, 10-page powerpoint presentation that only highlighted the advantages of re-negotiating with Waste Pro, without listing a single negative. The other two trash haulers' information (Waste Management and Republic Services, the nations first and second largest trash haulers) was excluded, and when they were referred to, it was usually derisively: Landon spoke of the 60 jobs that would be lost in Flagler County if Waste Pro lost the contract, of Waste Management operating out of Volusia County, of Republic offering bulky, 96-gallon trash cans in exchange for one-day service, and so on.
The administration's presentation to the council, in sum, was complete regarding neither the haulers nor the city's revenue from the franchise fee.
It was 64 minutes into the discussion before any of the council members even asked what the contract itself was worth. The question was posed by Meeker. He was told: $7 million gross, plus the city's share.
By putting out the resolution next Tuesday to re-negotiate with Waste Pro, as it intended all along, the administration is betting that the issue will draw little public reaction, given the intricacies of the garbage contract and the bidding process, and that even a divided council will tip over to the administration's side in the end.