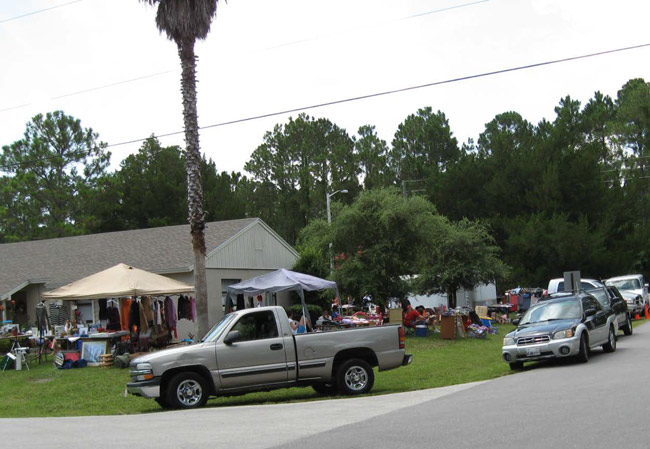 Palm Coast is about to change the rules controlling garage sales. Soon, you will no longer be allowed to have a garage sale without registering it with the city, enabling city government to track the frequency and locations of your garage sales. That's to ensure that certain rules already in place arte better followed, city officials say.
If you live in Palm Coast, you are already limited to two garage sales per year, per lot. You can only have a garage sale for two consecutive days, and only between 8 a.m. and 4 p.m. Those rules are in the city's code.
They're not necessarily followed. By 8 a.m., garage sale connoisseurs will tell you that the best hunting is already over: most garage sales break out the goods at dawn. Also, the Palm Coast administration believes that there's enough of a problem with residents holding more than two garage sales per lot within a calendar year that it's time to regulate them further.
"What we're proposing is a way that we can better track these garage sales," Nestor Abreu, community development director said, "and ensure that they are no more than twice a year and are consistent with all the other things that are already in our code." The city, he said, saw "an opportunity to make this program more than just a bureaucratic how-do-we-better-manage-it, but see how better we can do to improve garage sales."
For example, you will no longer be able to have as many garage sales as you please by ignoring the ordinance's limit. You will not be allowed to have a garage sale without registering it with city government ahead of time. You will be required to pay a $5 fee for each sale. The garage sale will be listed on the city's website. It will help treasure hunters, the city believes, and make the operation more efficient. People holding garage sales will be allowed to list, on their website listing through the city, certain items they're putting up for sale. It will also give the city documented evidence of where and when any lot will have held a garage sale, thereby presumably eliminating the possibility that a homeowner will claim innocence when confronted with the charge that he or she is on a third or fourth garage sale within a calendar year.
The city will make it easy. You can apply online or by phone, and make payments either online, by phone, at city offices or through your utility fee.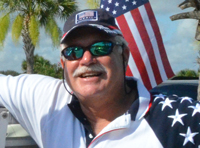 The city will also give you its own, branded garage-sale sign (with Palm Coast's "find your Florida" logo in the upper-left corner), with the given address printed on the sign. The city is not requiring you to have its own signs, however, but it's still prohibited to post your garage-sale signs anywhere beyond your own lot. All those garage sale signs on utility posts, in right-of-ways, on fences? Illegal. Those who break the rules face citations from the code enforcement department.
But it's not as if having a garage sale without telling the city will get you in trouble, if and when found out. Assuming you're having a sale and a code enforcement officer sees it, the officer will register it on the spot rather than issue any sort of citation—unless, of course, there's documented evidence that there's been more than two garage sales on that lot.
"I'm not that crazy about it being permitted," Frank meeker, the council member, said. "Those that want to hold three or four, we can catch them through code enforcement anyway." Meeker wanted tracking limited to either code enforcement taking note of garage sales, or through neighbors' accumulating complaints. Jim Landon, the city manager, said the city prefers to call the system a registration, not a permit. Other council members disagreed with Meeker, saying the tracking mechanism was key.
"I personally can't see why this would be objectionable to anybody unless you want to talk about the $5," Landon said.
Daytona Beach, Ormond Beach, DeLand, and Port Orange, among Palm Coast's neighbors, all have a registration process, though some allow for three garage sales as opposed to two.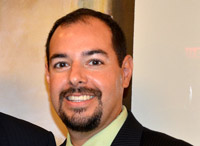 "We currently pick up 500 illegal garage sale signs a month," council member DeLorenzo, who's pushed the hardest for stronger garage sale regulations, said. "We're spending a ton of money on code enforcement every weekend, going out and cleaning up all this stuff. What it does, if you drive around town, just go near a stop sign, telephone poles, they're littered with stuff falling down, right? We're giving the citizens the opportunity to go this way, but have maps, advertising, everything to get them to the house that has successful garage sales, save the rest of the citizens who are not interested in garage sales a lot of money because we're not doing as much code enforcement clean-up on the weekends, and we're protecting our neighborhoods from having multiple garage sales, which cause traffic conditions and people ins swales."
The city can still make garage sales more convenient for treasure hunters now, with the proposed registration process, Meeker said—as long as it wasn't mandatory. But his argument carried little weight as other council members, including DeLorenzo and Bill Lewis, termed garage sales a "nuisance."
"It's all about enforcement," Landon said. "People who are holding one garage sale every five years, this isn't about them. Only thing this does for them is provide the resources there to help people find their location. What this does though is when you have the people who do it on a regular basis, you now can go to your code board and say, they did not have a permit and they're violating the ordinance, versus well, they didn't register, registration is voluntary." It makes it "much cleaner when you have something you're trying to enforce through a formal process to say permit or not permit," Landon added.
To Bill McGuire, another council member, the problem is traffic: often people stop in middle of streets to shop at their garage sales. The proposal doesn't address that problem. But he wasn't opposed to the permitting and registration process.
"You can argue, oh my god it's more government, more big brother, blah blah blah," Mayor Jon nets said. "On the other hand it's the only way the city can deal with what appears to be a legitimate problem."
The council will vote on the new ordinance at its next meeting, on Tuesday, Sept. 4, giving the public a chance to weigh in, though the council's votes for it appear to be a lock.
Other than DeLorenzo's anecdotal number of garage sale signs every weekend, the city, while looking to document residents' garage-sale habits, provided no documented evidence of its own of the extent of what it presented as a problem.