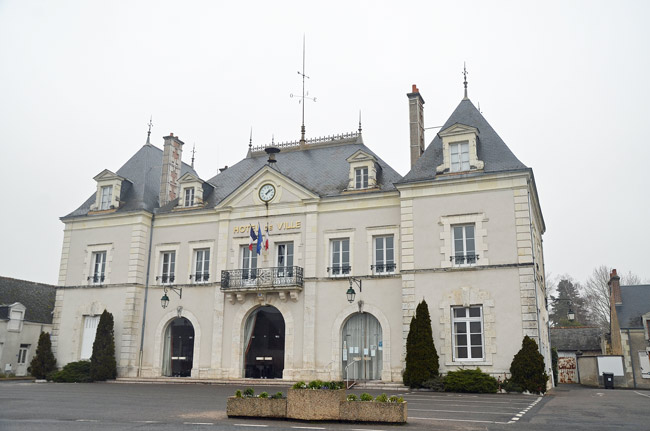 It's back.
The matter of a new city hall for Palm Coast. Again.
And it's back under a surprising guise this time: six former members of the Palm Coast City Council, including ex-Mayor Jim Canfield, are calling themselves "Citizens for a Real City Hall," and asking the city to appoint a blue-ribbon commission to study how a new city hall could be financed and built. Five of the six appeared before the council Tuesday evening to make their case.
The council will take up the proposal next Tuesday, despite a warning from current council member Bill McGuire: "It never hurts to talk about it, but if you think that the red-light cameras are a volatile issue with the public, the city hall will make people's blood boil like you can't believe."
The council had recognized that liability when it took a new city hall off its five-year plan.
The boiling began as soon as the ex-council members were done talking Tuesday, in much the same way as it had the last time—in 2010 and 2011—Palm Coast tried to build new digs for itself: "What I will ask is that somewhere along the line you listen to we the people, not a few old members of the old city council and the old mayor," one Palm Coast resident told the council. "What we have here is if the people want that taj mahal or want those increases, go to the people and ask them."
Dennis McDonald, a frequent critic of the council, had recently offered the city a framed, certified copy of the 2005 referendum result that sent a Palm Coast City Hall to defeat, with 82 percent of voters opposed. (The city declined the gift, saying it was now a paperless city and so could not accept it. The frame went to McGuire.) McDonald suggested to the council that it buy City Market Place, its present city hall location, for $4.5 million, which would end the uncertainty and the rent receipts, and enable the city to make money from other tenants in the shopping center.
---
Listen to the full discussion (edited to exclude non-city hall matters)[media id=330 width=250 height=250]
The six ex-council members had their supporters, too, among them a Realtor and a permanent member of the council's spectator gallery, who echoed much of what the council members had said: the city must project a better image and have its own city hall, and it must stop renting what it should own.
In a rare appearance before the council, Canfield said of the group that has apparently been meeting on various issues previously:  "Some of us are Democrats, some of us are Republicans, and some of us could be considered liberals, and some of us are conservatives. We participated in many of our city's accomplishments since 1999 and are proud of the legacy we left this city."
Now, he said, the group is intent on serving as a "catalyst" for a discussion on a new city hall, which could be located in Town Center or elsewhere.
In 2010, City Manager Jim Landon had proposed building a new city hall for $10 million, using existing funds that turned out to be less than existing, and without a referendum. Canfield addressed the matter of a referendum, but only to evade it: he said the city charter requires a referendum when a lease-purchase or lease agreement exceeds 36 months, or the cost of a project exceeds $15 million. The city could avoid that referendum by keeping its cost below that. But by making such a suggestion, he was essentially giving the opposition the same fuel it used to great effect in 2010 and 2011, finally leading Jon Netts, the mayor then and now, to concede the point.
Netts was facing re-election at the time. He no longer does.
Canfield said his group represented council members with some 35 years of combined service between them. (The Gang of Six, the youngest of whom was born when Franklin Roosevelt was still in his third term and the United States hadn't yet entered World War II, also compounds more than four centuries of life between them.) He was followed by Mary DiStefano, a council member until 2011.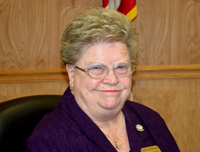 "The current city hall in my mind is a disgrace," she said. "We are not treating our employees the way any private company would treat their employees. The building has many, many, many issues. The air conditioning, the heating capacity, the plumbing, the elevators that jam, the inefficiency for work is totally unacceptable. I do not understand how the taxpayers in this city can continue to support that building. I know if I was renting a house, and you all know if a renter came to you and complained about these inefficiencies, you all would take action."
But DiStefano was giving opponents fuel, too: in 2010 and 2011, much of the opposition ridiculed claims by the city that it needed a new city hall for its employees.
DiStefano blamed the 82 percent failure of the 2005 referendum on its coupling with another proposal—to build two new community centers. In fact, the two were separate measures on the ballot. (The community center proposal failed by the somewhat smaller margin of 60 percent.)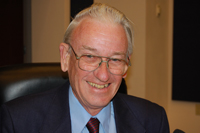 Alan Peterson, who left the council in 2008 and became a one-term county commissioner (he was defeated last November by Charlie Ericksen in a razor-thin primary) asked the council to put the city hall prospect back on the city's five-ear plan. "I personally don't care where the location is. But I think that the property must be convenient, it must be visible, it must be accessible, and it must, most importantly, be expandable for future needs," Peterson said, suggesting that the tax revenue the city rakes in from the Town Center redevelopment zone—which includes some $800,000 it would have otherwise had to turn over to the county last year—be used to finance the new building there. But the zone has not been healthy enough to generate the sort of revenue that could fund a project of that scope on its own.
Peterson, too, then gave opponents a bit of fuel: "The city has failed abysmally in my opinion," Peterson said, "trying to convince the public twice for the need of a new city hall. I would hope that this time, you would encourage resident input into this particular decision and design, and perhaps location, in that you would have continuous public meetings to keep the public informed. The city has spent considerable amounts of money over the years to create a very favorable image all around the city so that we take pride in the city. It's very hard to take pride in the present location of rental property which we call city hall."
Peterson was followed by ex-councilman Paul Venne, who proposed using revenue from a sales tax supplement the county just approved (though that money cannot be bonded), then by ex-councilman Holsey Moorman, who claimed the city may have lost new business by not having a city hall. "If a corporation is looking at moving to Palm Coast I am sure that they are not impressed when you bring them to the facility we call city hall with the scattering of our different functions around the area," Moorman said.
Canfield spoke on behalf of the six member of the group, Tom Lawrence, who had been appointed to the council in 2002 and chose not to run in 2003. He could not be there in person Tuesday—his mother-in-law had died—but Canfield conveyed Lawrence's proposal of a blue-ribbon commission that would operate in the sunshine—meaning its meetings and records would be open to the public—and submit a proposal within 60 to 90 days of its appointment.
Lawrence currently chairs the local tea party group. Lawrence's proposal was yet another radical shift from a position he'd taken previously on a city hall: in 2011, he'd made his position clear on the matter: "We think the right thing to do is to send it out to referendum, because this is kind of an optional expense. If a road needs to be repaved, it needs to be repaved. A lot of things they have to do because they have no option. But this is one they have an option." Lawrence even had the mini-referendum of his own tea party group to back him up.
None of the Gang of Six noted that the city is without a city hall of its own today because it gave up a 70,000 square foot building in 2008, for $3 million, when it sold that building to Palm Coast Data as part of an economic development deal that quickly soured: Palm Coast Data had promised to add 700 jobs to its then-1,000-employee payroll. It never did, and in fact shrunk its business considerably since while trying to keep it viable.
Palm Coast's three-year lease for its 20,000 square foot space at City Market Place expires in November 2014.
Though Peterson claimed that "if you rent a piece of property you are held hostage by the landlord," the city's rental costs have actually gone down at City Market Place, thanks in large part to Landon's negotiating with the landlord. The city had initially paid $20,000 a month when it moved in there in 2008. When it signed its new three-year lease in 2012, it was for $17,000 a month for the first year, $19,000 a month the second year, and $20,000 a month the third year. The landlord would be loath to lose such a lucrative and certain tenant in an economically difficult climate.
"It certainly can't hurt to solicit citizen's input," Netts said Tuesday. "I don't think there's anybody sitting up here that wants a city hall with a gymnasium and a cafeteria and so on and so forth."
"No," McGuire said, "but your honor the last time that poor Mr. Landon got up in front of a group of people and presented a scaled down version of that without those extra-curricular things he was lucky to escape with his life. I was there."