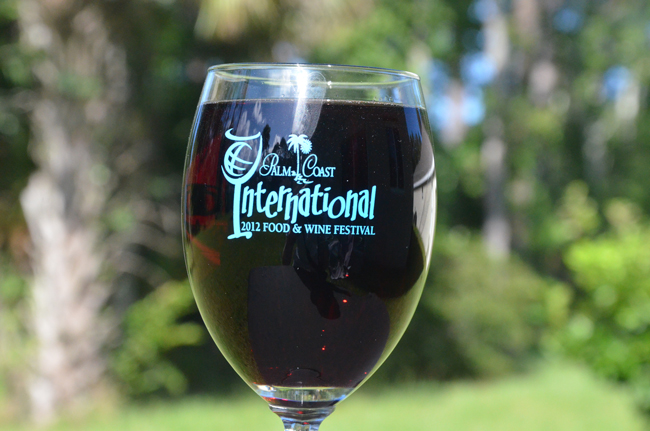 Last year's Palm Coast International Food and Wine Festival at Town Center's Central Park had a problem: there was no wine. As if that weren't crime enough, political candidates smarmed up the event with sweaty and extended paws, and visitors had to pay a $3 admission fee to boot.
This year, Palm Coast is redeeming itself.
The Aug. 31 day-long festival at Central Park promises this: The gate fee is gone. It's an off year, so aside from the desperate, errant politico, the event should be candidate-free. Café Rouge, one of the vendors, will be serving escargots. The city itself, taking advantage of its new embrace of booze, will be providing wine, along with commemorative wine glasses. And to reassure festival visitors that wines will be served, the city issued a relatively sober press release listing the choices on offer.
"Wines from around the world – including Argentina, France, Italy, Germany, Australia and California – will be showcased," the release read.
The seven wines will be available for purchase from noon to 8 p.m., along with beers foreign and domestic, and–talk about a conversion for the august City of Palm Coast–ABC Fine Wine & Spirits of Palm Coast will offer a free wine-tasting at 4 p.m. It was only a few years ago that City Manager Jim Landon was waging open warfare on ABC, deriding its coming store at Palm Coast Parkway and Old Kings Road as gaudy and unwelcome. ( He'd called it "the big white ugly structure that is the ABC liquor.")
The wines include, according to the release's detailed description, presumably based on an honest round of gurgling at city offices:
Woodhaven Cabernet Sauvignon (California) – This rich, full-bodied Cabernet Sauvignon has combined aromas of dried figs, black cherry and aged cedar. Deep garnet in color, the wine explodes with rich fruit flavors of plums, blackberries and cassis, accented with lightly toasted oak.
Yellow Bird Shiraz (Australia) – Rich dark red color with slight purple hues, the bouquet displays ripe plums and blackberry tones with sweet spice and integrated vanillin oak. This full-bodied palate has ripe tannins and subtle fruit characters.
Elm Tree Malbec (Argentina) – A deep ruby color leads to blackberry, plum and chocolate notes with a rich middle and spicy finish.
Marechal Côtes du Rhône  (France) – A blend of 30 percent Grenache, 30 percent Syrah, 30 percent Mourvedre and 10 percent Cinsault and Carignan, this wineexhibits bright ruby color and aromas and flavors of lavender, crushed red berries and black cherry. It is medium-bodied, with soft tannins and warm floral and cherry notes on the long finish.
Woodhaven Chardonnay (California) – Citrus, pear, apple, and pineapple appeal to the nose, as the palate is refreshed by lemon, lime, and tropical fruit flavors.
Carl Sittmann Riesling QBA (Germany) – With grapefruit, apricot and mineral flavors, this wine has an apple pie nose, medium sugar level and a long, rich finish.
Zellina Pinot Grigio (Italy) – From the Anselmi family winery in Friuli, this wine opens with a bright yellow/green color followed by aromas and flavors of pear, apple and citrus; medium weight and a refreshing finish.
Along with wines the festival will provide a calorific array of cuisine from around the world, including Café Rouge's French and English cuisine (fish and chips, chicken and chips, shepherd's pie, New Zealand lamb burger, beef and onion patsy and–if you have good health insurance only–fried Mars bars), La Creperie Kafe, Burrito 101 to represent the Mexican contingent, plus Filipino, Polish and Caribbean stands and a few American stand-bys: Flagler Palm Coast High School will provide hot dogs and burgers.
A Children's Village will keep the young entertained from 2-6 p.m. with a zip line, coloring on the car, bounce house, monkey bungee jump, sand art, and the Quite a Catch juggling booth.
The Afro-American Caribbean Heritage Organization, the Italian American Social Club of Palm Coast, and the Polonia Society of Korona will all participate. The entertainment line-up is as follows:
Noon – Festival kickoff with DJ Vern
12:05p – 3nMotion Dance : Tarantella (Italian folk dance)
12:15 p.m., 1:15 p.m. & 2:15 p.m. – Dennis Fermin Spanish Guitar & Flamenco Dancer
12:45 p.m., 1:45 p.m., 5 p.m. & 6:15 p.m. – Quite a Catch Juggling
3:15 p.m., 4:45 p.m. & 6 p.m. – Ancient City Pipes & Drums
3:35 p.m. & 6:30 p.m. – Polonia Society of Korona
4 to 4:45 p.m. – Palm Coast Community Band
6:45 p.m. – Enchanted Caravan Belly Dance Troupev
7:30 p.m. – Matanzas High School Steel Band