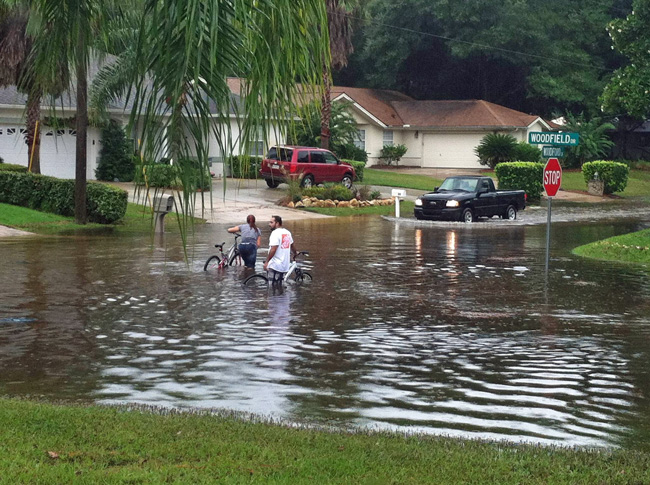 Last Updated: 11:46 p.m.
Note: the latest story and updates are available here.
A sudden rain event that dropped up to 4 inches caused brief flooding in scattered parts of Palm Coast late this afternoon, and has left at least two streets closed until later this evening–Barrington Drive and a small segment of Woodhaven Drive, Palm Coast Fire Chief Mike Beadle said.
Specifically, the area around 19 Woodhaven Drive was under water because a nearby canal was overflowing, and debris was floating on the roadway. The Palm Coast Fire Department was at the scene at 7:30 p.m.
Possibly worsening conditions were expected late tonight. At 9:42 p.m., the National Weather Service issued the second flood warning of the day for northeast Flagler, including Palm Coast. The warning was triggered by an area of heavy rainfall moving west across Palm Coast and the Espanola area–the same region that received the brunt of the rain in late afternoon. Additional rainfall of possibly 2 to 3 inches was expected to worsen the situation, according to the Weather Service in Jacksonville.
The National Weather Service had extended the latest flood warning to 1:45 a.m. Saturday. Palm Coast residents were receiving Code Red alerts of the flood warning, as they had earlier in the day. At 11 p.m., thunderstorms were rolling through Palm Coast as the weather service announced rainfalls so far of 4 to 8 inches in the region.
At 11 p.m. Friday, FPL was reporting small power outages affecting fewer than 100 customers in the F Section of Palm Coast. Later, FPL reported additional power outages of similar size in the W Section.
At 9 p.m., Flagler County's Emergency Operations Center issued a summary of the situation and noted that it was deactivating EOC until 7 a.m. Saturday. The summary indicated no state of emergency, no injuries, and no flooding of homes, but cautioned of more rain on the way. The report was issued before the later flood warning was triggered. See the full report below the images at the foot of the article.
Just before 8 p.m., Flagler County Emergency Management's Jennifer Stagg provided the following statement: "The following roads have reported issues through Dispatch and the Emergency Operations Center. It should be noted this list includes roads that range anywhere from affected with flooding to impassable & blocked by barricades/first responders: Wellstone Dr., Woodshaw Lane, Woodside Dr., Burroughs Dr., Bird of Paradise, Burning Sands, Barley Lane, Barrington Drive, Woodshire, Woodstone and Woodhaven."
The last four streets were declared impassable.
"Do not drive down flooded streets," Kevin Guthrie, Flagler County's Emergency Management director, urged. "We are having a huge problem with people driving on flooded streets." When drivers do so, the vehicle cuts off, or it creates a wake and threatens people's houses with water incursions.
The Birchwood Canal along Bird of Paradise has also been a concern.
But damage has been minimal and no injuries related to flooding have been reported, though lightning struck a house and triggered a house fire in the P Section, but that incident was reportedly minor. Separately, a person was struck by lightning.
A flash-flood warning remained in effect for northeast Flagler County until 7:30 p.m. It was issued at close to 5 p.m.
Beadle, who was assessing conditions in the B-Section just before 7 p.m., said Barrington and Woodhaven may be open by 8 p.m., absent more downpours. "We don't know of any structures that have water in them, nobody's been injured that we know of," Beadle said, and no rescues had to be performed, though firefighters did assist some people out of vehicles that were in impassable roads.
"We have a lot of roads with water over them but we're not getting inundated with phone calls," Beadle said, and some ancillary roads may also have excess water. The traffic light at Parkview and Belle Terre Parkway was out as of 7 p.m.
"We are doing emergency sandbagging on a case-by-case basis, that's being handled through the City of Palm Coast Public Works," Guthrie said. "We're not setting up a central point of distribution," but when people call with concerns, Public Works evaluates and handles it.
The county's Emergency Operations Center is this evening staffed by three people, including Guthrie, and is monitoring the situation. More rain is expected, but likely not as heavy as this afternoon, Guthrie said.
Bob Pickering, a weather specialist with Flagler County Emergency Management, had been in contact with the National Weather Service in Jacksonville, which, Pickering said, showed precipitations on its radar of 3 to 4 inches over the county, and up to 5 in ches in parts. Local weather spotters reported to Pickering precipitations of over 3 inches "in a very short period of time."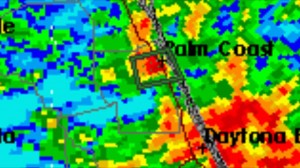 "We characterize that as minor to moderate flooding," Pickering said. "Major flooding is when we have to rescue people out of homes. We didn't experience that."
Just before 5 p.m., Emergency Management reported flooding over western parts of Palm Coast, the National Weather Service reported in its flood warning, with the heaviest rainfall occurring from State Road 100 to Palm Coast Parkway.
"You get this phenomena called convergence," Pickering said, where elements in the atmosphere collide and "squeeze out the moisture. It can cause torrents of rain" in a very short span of time. "The conditions will favor those types of things happening any time through the weekend and into next week, you just can't pinpoint when the next one will happen," Pickering said, or where.
Beadle said drivers have been getting stranded by attempting to drive around emergency vehicles, not realizing that the emergency vehicles may be there for a reason. He cautions against that.
Do not drive your vehicle into areas where the water covers the roadway. The water depth may be too great to allow your car to cross safely. Move to higher ground.