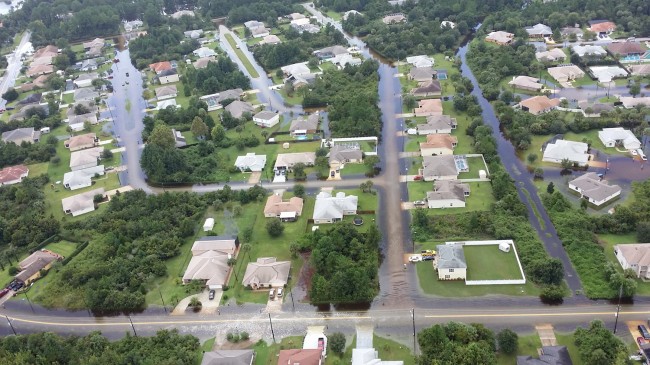 Last Updated: 5:51 p.m.
As of 9:35 Saturday morning, as much as 15 inches of rainfall had been reported at Palm Coast Parkway and Belle Terre Parkway, and 9 inches in parts of the C Section, the W Section and Seminole Woods, in Palm Harbor's C Section, in less than 24 hours since the downpours began Friday afternoon.
Late this morning, between 10:30 and 11:15, it was a tale of two cities: the areas northeast of Palm Coast Parkway, particularly the B Section along Bird of Paradise, were getting pounded again. The areas south of Palm Coast Parkway were under a mist at most, with swales seeing water levels drop from last night's drenching. An image gallery appears below, documenting the resulting floods.
Two roads were closed in Palm Coast this morning: Luther Drive between the two Ludlows, and Bird of Paradise between Belle Terre and Matanzas Woods. Three other roads were closed in the county. For a full list of road closures and road hazards, see the chart below.
"We're starting to get hit again and we've got a train of rain coming out of the Atlantic right now, from about Palm Coast Parkway north we've got rain," Kevin Guthrie, Flagler's Emergency Management director, said.
But as yet, reports of damage have been almost non-existent. "We've only received four folks, and that was last night," Guthrie said, "that told us hey we have damage or found damage. We believe that number to be higher but we believe people are not calling us, and we believe they're not calling is because they don't know to call us, that's why we put out the Code Red."
Flagler County Emergency Management is requesting affected residents report any damage, residents may contact 386-313-4200. All other concerns and non-emergencies may be reported to 386-313-4911.
---
Listen to Emergency Management Director Kevin Guthrie's Code Red Alert Issued Saturday Morning[media id=373 width=250 height=200]
Guthrie said that he issued a Code Red alert late this morning asking people to call in to report damage, and to try to limit all non-essential activities that cause waste water, such as laundry, irrigation and other activities that may burden the wastewater system.
Safety: Palm Coast spokesperson Cindi Lane cautions: "People should not be playing in the standing water – the water is primarily stormwater but it could be contaminated with fertilizer, pesticides, even overflowing sewers. We are working hard to keep those wastewater collection stations pumped out, but this storm has put a tremendous strain on our wastewater system."
The extent of the flooding was made more apparent, beyond the numbers, by images taken by Flagler County Fire Flight, the county's emergency helicopter, earlier today. The images show extensive flooding along streets in the B Section, many of which were entirely waterlogged. But the images just as sharply point to the unspoken hero of the last 24 hours of heavy rains: Palm Coast government regulation requiring homes to be set higher than streets, thus preventing such a rain event from having a more damaging effect than it had. The images show in sharp relief the regulation at work, channeling the water–and keeping it–in the streets, rather than in people's living rooms. Builders grumble about such regulations. Homeowners do not, but seldom make the connection between the regulation and its benefits.
The National Weather Service in Jacksonville had issued a flood watch for Palm Coast and Flagler County through 8 p.m., then issued a flood warning, the third since 4:39 p.m. Friday, in effect until 1:15 p.m. today. All of Palm Coast is included in the warning. That means localized flooding is likely–and indeed has been taking place in vast swaths of the B Section.
The flood warning was cancelled at 1:15, but a flood watch remained in effect until 8 p.m.
Staring at 10:30 this morning, the B Section, hit hard Friday, was again getting pounded by heavy downpours as Bird of Paradise and its tributaries became less passable by the minute.
At 11:20 a.m., the National Weather Service's doppler radar was indicating that area of very heavy rainfall over the northeast part of the county, with rain adding 2 to 3 inches to earlier totals, and another 1 to 2 inches in the forecast, at least through 1:15 p.m., when the latest warning is set to expire.
Excessive runoff from rain will cause flooding of small creeks, streams, canals, highways and streets. Do not drive your vehicle where the water covers the road, as vehicles will stall.
Flagler County Emergency's Bob Pickering issued the following rain totals, from spotters around the county, as of 9:35 a.m. Keep in mind, these totals do not include the late morning downpours' totals:
(Palm Coast Locations)
Water Plant 1 – Belle Terre and PC Parkway – 15.00″ – 9:29 AM
Water Plant 2 – Seminole Woods – 2.70″" – 9:29 AM
Water Plant 3 – US 1 North – 8.75″" – 9:29 AM
Lehigh Woods "R" Section – 3.64″ – 8:49 AM
Palm Harbor "C" Section – 9.08″ – 8:44 AM
Palm Harbor " Northeast C" Section canals – 5.20″ – 7:53 AM
Palm Harbor "C" Section Central – 5.75″ 7:44 AM
Indian Trails "B" section – 9.68″ – 12:03 AM
Pine Lakes "W" Section – 9.00″ – 2:37 AM
Belle Terre and Pine Lakes North – 7.65″ – 11:53 PM
Elsewhere:
Eagle Rock Estates – 2.25″ – 7:44 AM
Mondex – 3.00″ – 8:56 AM
Flagler Beach – 1.78″ – 9:02 AM
"County officials are in the process of conducting damage assessments," the Sheriff's Office stated in a release issued at 1 p.m. "At this time, there have been reports of approximately 6 structures sustaining minor damage due to flooding. Law Enforcement officials have received additional reports of vehicles being abandoned in the roadway due to flooding. There have also been reports of downed trees.At 1 p.m., the Flagler County Sheriff's Office issued a summary report of the situation so far."
Sandbags: As the rain continues, the City of Palm Coat has free sandbags and a sand station at the Public Works
yard, located at 1 Wellfield Grade, Palm Coast. Residents who already have their own sandbags can also get sand for their sandbags at stations at Holland Park, Indian Trails Sports Complex and Seminole Woods Park.
The City of Palm Coast's Frieda Zamba Swimming Pool is closed. Princess Place is closed.
Road Closures Report for Flagler and Palm Coast, from Bunnell Fire Chief Derek Fraser, issued at noon Saturday: