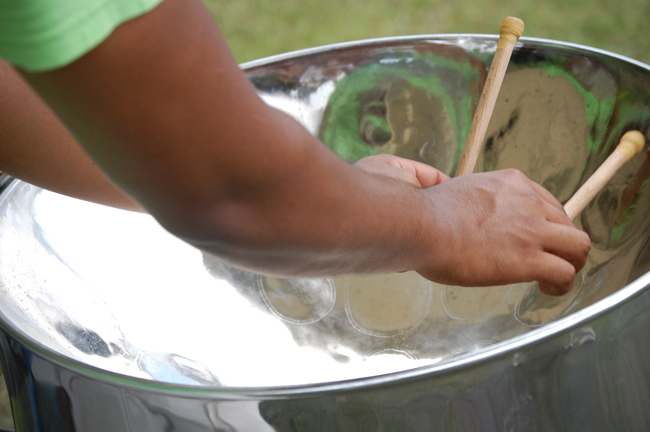 When it comes to Caribbean traditions, the word is vibrant: vibrant sounds, vibrant colors (no pastels need apply), especially vibrant, tropical juices and tastes spiced up with cinnamon, ginger, allspice and curry, to name a few.
---
Watch the Orlando Power Stars Steel Band (Give it a moment to load: it's worth the high def)[media id=52 width=250 height=250]
Caribbean nations are small and spread out, but they're an empire for the senses, and that empire was on display for the tasting at the 8th Annual Caribbean Festival at Thunder Gulch Camp Ground in Bunnell Saturday, off of U.S. Route 1–and will be all day Sunday, until 7 p.m.
Last year the event was held in Town Center, and at the Palm Coast campus of Daytona State College the years before that. It moved to John Seibel's camp ground this year, its size commanding more room every year.
As always, the event began with the parade of flags showcasing the breadth and variety of Caribbean nations, almost three dozen of them that either bathe in the waters of the Caribbean Sea or have at least some geographical claim to it: Trinidad & Tobago, Barbados, Jamaica, Cuba and Haiti, among others, are core Caribbean, but even Mexico, Central American nations and Latin America's northeast neighbors of the Antilles such as Venezuela and Colombia have distant cultural affinities with the Caribbeans.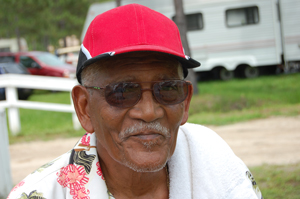 The parade, the greetings, the thanks and Star Spangled Banner over, the festival got under way in earnest with live music, braised food and a few dozen booths of all sorts that make a festival what it is, all to the sounds of raggae, salsa, soca, calypso and, of course, the steel drums.
Leo James' Orlando Power Stars were an early highlight Saturday–a steel band that started with just three people in 1993, and that now boasts 30 players from all over the Caribbean, many of them children. "The kids are American, they were born here," said James, who's from Trinidad and has been doing this since he was 6 or 7. He's 65. "The parents want them to learn the culture, the steel drums. So basically that's what we do: we teach the kids."
James' Stars have been coming to Palm Coast and Flagler County to play for 12 years, even before the festival was the annual event it's become. They have 20 gigs or more around Florida every year, renting a Budget truck for the drums and traveling around by van. They'll be playing again on Sunday.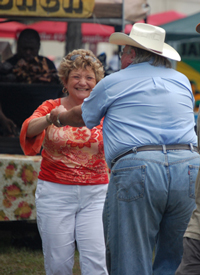 Also on the live-acts schedule: The Matanzas High School Steel Band, Swanky Moe's Skin Deep, High Energy, Brother J, Enchanted Belly Dancers, Impacto Latino, and much more.
The event was free of charge in the past, but it always ran in the red, says Ronald Robinson, vice president of the United Caribeean Cultural Association of Palm Coast, which puts on the festival. So this year there's a $5 charge for those older than 12. Those 12 or younger get in free.
And be warned about parking: It's free. But pilferers and deceivers not associated with the festival are brandishing signs claiming to take "donations" of $5 for parking and diverting entering traffic to business properties near the campgrounds. Ignore them if you don't want to pay for parking, and look for Caribbean festival staff attendants inside the campground, who'll guide you to free spots. You only pay for individual admission.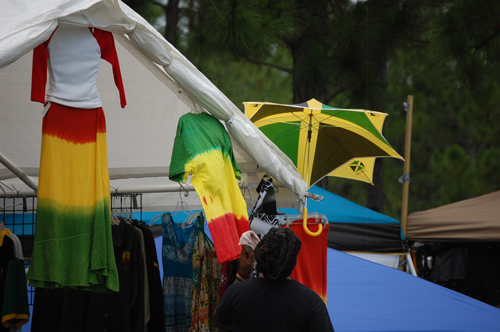 With thanks to Kari.