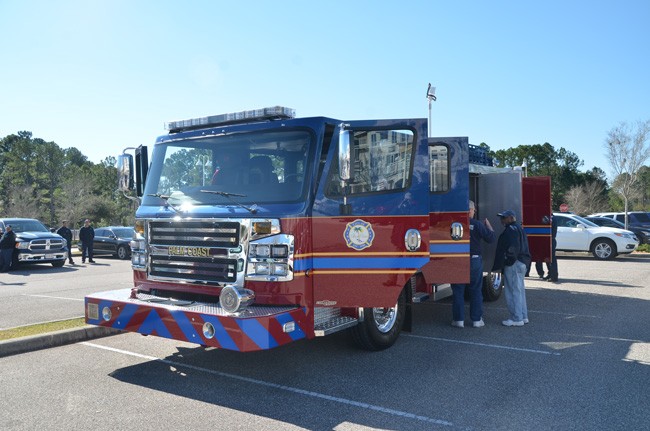 It had begun as a relatively routine discussion about Palm Coast's fire department needing to perhaps more quickly replace three of its oldest fire trucks, in a fleet of 11 engines, or possibly go without two of them for a few years. In a city that had just six confirmed house or "structure" fires last year, that's not unrealistic. The Palm Coast City Council's discussion stretched along those lines—buy used? Lease? Go without?—for 45 minutes Tuesday.
But it was in the last five minutes that the discussion took a twist for the surreal, as local government relations go, going far afield into contentious tax policy thought settled two years ago, and into even more contentious disagreements over how city and county handle ambulance services, not to mention revenue, an issue never settled as far as Palm Coast is concerned.
The trigger was just as unusual: it was council member Jason DeLorenzo, never known until now to be the sort of insurgent who'd rattle city-county relations. But his proposal would slash at old–and for now cauterized–wounds.
He'd listened quietly for 45 minutes to Palm Coast Fire Chief Mike Beadle's presentation, how the fire department has one fire engine built when Gerald Ford was still president and two others not much later: the engines are back-ups, so they're rarely used. But two of them are so old that they break down and could need a tow truck before getting to an emergency call, a situation the city doesn't want to face. Palm Coast is prepared to buy one replacement in 2016. Going without the other two for four to six years is an option, but not one the city is keen on.
The council directed Beadle to explore leases.
Then DeLorenzo spoke.
"Does the county have any equipment that they could lend us as a stopgap?"
Beadle: "I would have to say no because I know two backups that they have at the EOC [the Emergency Operations Center] that they use as back-ups. Would they loan them to us if they even have them, I would venture to say no."
DeLorenzo: "Is fire protection not a requirement of the county? We have a fire service because we want a higher level of service. But protecting the citizens from fire is the county's job, correct?"
Mayor Jon Netts: "Don't open that door because I'm going to start talking about EMS service."
---
Reopening old wounds about sales tax and ambulance revenue.
---
DeLorenzo: "The county changed the formula for infrastructure dollars that we could have used to buy a fire truck."
Netts: "Yes, they did."
"They're keeping a larger percentage of them."
"Yes they are."
DeLorenzo was referring to the county commission's change, in 2012, in how revenue from a local sales surtax is shared between the county and the city. The county abandoned an agreement that had previously favored Palm Coast and adopted a formula applied in most of the state in similar circumstances. But the result was $500,000 a year less in revenue for Palm Coast, at 2012 tax-revenue levels.
DeLorenzo: "If we need a fire truck, it seems to me we should ask the county for a fire truck,"
Netts, laughing: "I nominate Councilman DeLorenzo to go to the county commission and ask them for a fire truck."
DeLorenzo: "I will do that."
DeLoreenzo got the backing of fellow-council members Steven Nobile and Bill McGuire.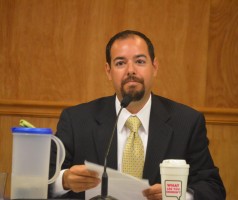 DeLorenzo said that with mutual-aid agreements in place, the truck would benefit the county as well as the city. Conversely—though DeLorenzo did not say so—the mutual aid agreements in place between the county and local cities, an agreement that crosses county lines into Volusia and St. Johns counties in emergencies, Palm Coast would not be without extra fire-suppression support if it were to need it regardless. City and county cooperated closely in recent wildfire emergencies, including a day when Beadle himself was on the ground, behind St. Elizabeth Seton school, directing the county's Fire Flight pilot in drop after drop of buckets of water on the Cypress Point fire that lapped close to city offices in April 2012.
"And someday," Netts said closing the discussion, "when you go to the county, you might want to ask them how do we get to share in the EMS revenues."
"Maybe those shared revenues could pay for the truck," DeLorenzo said.
"Wonderful thought," the mayor said.
DeLorenzo's foray, if it comes to that, is not likely to go far: city and county both jealously guard their assets, tax revenue and water hoses not least among them.
And the council has already directed the city administration to explore either leases of fire trucks, for five to seven years (Chris Quinn, the city's finance director, said such leases typically run seven years), or buying used trucks, though the cost and how the city would go about paying for them is the big unknown. The source of the payments is not a mystery: it would have to come out of either capital funds or the city's general revenue, which also pays for the fire department, Quinn said.
"So you're talking about a tax increase, then," McGuire said.
"It really depends on how much we're talking about," Quinn said. "It may not be a tax increase. That's why we say here we really don't know, for kind of a stop-gap option, which the suggestion was, let's at least go out there and see what's available."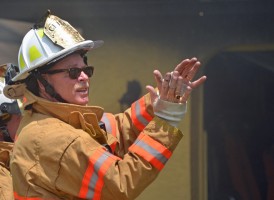 The administration and the council aren't worried about day to day operations: those can be addressed whether the city is down three trucks or not. Those trucks are used as back-up, anyway, not as front-line, day-to-day engines. But Beadle raised the matter of so-called ISO ratings. ISO stands for the "Insurance Services Office." It's similar to an accreditation system. The ISO office visits fire departments and rates them according to an exhaustive list of criteria, from the number of fire hydrants to the number of engines in a department, the equipment available, and so on. The lower the rating, the better. Only a dozen communities in the nation (among them Las Vegas) have a rating of 1, Beadle said.
The rating affects property insurance rates for homeowners and commercial property owners. Generally, the higher the rating, the higher the premiums.
Palm Coast's rating is a 4. The county's is a 3. Flagler Beach's is a 5.
Reducing the number of engines could possibly impact the ISO rating. "What would that mean to the residents? ISO rating is nice, it's a bragging point, but what's its utilitarian value?" Netts asked.
"I can't answer, but our ISO number would go back up because we don't have that back-up that they're looking for," Beadle said.
Beadle is right, but only up to a point: the ISO rating might go up to a 5, but any ISO rating below a 6, and between 3 and 6, will not change homeowners' rates, a high fire official in the county who's analyzed ISO ratings said. Commercial premium rates might be affected, but only modestly.
The council took no decisions Tuesday. But the administration—and DeLorenzo—have their marching orders.

The presentation is available here.