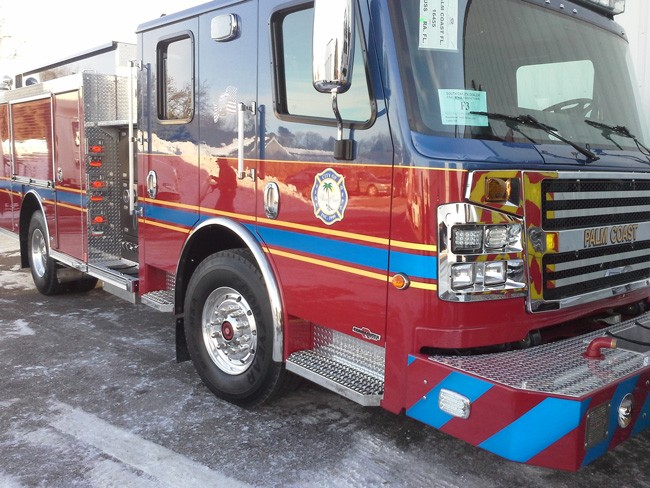 The Palm Coast Fire Department is inviting the public to see its new fire engine, a $360,000 pumper featuring a new paint color and logo. The new engine will be on display from 11 a.m. to 1 p.m. Tuesday, Jan. 27, in the parking lot at Palm Coast City Offices in the City Marketplace shopping center, 160 Cypress Point Pkwy.
The new pumper, which will be replacing an older fire engine that is being retired, will pump 1,250 gallons of water per minute. It has a crew cab for four with an EMS cabinet inside the cab for easy access when firefighters respond to vehicle crashes and medical emergencies. It has a 750-gallon water tank on-board, along with a foam tank that will be used during wildfires. (The fire truck will look generally like one pictured here.)
The Palm Coast City Council approved the purchase in October 2013.  Rosenbauer of America, of Lyons, S.D., spent a year building the truck to Palm Coast's specifications after winning the bid in a six-way competition for the contract. The new truck, which a team of Palm Coast firefighters, including Fire Chief Mike Beadle, inspected a few weeks ago in South Dakota, was driven to Palm Coast and will be housed at Fire Station 22 at 307 Palm Coast Pkwy.
Most notable about the new fire engine is its paint style. The top of the truck and the upper half of the cab are painted Palm Coast blue, with the rest of the truck being the more typical red. The Fire Department's apparatus team was researching paint styles when they came across a picture of a blue fire truck in Pennsylvania. It reminded them of the blue in the City of Palm Coast logo.
The team also used the new fire engine as an opportunity to create a new logo for the Fire Department. The new logo is similar to the City's brand logo, with a palm tree, water and sun, with the tagline "Protecting Our Florida" as a play on the City brand, "Find Your Florida."
The new fire engine will be the first Palm Coast Fire Department truck to feature the new logo, which also is being used on the back of new uniform T-shirts. The logo will be added to the department's other vehicles, but the blue paint style will be added only when an existing truck needs to be repainted.
"We wanted to distinguish the new engine as our own," Beadle said. "Fire departments pride themselves on having a unique identity. We're very excited about the blue paint color and the new 'Protecting Our Florida' logo."
For more information, call the Fire Department at 386-986-2300.