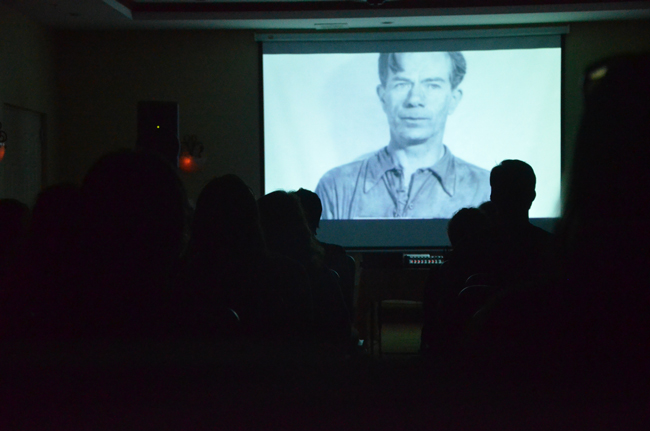 A vintage Ghost Busters car parked in front of the entrance of Palm Coast's Hilton Garden Inn heralded the first-ever Flagler Film Festival this weekend. "We Believe You," read the tag line next to the iconic logo of a ghost poking out of a red no-go sign on the side of the vehicle. It might well have said, "We believe IN you," telegraphing to participating filmmakers the sentiment of Kathryn and James Barry, two of the festival's founders.
Take a few steps inside: there sits a vintage Flintstone's mobile—no message on this one, other than its inherent reminder that film is an American tradition going back to prehistory.
The action was to the right,  past the bar, in a conference room converted into a viewing room, outside of which Kathie Barry and Orion Christy—the third founder–handle the formalities. On opening night Friday most of the 90-something seats in the viewing room were full.
"We concentrated on getting as many Florida films into the festival as we could. We're getting a good mix of local people and local filmmakers, but the audience is mostly local people," James Barry said. "We knew we wanted to keep it basic and simple the first time around and then, as years go on, our plan is to expand. A lot of the festivals start out very small and very simple." (Fort Lauderdale's film festival started this way 30 years ago, with a couple of people running the event over a couple of days. It's now a nine-day festival.)
At about 12:30 p.m. Saturday, the festival was midway through its "Anything Goes" block and the seats were about half filled. Over the next few hours, people trickled in and out, regularly changing the audience. Though it was never really too full, all one had to do was look around the darkened room to see people of different ages and complexions affected by what they were watching on the pull-down screen.
"Bird Song" is a quirky 20-minute short about an adolescent boy and his younger brother—who he had just left behind in elementary school—and really looks up to him. About midway through, a middle-aged man with a handlebar mustache shook his head disapprovingly as the older brother and role model made a promise that everyone knew was empty, that he'd be there after school to bird watch from their tree house, but really he'd be watching girls with his new older friends. Just before "In the Footsteps of Willie Sutton," a documentary about one of the most ingenious criminals of all time, a man in the left section said, with some indignation to a neighboring couple, "they're going to glorify this guy?" By the movie's end, the man appeared clearly enraptured and even charmed by the bank robber with a glint in his eye.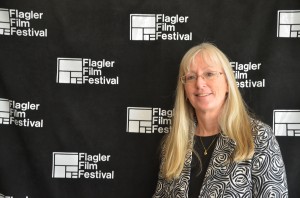 Walt Adams, the 77-year-old uncle of Kathryn Barry, said "'Frontline' is easily one of my favorite programs. And this is easily the quality of 'Frontline.'" He also liked "The Beach House," a horror movie filmed in Flagler Beach, which premiered the night prior, calling it "a terrific piece of work. I'm an eclectic. I watch all kinds of things."
"The Scarred Lands and Wounded Lives: The Environmental Footprint of War," showed children suffering the prenatal effects of radiation after the dropping of the atomic bomb. Filmmakers Alice and Lincoln Day afterward gave a talk that took a social tenor before they were joined by Walter Nelson, the filmmaker behind "Expectations: A Personal History of World War Two," which had premiered earlier. That one was about the personal toll of war on the individual rather than from the global impact.
Nelson suggested that the best thing we could do is love one another. Lincoln Day disagreed, arguing that "loving one another" wasn't enough. As long as weapons exist, we'll use them.
Jeroline McCarthy admitted she was no film buff, though she is a writer. She said she learned about the festival in the media and was attracted by the Flagler Palm Coast High School and African-American Cultural Society film, "Both Sides," which told the story of the desegregation of Flagler County. Her suggestion for the future:  "More black films. More diversification. But this is a terrific first step."
A young couple, simply calling themselves Dan (24) and Valerie (21) were there with a Digital Distribution company called Levitation Studio, not only to see the films but to network and scout talent and clients. "In the films, we saw people who were interesting who we'd like to work with," Dan said.
Valerie offered a mixed critique, when she compared the festival to others they've attended. "I think it's very well organized. But I think the blocks are too long, but there's only one room so there's not much you can do about that. You can't jump around. At bigger festivals, the blocks are shorter. People can focus longer."
Damian Lahey, a 36-year-old filmmaker from Jacksonville showing "The Heroes of Arvine Place," a story about a children's author trying to support his family during the holidays, sat at the bar. He was getting a meal and a coke-and-something as he waited to be called in for his Q and A for his movie, which he said had been shown at many festivals and had racked up a number of awards already.
He's not interested in watching his movie anymore, he says. "You take the romanticism out of it," he says, "and it's project management every step of the way. Poster design, layout, credit font, scheduling, budgeting, rehearsals, you do all that with something  you've already spent so much time writing—and I've watched it a couple of times—but then that's it. I mail it out to people and, job well done."
Lahey says the Flagler pioneers have done a good job. "They're starting off on the right foot. They have a consistent program here and they have good people running it. They didn't bite off more than they could chew. They made the venue nice. They're not trying to be anything they're not, they're not being ostentatious. That's all they need to do."
One table was permanently manned by 10th Voyage Studios, a new local film and production studio in Palm Coast (on Hargrove Grade) that is responsible for bringing the iconic cinema cars. With them was actor and comedian John Haglund, who recently played Dr. Jekyll in City Repertory Theater's "Dr. Jekyll and Mr. Hyde." He's volunteering, doing some emceeing for the event and also keeping his eye on the car replicas.
"My object right now is just to make this successful for Palm Coast and for these guys," Haglund says, gesturing to 10th Voyage Studio reps. "It's important, as Palm Coast needs more culture. I moved here because we're between everything," he says, referring to the things worth seeing in Florida. "This is a beautiful area and there's a lot of people here and there's not enough to do like this. I'm very interested in bringing the artists in."
10th Voyage producer and president Scott Nance, currently working an original zombie sit-com, likes what he's seen so far. "Just got to work through the kinks, learn from it, improve on it," he says of the effort. "It's hard to get something started for the first time, but so far it's been successful. So far it's been a great venue and a good turnout."
He agreed with Haglund about Palm Coast's prospects. "It's exciting for the area because there's nothing around here. The nice thing is it's a small town, so you've got the beach on one side and the rural countryside on the other so there're so many diverse locations you could use," he says of local movie-making potential.
On Sunday, which began with documentaries, different blocks attract different size audiences. Mid-way through,  the theater was maybe a quarter full, mostly with Palm Coast's senior demographic.
Publicity for the new venture is still a challenge. "I had several people tell their friends they were coming and their friends said, "I don't know anything about it,'" Kathryn Barry said. "We did the best we could to get the word out, put more posters up and did more of the radio thing. I had one lady who bought a ticket (Saturday) who saw our poster at Publix. We need more of the media to get the word out. We need to hit more retail establishments."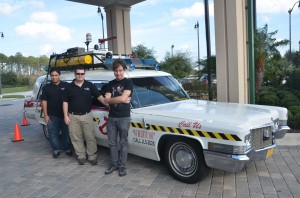 One thing that surprised and disappointed Barry was what she perceived to be a lack of support from the local schools, as they have a highly touted film and video department.  When Barry approached them about the festival, their response was "kind of cool and vague. Maybe, it was because they didn't know who I was or maybe they just wanted to see how the first one went."
Young filmmakers or unknowns are her priority, regardless of race or creed. "Once they get into a festival," she says, "they put it on their IMDB page, and if they want to win an award, they can put that on there and they can really further their career. And that's why we're doing this. We had such a good experience and I saw so much enthusiasm from the filmmakers."
That objective harkens back to Barry's with her own son, Kevin—who was also there—who now works in the industry as a small budget filmmaker, trying to get his movies into festivals.  "I've been to some other festivals that have been going on a long time, and they didn't get the turnout that we did," he said. "So it's been going good. It seems like everyone's been having a good time."
When he found out that his mom wanted to start the first ever film festival in Flagler County, the younger Barry says, with just a hint of abashment, "I was like, 'You should go for it.' She seemed pretty confident that she could pull it off. I felt pretty confident also, because she's a savvy business woman. She's organized and she puts things together really well. It definitely seems like the film festival could enrich the cultural lifestyle here, if there isn't one already. It's definitely a good opening."

The Flagler Film Festival's Winners:
Best Comedy: "Mama Needs a Ride"
Best Feature: "The Idea Thief"
Best Production Value: "The Drop Off"
Best Short: "Cootie Contagion"
Best Horror/Thriller: "The Beach House"
Best Documentary: "In the Footsteps of Willie Sutton"
Best Florida Film: "Master of the U"
Best Foreign Film: "Made in Belfast"
10th Voyage Studio Award: "TechSquad"
Indie Auteur Matt Pye for "In a Field of Weeds"
See all the nominations here.