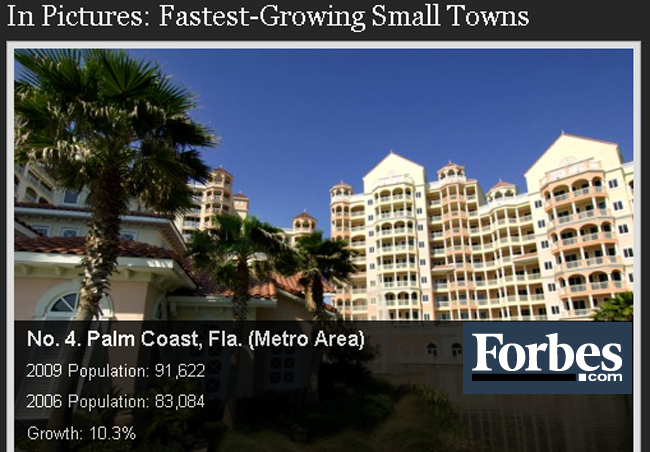 Palm Coast's tendency to take credit for anything that happens in Flagler County is reverberating all the way to the Census Bureau. Don't blame Palm Coast though. This one is compliments of Forbes (whose alleged strength is solid math).
Last week Forbes published a photo gallery of the 15 "Fastest-growing small towns" in America. That's how it headlined it, anyway. Palm Coast, which frequently makes all sorts of lists–good and bad–these days, came in at Number 4 behind Fairbanks, Alaska, The Villages in Central Florida, and Bozeman, Mont. Between 2006 and 2009, Palm Coast's population is said to have grown grew 10.3 percent, from 83,084 to 91,622.
The city, of course, never hit either mark.
Forbes did include in a parenthetical that the figures are taken from the Census Bureau's "metropolitan area" stats for those small towns. That's a statistical quirk rather than a demographic measure. It so happens that for the Census Bureau, that Palm Coast "metropolitan area" is identical with the boundaries of Flagler County. Flagler County's population in 2006, according to the Census Bureau, was 83,084. By 2009, it had reached 91,622.
The numbers are further skewed by the fact that in 2006, the population of Palm Coast proper was not listed by the Census Bureau in its annual American Community Survey under its "principal city" category, as it has been since. Back then it was just a part of the metropolitan area–that is, Flagler County. When it was first listed as a principal city, in 2007, Palm Coast's population was estimated at 71,409 (with a margin of error of plus or minus 3,000). In the 2008 survey, Palm Coast came in at 72,472, and in the 2009 survey it was back down to 71,774. So even going by the Census Bureau's figures for Palm Coast proper, there's been nothing like a significant population gain.
In fact, there's been a loss: had Forbes waited a week before releasing its fastest-growing errors, it would have had the benefit of the Census Bureau's more accurate five-year survey, based on a far wider survey sample, of population figures for the city and the county, which show both lower than the annual survey estimates. According to the five-year survey–which is still not the Census 2010 data–Flagler's population is down to 85,600, and Palm Coast's is down to 69,000–25 percent below the figure Forbes has in its "fastest-growing" gallery.
A little look-see behind the numbers at Forbes, with the Associated Press' help, might have shed light on the skewed numbers. The AP produces a monthly list of its own: the 20 most stressed and 20 least stressed counties in the nation. Flagler County came in at 15th most stressed.
The index is based on foreclosure, bankruptcy and unemployment rates set against the local population. Flagler's stress rate in that survey may be under-estimated: It takes October 2010 unemployment, bankruptcy and foreclosure rates, which are quite current, but sets them against the Census Bureau's 2008 annual population survey, which, according to the latest number, is considerably inflated. So Flagler's stress rate, based on the most current population figure, would actually be higher.